White men radicalised online were amongst the 'silent majority' who chose Donald Trump
One analyst suggests that men were instructed to keep their Trump support silent until the election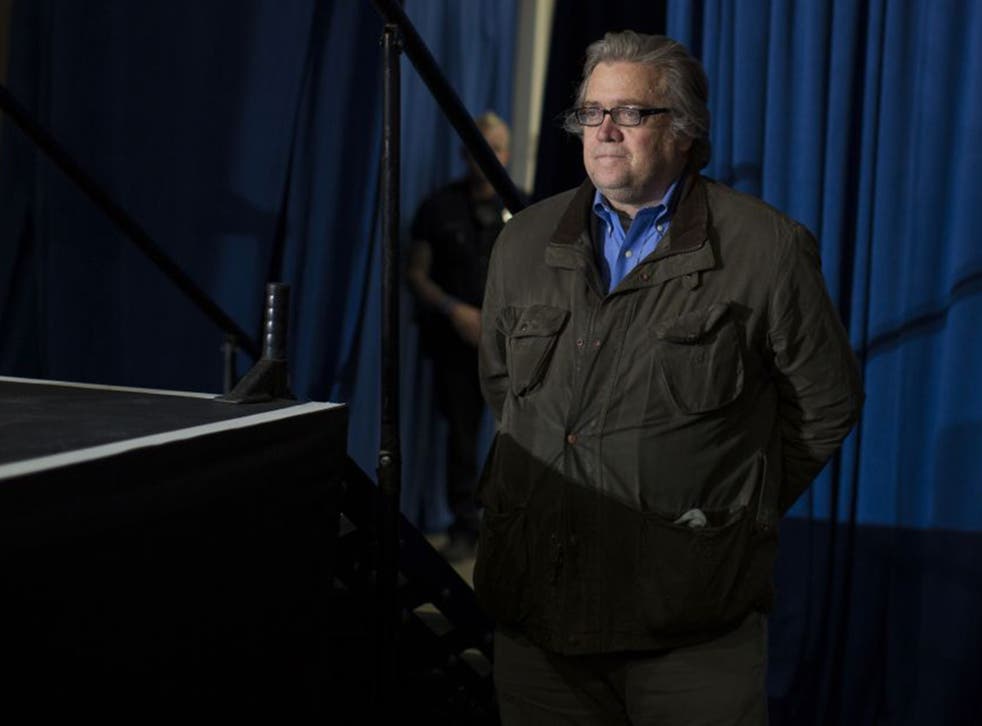 When President-elect Donald Trump named Steve Bannon to a top spot in his administration, stoking fears of many Americans that he would bring white nationalism to the White House.
Bannon oversaw the far-right news website Breitbart, which he himself referred to as the "platform for the alt-right", a group of white nationalists who have become the loudest vocal supporters of Mr Trump. Since Bannon's hiring, anti-hate groups, such as the Southern Poverty Law Centre and the Anti-Defamation League have issued sharp rebukes of the incoming administration.
Whether they were for or against Mr Trump, the nation recoiled in shock as he pulled off perhaps the biggest upset in US political history. Surely his association with the shepherd of white supremacist readers would be the downfall of the campaign. It was not.
World reaction to President Trump: In pictures

Show all 29
But many analysts have suggested that Mr Trump simply woke a sleeping giant – or at least brought to the surface the underbelly of the Internet often written off as simply too fringe to make it into mainstream US politics.
"It is a sad day when a man who presided over the premier website of the 'alt-right' – a loose-knit group of white nationalists and unabashed anti-Semites and racists – is slated to be a senior staff member in the 'people's house'," ADL chief executive Jonathan A Greenblatt said in response to the appointment.
The SPLC launched a petition for the President-elect to rescind his appointment of Bannon.
So how did this happen?
CNN's exit polls showed that some 57 per cent of white men voted for Mr Trump; 48 per cent of white men aged 18 through 29 also choice the six-times-bankrupt business magnate to be their commander in chief.
This did not seem quite so surprising to 23-year-old writer and TED speaker Siyanda Mohutsiwa, whose analysis of white online radicalisation went viral in a series of Twitter posts.
12 things that happened within hours of Donald trump becoming president
"I couldn't understand why people were surprised by the outcome," Ms Mohutsiwa told the Huffington Post. "It seemed inconceivable to people that young, college-educated men could be motivated to vote for Trump."
Ms Mohutsiwa, who has followed so-called "alt-right" groups on Reddit over the years, says that many participants in these groups were instructed to keep their Trump support private.
"Many young men are told to keep their anti-[people of colour], sexist views from their 'libtard' family and friends," she tweeted, "Hence this surprise from the mainstream. …
"When we talk about the online radicalisation, we always talk about Muslims. But the radicalisation of white men online is at astronomical levels."
Indeed, a recent study conducted by researchers at George Washington University's Programme on Extremism, found that the number of self-identified white nationalists and Nazi-sympathisers on Twitter multiplied at astronomical rate – and more than 600 per cent than Isis sympathisers.
While the social media platform focused its energy to crackdown on Islamist extremism, white supremacists have managed to maintain a strong foothold within the platform.
America unmasked: The images that reveal the Ku Klux Klan is alive and kicking

Show all 11
Donald Trump emerged as a prominent subject among white nationalists not just on Twitter, but also within online message board communities like Reddit and 4Chan. The subbreddit "The_Donald" includes commentary that boasts anti-Semitism and overt racism.
"Hitler was a socialist who railed against the 1 per cent and the banks," one user wrote, for example. "The banks just happened to be owned by Jews at the time. It is insane that we have to get into power to correct the history books on something like that."
Ms Mohutsiwa added that her researched showed that many of the men in these forums entered looking for tips on how to meet women.
"Young men came to these online groups for tips on picking up girls and came out believe that it was up to them to save Western civilisation," she wrote. "By the end, many were using every out of college-level 'logic' to argue that liberals aimed for the destruction of [it].
"These college-educated young men were then ripe enough to be sold [the] idea that Trump represented a return to Men Being Real Men."
Register for free to continue reading
Registration is a free and easy way to support our truly independent journalism
By registering, you will also enjoy limited access to Premium articles, exclusive newsletters, commenting, and virtual events with our leading journalists
Already have an account? sign in
Register for free to continue reading
Registration is a free and easy way to support our truly independent journalism
By registering, you will also enjoy limited access to Premium articles, exclusive newsletters, commenting, and virtual events with our leading journalists
Already have an account? sign in