Marijuana, the death penalty and minimum wage: What the US has also just voted for
Across all states, a total of 162 proposals were put to the ballot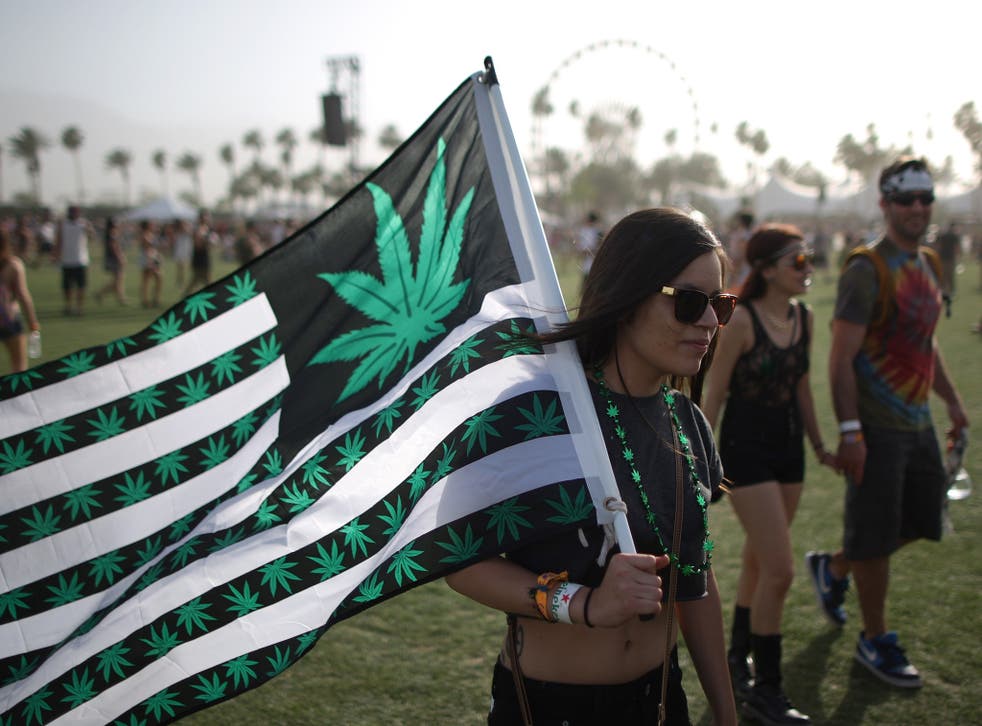 In addition to electing a new president, Americans voted on more than 150 proposed amendments to state laws on Tuesday.
The electorate in several states voted in favour of marijuana legalisation, the death penalty, raising the minimum wage, and increasing gun control.
Among the bills which did not pass, voters in California decided not to force porn actors to wear condoms when filming, and people in Washington chose not to become the first in the country to implement a carbon tax.
Marijuana
California, Massachusetts, Maine, and Nevada all voted to legalise marijuana for recreational use.
Marijuana was already legal in four US states: Colorado, Alaska, Washington, and Oregon. This means the drug can now be smoked without breaking the law along a swathe of the west coast.
North Dakota, Arkansas, Montana, and Florida voted to legalise medical marijuana.
Only Arizona bucked the trend and chose not to decriminalise the drug.
California's Proposition 64 has been described by campaigners as the most important cannabis measure America has seen. The state has the fifth largest economy in the world, and is expected to have a recreational marijuana market larger than Colorado, Washington, Oregon and Alaska combined, Ethan Nadelmann, executive director of the Drug Policy Alliance, told the Guardian.
"When I talk to everybody from allies to government officials in Mexico and I ask them what's it going to take to transform the debate," he said, "the response to me is when California legalises marijuana".
Capital punishment
California, the state with the most people on death row, had two opposing measures on the ballot related to the death penalty: proposition 62 wanted to end state executions, whereas 66 wanted to speed them up.
Proposition 62, which would have replaced capital punishment for murder with life in prison without parole, garnered 46.1 per cent of the vote and failed to pass.
Proposition 66 intended to speed up executions by designating trial courts to hear petitions challenging death row convictions, limiting successive petitions and expanding the pool of lawyers who could take on death penalty appeals.
It won the approval of 50.9 per cent of voters.
Elsewhere, state executions also proved popular.
Oklahoma passed a measure to reaffirm the state's commitment to the death penalty after the state attorney general suspended executions last year.
Nebraska voters passed a ballot measure to reinstate the death penalty after state lawmakers repealed it in 2015.
Minimum wage
Arizona, Colorado, Maine, and Washington all voted to increase their minimum wage.
Arizona backed raising it to $10 in 2017 and then incrementally to $12 by 2020, in addition to enshrining the right to paid time off when ill.
In Colorado, the electorate decided to raise the minimum wage from $8.31 to $9.30 per hour in 2017, and then increase it 90 cents each year until the wage reaches $12 in 2020.
Maine will also raise the hourly payment to $12 by 2020.
Washington voted for the most generous increase, to $13.50 by 2020, and will also enforce paid sick leave.
South Dakota wanted to decrease the minimum wage for people under 18 from $8.50 to $7.50 an hour, but voters rejected the proposal.
Gun control
California and Nevada voted to tighten gun controls with universal background checks.
Washington voted to prevent some people -- such as perpetrators of domestic violence -- from accessing firearms entirely.
But people in Maine bucked the trend and rejected implementing stricter measures.
The famous for and against US gun control

Show all 31
Other
Voters in Colorado voted to allow assisted suicide, with approval from two different doctors.
Terminally ill adults who are mentally fit already have the right to end their lives in Oregon, Washington, Vermont, and Montana.
Voters in Los Angeles approved a measure to spend $1.2bn (£964m) building 10,000 housing units for homeless people in the city and helping support people who are at risk of losing their homes.
Property owners in LA will help fund the measures.
In Colorado, a proposal failed which would have made the state the first in the country to have universal, government-run healthcare.
Amendment 69, also known as ColoradoCare, would have created a $36bn health system designed to ensure that every resident of the state was served.
The service, which would have been funded using a 10 per cent payroll tax, would have replaced the private health insurance system.
Join our new commenting forum
Join thought-provoking conversations, follow other Independent readers and see their replies