Thousands of Dreamers flock to Washington to push Congress to act on immigration
Hundreds of thousands of Dreamers are at risk of losing their protected immigration status
Clark Mindock
New York
Wednesday 06 December 2017 22:58 Comments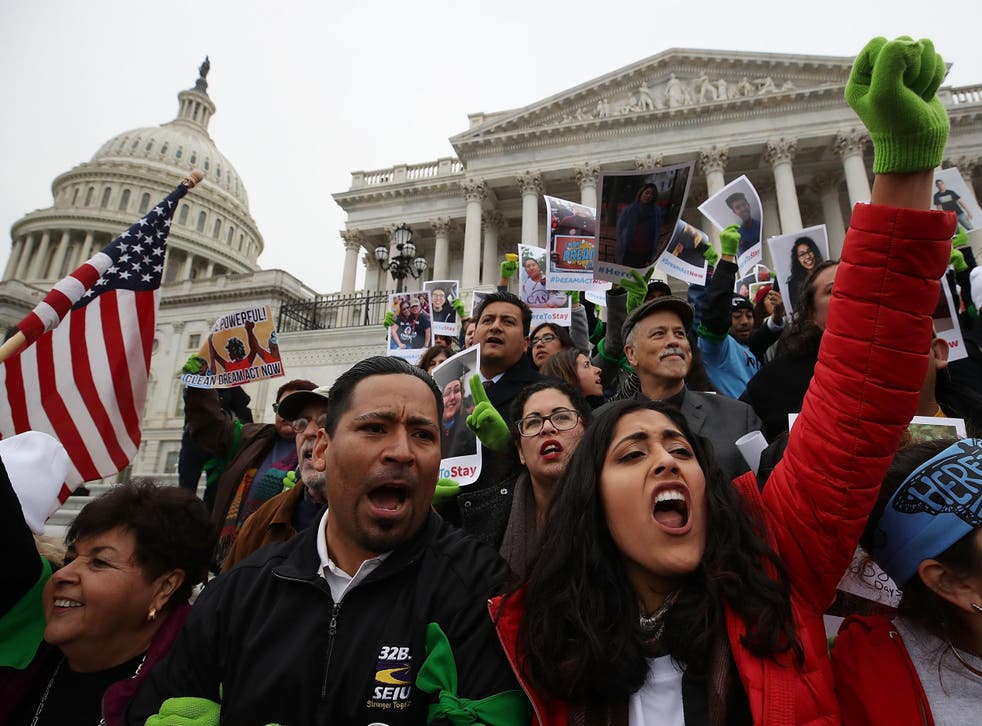 Eyeing this month as the last, best chance for a deal to ensure that nearly 700,000 Dreamers be granted reprieve from deportation, thousands of protesters have descended on the US Capitol to demand action on the contentious issue.
Waving signs of all shapes, sizes, and colours, demonstrators from all over the country rallied near the Senate chambers Wednesday to urge Congress to see their humanity. They asked the government to pass a version of the DREAM Act that could preserve the sense of normalcy that the Deferred Action for Childhood Arrivals (Daca) program — which President Donald Trump has tasked Congress with dealing with — granted them.
"Daca has opened up so many doors for me," Ricardo Aca, a 28-year-old who was brought to United States illegally when he was 14, told The Independent in a phone interview. Mr Aca said that Daca had allowed him to go to college, where he is now pursuing a degree in public and international affairs.
"Once Daca was implemented, that allowed me to have more goals, and more hopes for my family," he continued. "I want to be able to one day — if I can become a citizen — work, maybe become a councilman, maybe become a lawyer."
Mr Aca is just one of the 800,000 undocumented immigrants who have benefited from the program, allowing them to feel much more comfortable in a country they had come to as children, and one they call home.
Mr Trump threw their future into uncertainty in September, when he announced that he would end Daca, which his predecessor implemented in 2012. Mr Trump, in announcing the end of the program, told Congress to find a solution by March 5, at which point estimates indicate 1,000 Dreamers would begin to lose Daca protections daily.
Thousands march against Donald Trump in LGBT rights parade

Show all 8
Dreamers and activists working on their behalf are hoping that Wednesday's protest, alongside others being held at Congressional offices around the country, will help tip the scales and pressure Congress to pass the Dream Act bill, which is generally supported by Democrats, and has some support from Republicans.
The activists in Washington Wednesday are hoping that Democrats will force Republicans to agree to the bill in exchange for their support on an upcoming spending package, which Republicans need support from Democrats to pass.
"The reason I'm out here today is that I'm tired of playing these political games with my life, and Congress needs to realize that the only way to move forward on this issue is to pass the Dream Act, and pass these protections as soon as possible," Juan Escalante, a 28-year-old Daca beneficiary who has been advocating for immigrants rights for 10 years, told The Independent.
Mr Escalante said that his family brought him to the US when he was 11-years-old, running from violence in their home Venezuela. Since receiving Daca protections, he said, he's been able to achieve something that just 9 per cent of Americans manage: He earned his Master's degree.
In some ways, the first year of the Trump administration seems like an unlikely opportunity for meaningful progress on an immigration bill that has dogged Congress for years, but the Dreamers in Washington Wednesday said that Mr Trump's anti-immigrant rhetoric won't deter them.
"I think, right now, we're just living in the moment and we have to be as loud as we can," Mr Escalante said. "They want to suppress us. They want to keep us quiet."
Register for free to continue reading
Registration is a free and easy way to support our truly independent journalism
By registering, you will also enjoy limited access to Premium articles, exclusive newsletters, commenting, and virtual events with our leading journalists
Already have an account? sign in
Join our new commenting forum
Join thought-provoking conversations, follow other Independent readers and see their replies