'Dump Trump': Artist Hanksy on the 'grassroots (bowel) movement' that is defining the 2016 US presidential race
Long before it was an anti-Trump avatar, the poop emoji was a soft toy and a Halloween costume. This week, a recipe for poop emoji-shaped marshmallow treats became a viral hit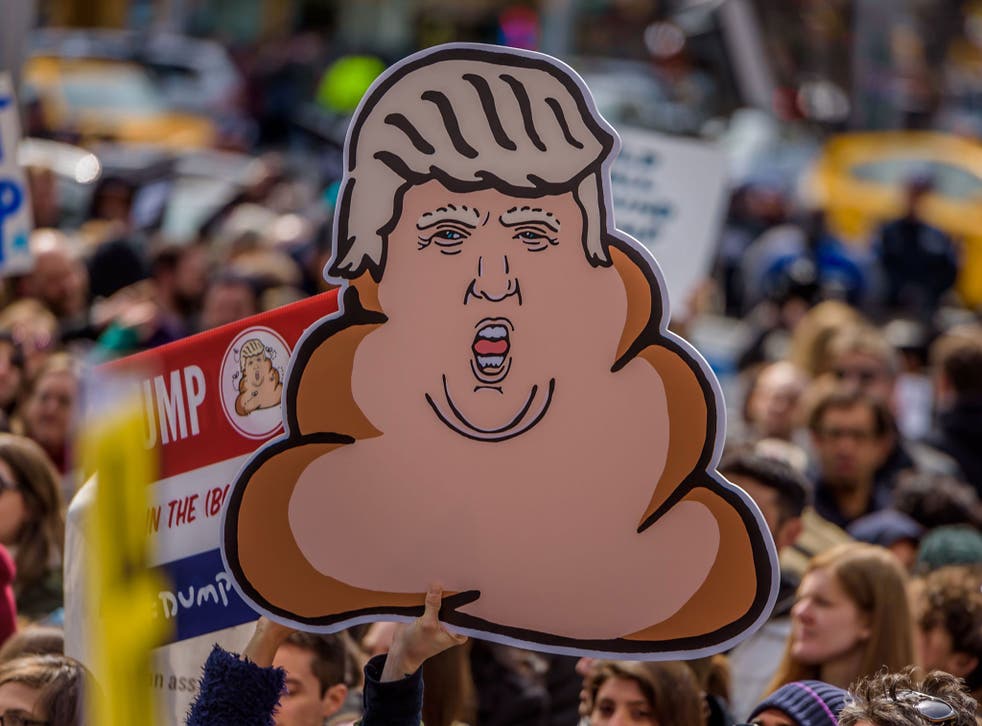 They were perhaps the most enduring images of the 2008 presidential election: street artist Shepard Fairey's red, white and blue portraits of then-Senator Barack Obama, accompanied by the simple, stirring captions, "Hope" and "Change". Frequently imitated, sometimes derided, they nonetheless captured the optimistic mood of a nation on the verge of electing its first black President.
Eight years later, one of Fairey's successors has created what could be seen, in decades to come, as the definitive artistic take on the 2016 race. The image by Hanksy, a semi-anonymous New York street artist, began life last summer as a two-storey mural on Manhattan's Lower East Side. Entitled "Dump Trump", it depicts the billionaire Republican front-runner – as a steaming pile of crap.
Hanksy's modus operandi is straightforward: he matches a celebrity to a cultural symbol, and then mashes them together to make a visual one-liner. One of his most popular works is Homer Simpson grafted to an avocado half, saying "Avocad'oh!" His first piece was a stencil of a rat – the signature image of the celebrated British street artist, Banksy – with Tom Hanks's face. Hence "Hanksy".
For "Dump Trump", he was inspired by Donald Trump's presidential bid, as unsavoury as it was unlikely, and by the so-called "poop emoji" used in text messages and social media. "Everything I do is for the LOLs," the artist told The Independent. "This was just after Trump had announced his campaign and it all still seemed like a big joke. Unfortunately, the punch-line never came."
After he was invited to paint the wall in question, Hanksy prepared several sketches, he said. "But they were all too convoluted. Whenever I draw something, if I have to think too hard about it, that means it's not a good idea. So I scrapped them five minutes before I started painting. I just wanted to boil it down to the basics, make it as simple as I could. And Trump is a piece of shit."
The image is far from complex, but its details are splendidly executed: the swirl of buzzing flies; the 14-karat gold comb-over; the mouth jutting open, as if the Donald-shaped doo-doo were midway through a derogatory remark about Ted Cruz's wife. "We live in a dumbed down culture," Hanksy said. "You can figure out what it is in five seconds or less, and that's what you need in 2016."
CRUZ -HOW LOW WILL SLEEZY TRUMP GO- (2-25-16).mp4
The artist has enjoyed modest viral success in the past, but the response to "Dump Trump" was unprecedented. In less than a fortnight, he had more than 20,000 new Instagram followers. Soon, his picture started showing up on t-shirts. "As silly as it was, people were really connecting with it. Certain images have the power to sway opinion, and 'Dump Trump' took on a life of its own."
By the time primary season finally got underway in February, Hanksy felt compelled to get involved. He printed 5,000 "Dump Trump" pin-badges and drove to New Hampshire to distribute them. Next, he went to South Carolina ahead of the Palmetto State's GOP primary, where he and a team of "Dump Across America" volunteers handed out "Dump Trump" badges, banners and lawn signs.
Trump Dump, a simple mobile game developed by two college students and apparently based on Hanksy's design, reached second place in the iTunes free app charts in February. The object of the game is to guide a bird through a series of obstacles in order to defecate onto The Donald's head at the climax of each level, thus gradually transforming him into a giant poop emoji.
Earlier this month, as he watched CNN's coverage of anti-Trump demonstrations in Chicago, where protesters had prevented the property mogul holding a rally, Hanksy spotted the poop on a placard. It was there again in Texas and Arizona. When New Yorkers marched on Trump Tower last week, the poop signs were ubiquitous. The artist describes his campaign as "a grassroots (bowel) movement."
People who will flee America if Donald Trump wins

Show all 8
At a Trump rally in South Carolina, two Dump Across America activists even got close enough to the candidate that he noticed their banners and mistook the image for a root vegetable. As the men were escorted out, Mr Trump scoffed at them for wielding "a picture of a potato." Perhaps the only potatoes he ever comes across are the ones piped onto his lunch plate by a personal chef.
Just like that of Mr Trump himself, the appeal of the smiling poop emoji can be difficult to fathom. Emoji were first introduced to mobile phone texting platforms in 1999 in Japan, where some people supposedly consider a shapely faecal twist to be good luck. Gold, poop-shaped lucky charms are widely available in Japanese souvenir stores.
In 2008, Google was the first US company to introduce emoji to its messaging platforms, closely followed by Apple. The pile of poop has been a staple of their alphabets ever since. Ryan Germick, one of Google's original emoji design team, told Fast Company in 2014 that the symbol had proved surprisingly versatile.
"You can do all kinds of funny things with it," he said, "but I guess the most common use is probably, 'That's unfortunate, and I would like to punctuate my comment with a reiteration that I am displeased at what has just been expressed.' It's the anti-like."
Poop is among the 100 most used emojis on Twitter and Instagram, a list largely consisting of variations on the smiley face. Susan Herring, a Professor of Information Science and Linguistics at Indiana University Bloomington, who studies online language, said she had seen a recent small-scale study of emoji usage in private messaging, where the poop symbol sat at number eight.
"I see it used most often in its literal meaning of shit or poop or crap," Professor Herring explained. "It's a little less crude to use the cute, playful emoji. It allows you to express concepts in a more socially acceptable way, and allows people to talk about poop more readily. There's a taboo that is being violated." She added: "If it wasn't taboo, it wouldn't be as fun."
Long before it was an anti-Trump avatar, the poop emoji was a soft toy and a Halloween costume. This week, a recipe for poop emoji-shaped marshmallow treats became a viral hit. Matthew Cetta, the food blogger responsible, said his site, Nomageddon, rarely attracted more than 100 page views per day. Since he posted the poop recipe, its daily page views have already climbed above 25,000.
"My previous recipe was for lamb with a cognac-dijon cream sauce," Mr Cetta said, at pains to explain the wild popularity of his gooey number twos. "Everyone loves the poop emoji. It's just fun. I got an email from a guy who runs a colon cancer survivor group. He said the group love the recipe. I just imagine them all eating these little sugary poops at their next meeting."
Google's original poop emoji used to include circling flies. Now, like the Apple version, it has eyes and a smile instead. (Hanky's painting keeps the flies.) "US culture tends to be prudish about things like sex and excrement, so a lot of people are uncomfortable with the idea that this is an image of shit," Professor Herring said. "I think that has to do with why they're becoming sanitised."
Hanksy, who admits that his anonymity is mostly a "schtick", says he grew up in Chicago. In 2008, he was working in a Windy City branch of Urban Outfitters, where one of the most popular t-shirts being sold was emblazoned with Shepard Fairey's signature "Obey" logo. "Then suddenly his 'Hope' poster was everywhere, and I was like, 'Man, this guy has it going on!'"
During that year's election, Hanksy canvassed for Obama and was in Chicago's Grant Park to see the President deliver his victory speech. He studied at a prestigious law school, but dropped out and became a freelance writer. Less than two weeks after moving to New York for a digital marketing job, he was laid off, and decided to try street art for a lark. It turned out to be a living.
"I'm very fortunate to be able to do this full time," says Hanksy, who is now around 30 years old. "I see other extremely talented artists scraping by waiting tables and bartending, and here I am drawing glorified dick jokes and making a living. It's not lost on me that I'm very lucky."
So far, Hanksy has bankrolled Dump Across America himself, but he is planning a crowd-funding drive to ensure he can keep the campaign going until election day – assuming Mr Trump turns out to be the Republican nominee. "If, a year from now, we look back on Donald Trump's failed presidential campaign, and this is the image that's associated with it, I couldn't be happier," he said.
And why not? How else should reasonable Americans respond to a presidential candidate who meets questions with insults, who encourages violence against protestors and offers to pay the legal fees, who says we should ("temporarily") ban a quarter of the world's population from entering the US, and who openly advocates torture and the killing of women and children?
Should they try to engage him in a reasoned debate? Shut down his rallies by force? Or might it be more fitting just to paint his face on a two-storey turd?
Join our new commenting forum
Join thought-provoking conversations, follow other Independent readers and see their replies