Elaine Chao: Transportation Secretary and Mitch McConnell's wife 'to resign following Capitol riots'
Ms Chao is the latest high profile resignation from the Trump administration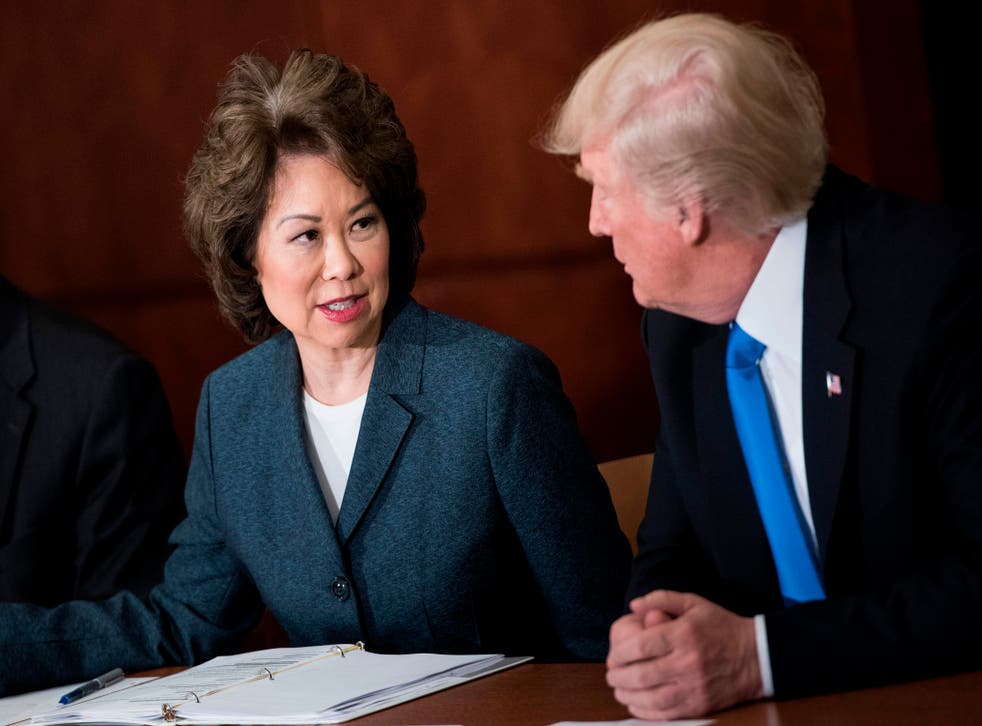 US Transportation Secretary Elaine Chao will resign, according to reports from officials familiar with the situation. 
According to The Washington Post's Josh Dawsey, Ms Chao sent out a draft to her Department of Transportation colleagues explaining her resignation, which she says is motivated by the US Capitol riots carried out by Trump supporters in recent days. 
Ms Chao is married to Senator Mitch McConnell, who also condemned the riots and opposed Donald Trump's demands that the election be overturned in his favour. 
"Our country experienced a traumatic and entirely avoidable event as supporters of the president stormed the Capitol building following a rally he addressed. As I'm sure is the case with many of you, it has deeply troubled me in a way that I simply cannot set aside," Ms Chao wrote in her letter.
Ms Chao is the latest in a flurry of resignations from the Trump administration in the wake of the riots.
Mick Mulvaney, Mr Trump's special envoy to Northern Ireland, also resigned on Thursday.
"Those who choose to stay, and I have talked with some of them, are choosing to stay because they're worried the president might put someone worse in," Mr Mulvaney said on CNBC's Squawk Box.
He went on to say that the president was "not the same as he was eight months ago".
"We didn't sign up for what you saw last night. We signed up for making America great again. We signed up for lower taxes and less regulation," Mr Mulvaney said. "The president has a long list of successes that we can be proud of. But all of that went away yesterday."
Hours after Mr Trump's supporters stormed the Capitol building, First Lady Melania Trump's chief of staff, Stephanie Grisham, and the White House social secretary Anna Cristina Niceta resigned their positions.
Ms Grisham at one time was Mr Trump's top spokesperson.
The White House press secretary Sarah Matthews announced that she would also resign, saying that she was "deeply disturbed" by the Capitol insurrection.
CNN reported that three White House aides – national security adviser Robert C. O'Brien, deputy national security adviser Matthew Pottinger and deputy chief of staff Chris Liddell – were also considering resigning their positions. 
Sources speaking with CNN said they believed that a landslide of resignations could be triggered if the three men leave their positions.
Join our new commenting forum
Join thought-provoking conversations, follow other Independent readers and see their replies