Election 2016 voter turnout: Millions of Americans cast their vote as Hillary Clinton and Donald Trump await results
Reports suggest long lines might lead to a record turn out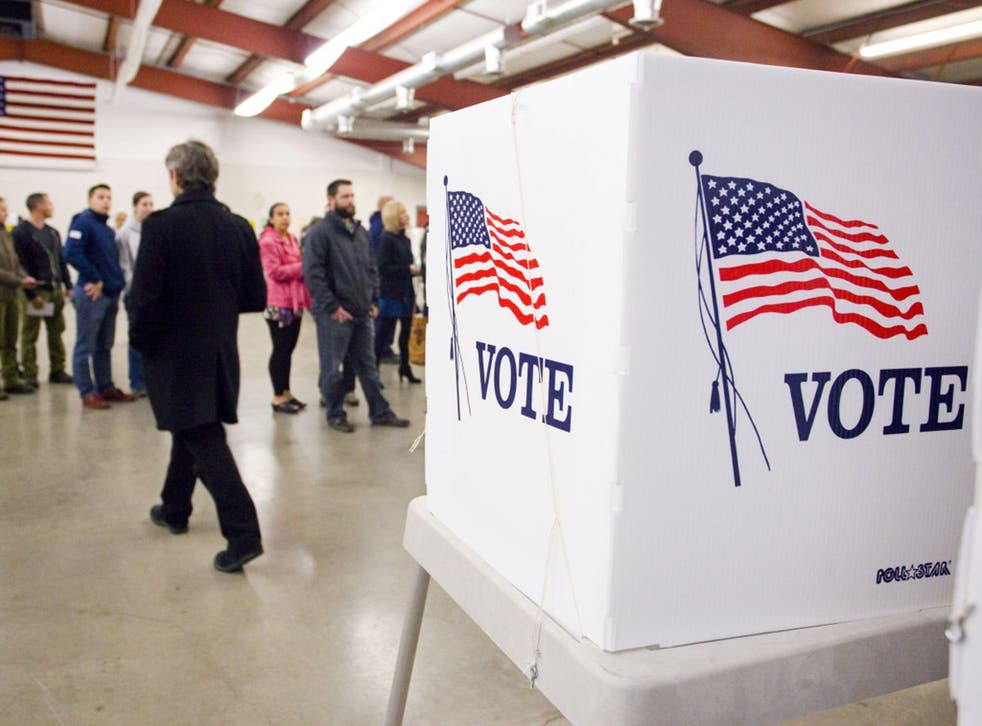 From the sun-filled streets of Harlem to the humid avenues of Miami, and across the golden expanse of California, America has cast its votes, with polls suggesting Hillary Clinton started election day the favourite, but with a nation unsettled and anxious. Many people, if not most, will be glad when this most toxic of campaigns is over.
Reports of long lines at polling stations across the country suggested that turnout our could reach new levels, despite a campaign that has been without precedent for its toxicity and rhetoric.
"I went and voted at 12pm. The polling station was near my dorm," said Gertrude Clark, a 19-year-old student in New York. She said she had voted for Ms Clinton, as she would prefer a politician to run the country rather than a businessman. "She is not a saint," she added. "But sometimes you have to pick the better of two options."
Isra Ali, an academic had voted early in Jersey City. But she said that even at 6.30am, the number of people was greater and usual and she sensed an amount of tension.
"I voted for Hillary Clinton. As a Muslim American I'm terrified of Donald Trump becoming president," she said. "I don't agree with everything that she does, but she is the best choice."
Mr Trump, 70, voted in New York, where he was booed by some in the polling and where he was photographed glancing over his wife's shoulder, as she cast her ballot, an image that quickly went viral.
Mr Trump once again raised the prospect that the vote would not be fair: "We're going to see how things play out today. Hopefully they'll play out well and hopefully we won't have to worry about it, meaning hopefully we'll win," he told Fox News. "I want to see everything honest."
Mr Trump also tried to sue the registrar of voters in Nevada's Clark County over a polling place in Las Vegas that had been allowed to remain open late last week during an early voting period to accommodate people, many of them Hispanic, who were lined up to cast ballots.
If successful, the lawsuit would have asked that records of thousands of early votes would be discounted. But the judge, Gloria Sterman, said that the case was "disturbing to me" and make clear that she was not doing it.
Ms Clinton, aiming to become the first woman US president, cast her ballot at an elementary school near her home in Chappaqua, New York early on Tuesday morning.
"It is the most humbling feeling. I know how much responsibility goes with this," she told Reuters. "So many people are counting on the outcome of this election, what it means for our country. And I'll do the very best I can if I'm fortunate enough to win today."
Ms Clinton, 69, led Mr Trump, by 44 per cent to 39 per cent, in the last Reuters/Ipsos national tracking poll before Election Day. A Reuters/Ipsos States of the Nation poll gave Clinton a 90 per cent chance of defeating Trump and said she was on track to win 303 Electoral College votes, with 270 needed for election.
Register for free to continue reading
Registration is a free and easy way to support our truly independent journalism
By registering, you will also enjoy limited access to Premium articles, exclusive newsletters, commenting, and virtual events with our leading journalists
Already have an account? sign in
Register for free to continue reading
Registration is a free and easy way to support our truly independent journalism
By registering, you will also enjoy limited access to Premium articles, exclusive newsletters, commenting, and virtual events with our leading journalists
Already have an account? sign in
Join our new commenting forum
Join thought-provoking conversations, follow other Independent readers and see their replies