Elizabeth Warren announces abortion protections in wake of Alabama ban
A handful of states have passed extreme abortion bills in the US this year, hoping that legal challenges will bring the laws before Supreme Court — where America's landmark Roe v Wade abortion protections could be overturned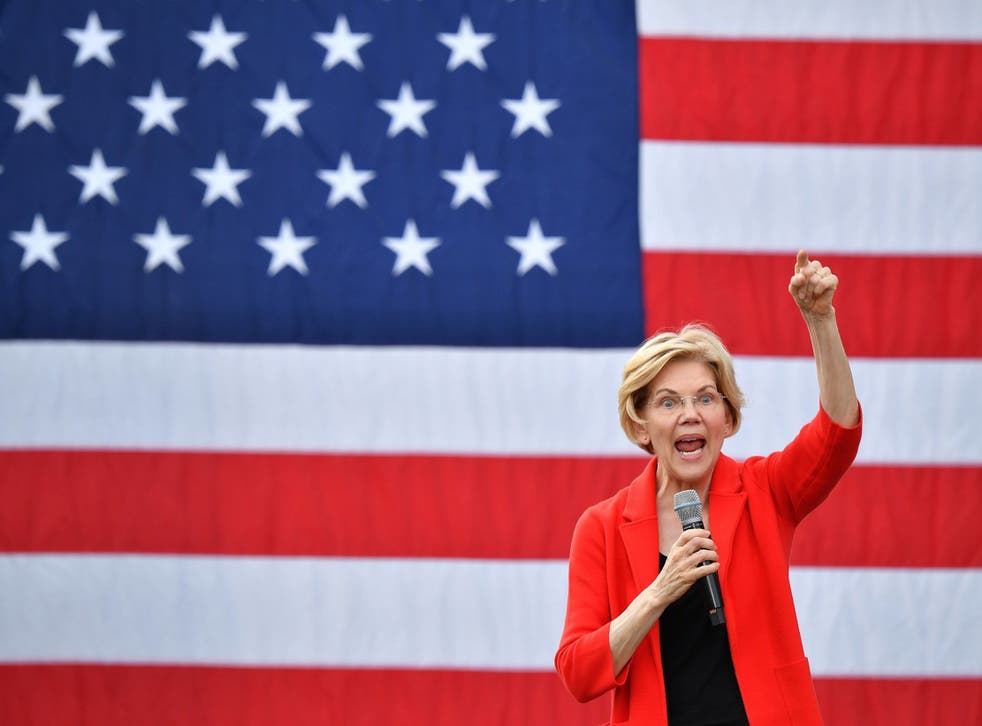 Elizabeth Warren has called on Congress to take action amid the wave of anti-abortion bills that have been passed across the US this year, including the recent bill in Alabama that could send doctors to prison for life over the procedures.
Ms Warren, a top Democratic presidential candidate, warned that the laws pushed forward by conservatives could allow the Supreme Court to chip away at America's abortion protections established in Roe v Wade, or reverse that precedent all together.
"Right-wing Republican lawmakers in Alabama just enacted the most extreme abortion ban in over 40 years," Ms Warren wrote in a Medium post on Friday. "The new law bans abortion at every stage of pregnancy, doesn't include exceptions for rape and incest, and could result in doctors who perform an abortion being thrown in prison for up to 99 years. Republicans in Missouri are following close behind with a bill of their own."
Ms Warren continued, casting the effort as a broader Republican attempt to overturn Roe v Wade.
"I'll be blunt: It just might work. President Trump has packed the courts with extreme, anti-choice judges," Ms Warren said of the conservative plan to undermine abortion access. "Senate Republicans stole a Supreme Court seat and rammed through the confirmation of Justice Kavanaugh last year in order to cement an anti-choice majority on the Supreme Court."
The Democrat challengers to Trump in 2020

Show all 25
The Massachusetts senator noted that efforts to undermine the landmark Roe decision have been well underway since the decision was passed down 46 years ago. That has included efforts that have eliminated abortion clinics in 90 per cent of American counties, and the curbing of access to reproductive health services.
Ms Warren is calling for Congress to take on the issue, and to pass a federal statute that "parallel the constitutional right in Roe v Wade".
Noting that polling shows that 71 per cent of Americans oppose the removal of Roe, Ms Warren said that the US government should work to stop states from interfering with the ability of healthcare providers to do their job.
Support free-thinking journalism and attend Independent events
The bill recently signed into law in Alabama would effectively ban abortion in the state, and would see physicians who perform the procedures going to prison for up to 99 years or life.
Opponents of the bill note that the law would rip the agency of women from them, and could lead women to seek dangerous and unregulated abortions from non-medical professionals.
Register for free to continue reading
Registration is a free and easy way to support our truly independent journalism
By registering, you will also enjoy limited access to Premium articles, exclusive newsletters, commenting, and virtual events with our leading journalists
Already have an account? sign in
Register for free to continue reading
Registration is a free and easy way to support our truly independent journalism
By registering, you will also enjoy limited access to Premium articles, exclusive newsletters, commenting, and virtual events with our leading journalists
Already have an account? sign in
Join our new commenting forum
Join thought-provoking conversations, follow other Independent readers and see their replies