Eric Trump denies he ever said family's golf courses were funded by Russia
Mr Trump says sportswriter's story is 'completely fabricated'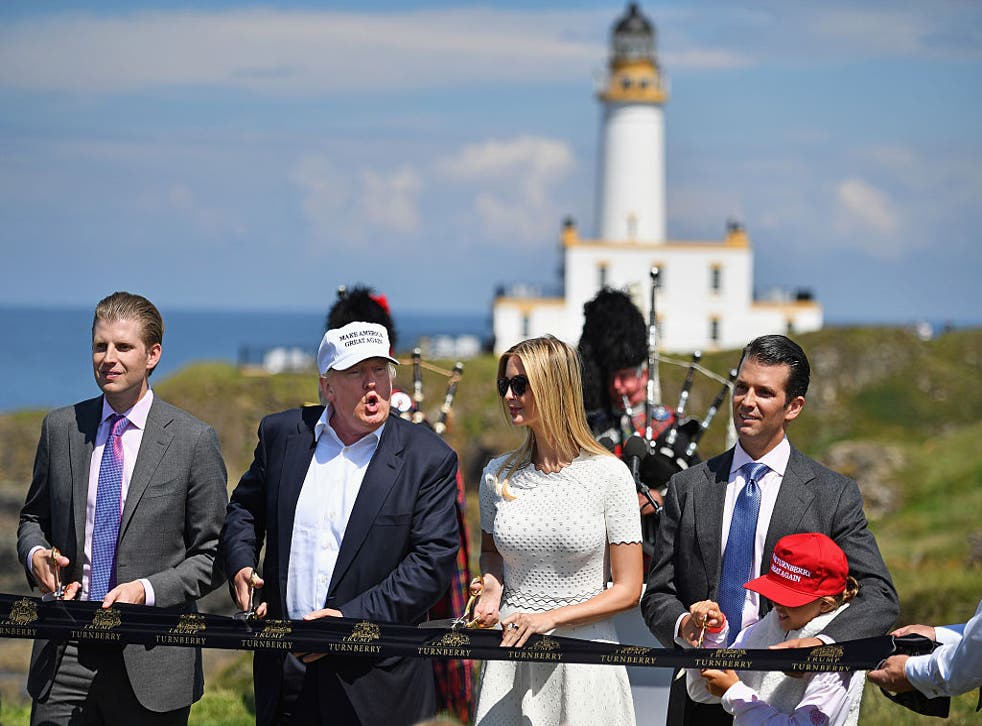 President Donald Trump's son Eric has denied that he ever said the family's real estate business got money from Russia to fund golf courses.
Golf writer James Dodson told a Boston radio station that while at a Trump-owned golf club in 2014, he asked both Eric and Mr Trump where they were getting the money to pay for their properties.
Mr Trump apparently said that he had access to $100 million for golf courses.
"When I got in the cart with Eric, as we were setting off, I said, 'Who's funding?'" Mr Dodson said in the interview.
"I know no banks — because of the recession, the Great Recession — have touched a golf course. No one's funding any kind of golf construction. It's dead in the water the last four or five years. And this is what he said. He said, 'Well, we don't rely on American banks. We have all the funding we need out of Russia.' I said, 'Really?' And he said, 'Oh, yeah. We've got some guys that really, really love golf, and they're really invested in our programmes. We just go there all the time.'"
Eric, who is co-running the Trump Organisation with his brother Donald Jr while their father is president, took to Twitter to slam Mr Dodson's account as "completely fabricated," saying that it is "just another example of why there is such a deep distrust of the media in our country."
Eric's comments are not the first time a member of the Trump family has suggested that the company receives funding from Russia. Donald Jr told a real estate conference in 2008 that the family business "sees a lot of money pouring in" from the country.
However, the president has repeatedly denied having financial connections to Russia. The FBI is currently investigating alleged Russian meddling in the 2016 US election and allegations of links between Moscow and the Trump campaign.
Register for free to continue reading
Registration is a free and easy way to support our truly independent journalism
By registering, you will also enjoy limited access to Premium articles, exclusive newsletters, commenting, and virtual events with our leading journalists
Already have an account? sign in
Register for free to continue reading
Registration is a free and easy way to support our truly independent journalism
By registering, you will also enjoy limited access to Premium articles, exclusive newsletters, commenting, and virtual events with our leading journalists
Already have an account? sign in
Join our new commenting forum
Join thought-provoking conversations, follow other Independent readers and see their replies