Fight to reunite immigrant families separated by Trump administration is far from over, advocates say
More than 50 children have been reunited with their families, but the process has been slow and difficult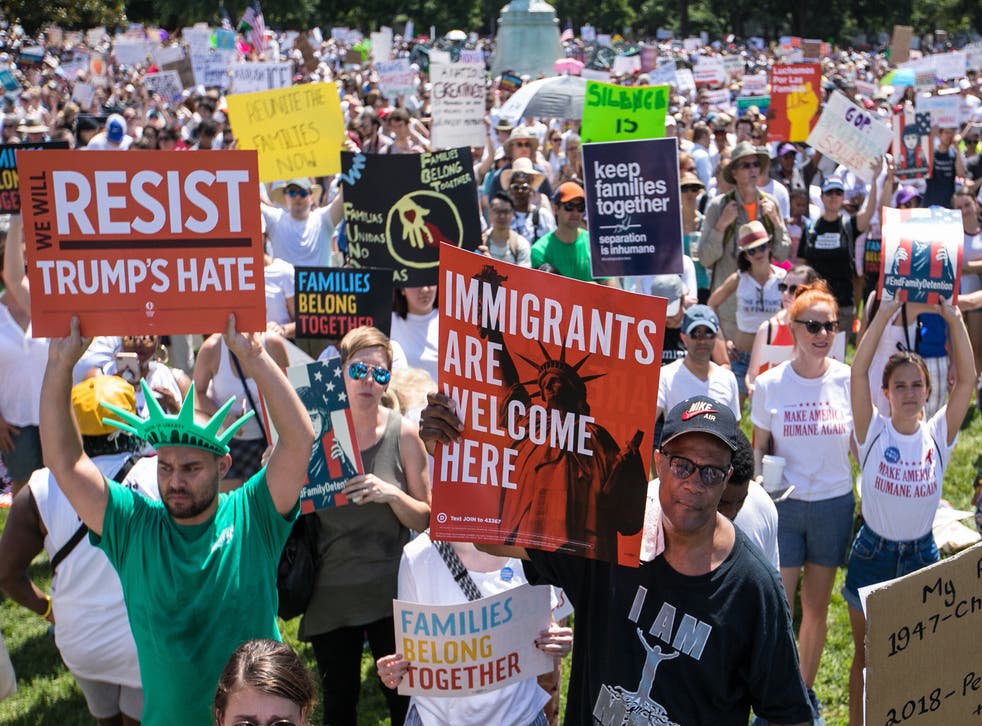 The pain for families separated at the US border is far from over activists say, despite the Trump administration claiming it has reunited more than half of the youngest immigrant children it separated from their parents under its "zero tolerance" policy.
A US district court judge has ordered Donald Trump's government to return the more than 2,000 migrant children it separated from their parents between May and June of this year. The administration started by reuniting children under the age of five with their parents this week, in what proved to be a slow and occasionally painful process.
"It's really frustrating because you don't know whether they're telling you the truth," Jennifer K Falcon, communications director of RAICES aid project Texas, told Elle. "Even the immigration attorneys have had to become almost private investigators to track down these families and even post bond."
According to the Department of Health and Human Services (HHS), the administration reunified 38 of the 102 children under five by Tuesday's court-ordered deadline. Nineteen more were reunited shortly thereafter. The remaining 46 children were not reunified because their parents had already been deported, had a serious criminal history, were in the custody of other US law enforcement agencies, or for various other reasons.
Attorneys and human rights advocates, however, said they were unable to verify that the 57 supposedly reunified children had actually been returned to their parents, the American Civil Liberties Union (ACLU) said in a court filing on Thursday. Officials did not provide attorneys with the exact time and place the reunification would occur or allow third parties to witness them, making them impossible to verify, the ACLU said.
Anti-Trump protests: Tens of thousands march across America against president's immigration policies
Even the families who were reunited, the ACLU said, encountered significant difficulty in doing so. According to the court filing, one immigrant woman who was freed from detention was allegedly left alone at a bus stop with her children – one of whom was six months old.
Another parent was taken to multiple different US Immigration and Customs Enforcement (ICE) locations without her attorney being notified, according to the ACLU. Yet another parent was told to wire $1,900 to Western Union in order to cover the costs of reunification, the court filing said.
Stories such as these are likely to balloon as the administration undertakes the larger task of reunifying the separated children aged 5 to 17, who have been placed in shelters or sponsor families around the country. HHS has say exactly how many of these children are in its care, but has estimated the number is between 2,000 and 3,000.
'Families belong together' protests over Trump immigration policy

Show all 8
One of the major challenges, advocates say, will be reuniting families in which the parent has already been deported. Twelve of the children under age 5 were not reunited with their families this week because their parents had been deported. HHS said only that these parents were "being contacted".
Jennifer Podkul, an attorney for Kids in Need of Defence (KIND), told The Independent the government was not prioritising those reunions. In fact, she said, the administration was increasingly leaning on non-governmental organisations like KIND to contact the parents for them.
"Everybody seems to be washing their hands if the parents have been deported already," she said, adding that the government was refusing to allow those parents who had been located back into the country to be reunited with their children.
Ms Podkul said her organisation had also received reports that parents were being told they could be reunited faster if they agreed to sign a deportation order – a tactic she believes is being used to force them out of the country.
"The desire for the families to get together is so great, we don't want to see that being used as a coercive tactic," she said.
Other challenges include making sure the children retain their own legal counsel once they are reunited. Children sometimes have a more persuasive asylum claim than their parents, Ms Podkul said, so lumping their claims together could damage the child's case.
Screaming children heard crying for parents at US detention centre after being separated at border under Trump policy, in distressing audio recording
But immigrants rights activists had cause to celebrate after recent rulings by Judge Dana Sabraw, who is adjudicating the ACLU's challenge to the family separations. Mr Sabraw recently ordered the administration to stop using DNA tests to prove parenthood, unless no other evidence was present and the parent offered their consent. Advocates say these tests give the administration more power to track and surveil immigrant families.
Mr Sabraw also ordered HHS to use a more streamlined background check system when reunifying separated families, which advocates hope will make the process move faster. The department usually conducts in-depth reviews before placing immigrant children with sponsors in the US, but, as Ms Podkul put it: "These are kids who came with their parents. We don't need to screen their parents."
The stories of separated families have also mobilised a broad base of grassroots support. The newly created Families Belong Together coalition has planned a Day of Action for 28 July, to keep the issue at the forefront of the public's mind. Other groups are collecting money for flights to reunite families, and sending them food and entertainment for the journey.
A Facebook fundraiser to help immigrant parents post bail last month raised nearly $14m for RAICES Texas, which provides low-cost legal services for immigrants.
"We've been occasionally crying around the office all day when we check the fundraising totals," RAICES wrote on Facebook. "This is such a profound rejection of the cruel policies of this administration. Take heart."
Join our new commenting forum
Join thought-provoking conversations, follow other Independent readers and see their replies