Why so many Yakima Valley farmers don't support Trump's wall: 'America is supposed to be a nation of immigrants'
Across the nation, farmers have suffered because of government shutdown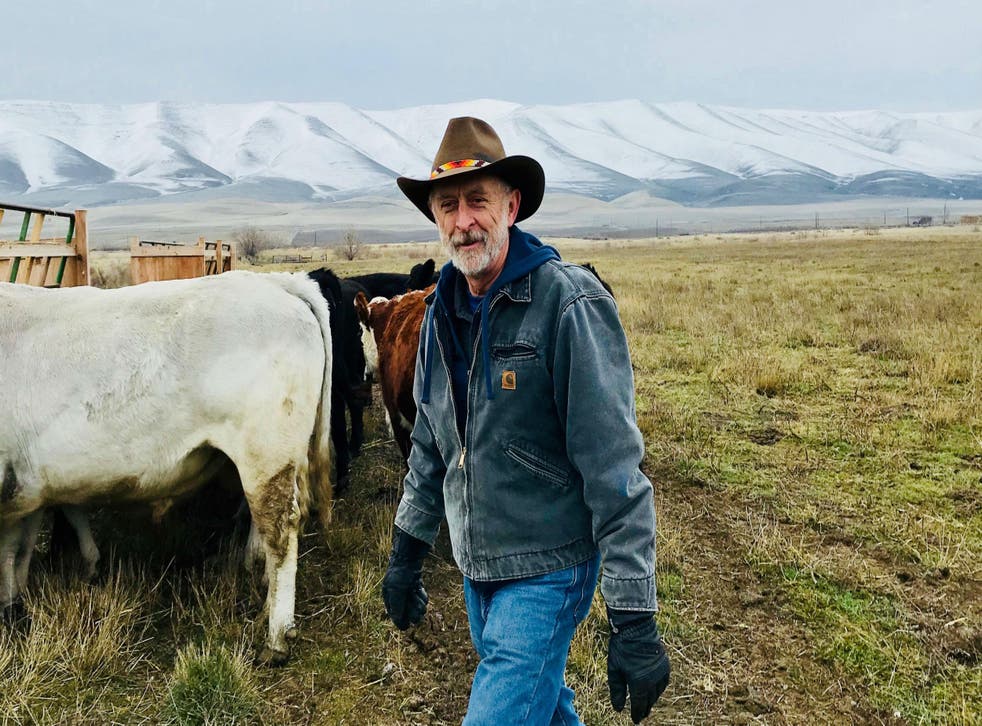 Like most small farmers, Dan Peplow earns the callouses on his hands.
Early mornings, long days and an ever-shifting agricultural economy that guarantees nothing but uncertainty. With the government shutdown closing the Yakima office of the Bureau of Indian Affairs (BIA), a federal agency that has been dealing with a disputed water charge, he received a succession of payment demands in the post. The BIA official dealing with his case quit their job, he says.
Throughout the days of anxiety and bureaucratic hassle – the payment company advised him to obtain a letter of support from his local congressman – the 65-year-old farmer has held true to two beliefs: that the border wall demanded by Donald Trump is wrong, and that migrant labourers have long been vital to the farming community where he is raising his family.
"Migrant labour has been a big part of agriculture from the beginning," he says. "If it was not migrant labour, it was the underclass – like my grandparents living in a tent. When [the labour's] not there, it stops."
He adds: "As a third-generation descendant of German Russian immigrants, it would be indefensible and unjustifiable to support the wall, and not support those fleeing conditions created by the Free Trade Agreements."
Support free-thinking journalism and attend Independent events
Washington's Yakima Valley is famous for its production of everything from fruit to hops and cattle. It is the US's largest provider of apples, cherries, grapes and pears. The valley has huge skies, and at times the rows of crop seem to run to the horizon.
It is also located in the fourth congressional district, one of just two of the 10 districts in Washington state that has a Republican member of congress. Trump won Yakima county 54-40 in the 2016 presidential contest with Hillary Clinton.
Farmers across America have been affected by the decision to shut the government, a record-setting shuttering that has impacted 800,000 federal employees, who have either been sent home or are working without pay. The shutdown has now dragged on for a month, as Trump fails to agree a spending package with Democrats if it does not contain $5.6bn (£4.35bn) for a wall.
Those farmers affected by last year's tariff dispute with China, especially soy producers and cherry growers whose products were among the items targeted by Beijing, have not received the compensation payments offered by the Trump administration, because the farm service agency, part of the department of agriculture, has been closed.
Others have been unable to obtain loans that some turn to the agency to provide. Overseas exporters have been affected by the fact the government's electronic system for approving exports is not working as it normally does.
"Right now, I need seed and diesel fuel; I do not need a damn wall," John Boyd, a farmer from Virginia, recently told the Washington Post.
In Yakima, 120 miles southeast of Seattle, few said they had been impacted directly by the shutdown, though many said they knew of friends who had been.
Lon Inaba, a fifth-generation farmer whose family owns the Inaba Produce Farm, says he had some friends who had missed government payments because of the shutdown. He says the media rarely focuses on farmers, because people take the work they do for granted.
He says in Yakima, much of the labour that harvested the crops was either migrant, or else the descendants of migrant families. Under the rules of the H-2A visa scheme, an employer must guarantee a job and somewhere for the worker to live.
"One of our concerns with regard to our H-2A programme is that the Department of State will continue to process visas in (foreign) consulates until they run out of money," Michael Marsh, president of the National Council of Agricultural Employers, told The Packer, a trade publication of the fruit and vegetable industry. "We know we've got some applications that are in play right now and that could be a real problem if we can't get the workers in here."
A 63-year-old apple farmer called Don, who asks just to give his first name, says that getting labour is a problem for major employers, and that they rely on the H-2A scheme. Don says he is frustrated with politicians from both sides for failing to compromise and solve the shutdown. He also expresses anger towards the Mexican coyotes and traffickers who were bringing migrant people into the country illegally.
World news in pictures

Show all 50
The situation in Yakima is made more complex by the demographic make-up of the valley and the patchwork of ownership of the land – Anglo, Latino and Native American.
Gallo Vasquez, who moved to Yakima in 1972 from Mexico, claims the shutdown is affecting poor people and that the rich rarely suffer. He denounces Trump's demand for a wall, saying: "We are not terrorists."
He says people choose to ignore those working the land. "There is racism here. When people sit down at night, they don't think about where their steak came from or their perfect apple."
Some in the valley support the idea of a wall. Reagan Hass, 17, who works with his brother and father on a family farm producing apples, pears and cherries, says the shutdown has not impacted them. "I think Trump is right to stand his ground, otherwise people will not vote for him next time."
Bob Shroeder, 75, who once grew apples and managed a packing plant, says there is a different mindset in the valley to that in places such as Seattle.
"On that side of the hill, they expect the government to do everything. They are reliant on someone to pay their wages," he says. "A farmer has to grow something. If he doesn't. He won't get paid."
Peplow says several years ago, he sought to transform his farm by feeding his cattle only naturally, ending the use of artificial irrigation and fertiliser, and reducing damage to the scrub and restoring natural plants that are less thirsty. He, his son Micah and wife Sarah frequently see coyotes, eagles, badgers, bears and once even a cougar.
"Our business model has been designed for the 21st century and intergrates conservation and beef production," he says in a letter asking for help from Republican congressman Dan Newhouse.
The fifth-generation farmer points out that his ranch, with 40-odd cattle, does not use irrigation water allocated by the BIA. Usually he receives a waiver.
This year, because of the shutdown, he has received the bill. "Usually I go and talk with them, but there's nobody there to talk to."
Join our new commenting forum
Join thought-provoking conversations, follow other Independent readers and see their replies