FBI director issues new letter saying it has 'not changed conclusion on Hillary Clinton' since deciding not to charge her
The latest intervention from the FBI Director came two days before election day
Andrew Buncombe
New York
Sunday 06 November 2016 21:41 Comments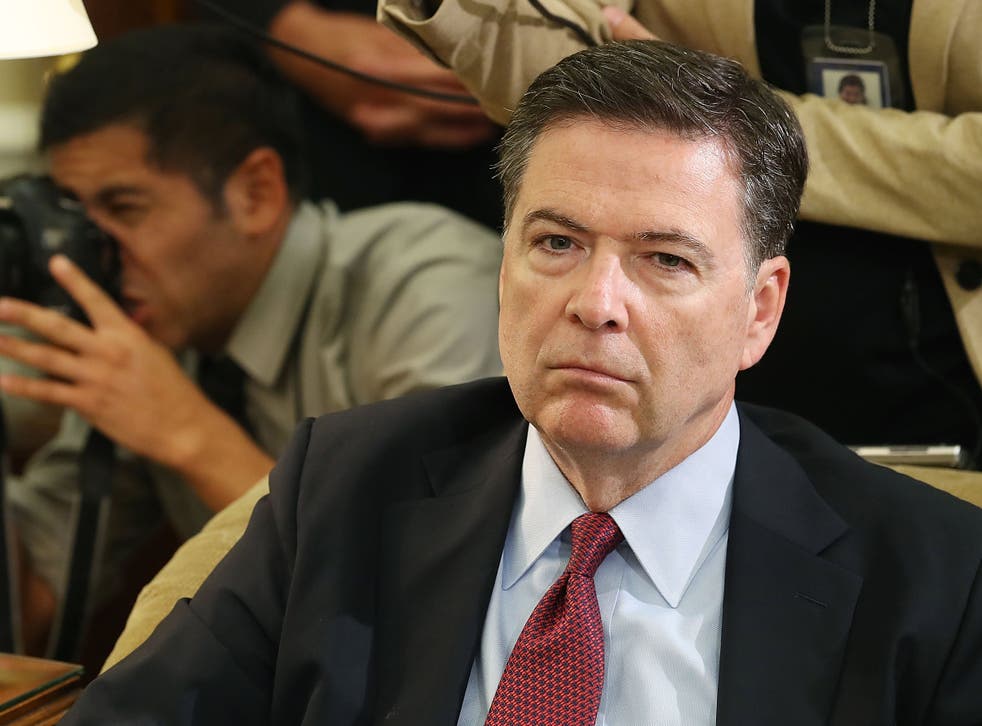 Another day, another dose of electoral drama.
With just two days before election day, the head of the FBI has made public another letter, stressing that the investigative agency has not changed its view of Hillary Clinton since it announced in the summer it did not intend to bring charges.
Ten days ago, James Comey delivered a jolt to the electoral campaign by announcing his agency was reopening its probe of Ms Clinton's use of a private email server. It emerged agents were examining emails discovered on the laptop of Anthony Weiner, a disgraced former congressman who is the estranged husband of a top aide to Ms Clinton, Huma Abedin.
The revelation was leapt on by opponents of Ms Clinton, and subsequent polls showed her lead over Donald Trump begin to close. Yet on Sunday afternoon, Mr Comey published another letter to the Congressional Committee on Intelligence saying "we have not changed our conclusions that we expressed in July in regard to Secretary Clinton".
Mr Comey's initial announcement gave fresh hope to Mr Trump who said that the director's decision had made him renew his faith in the independence of the investigative agency. Ms Clinton and her supporters urged Mr Comey to provide more information about the nature of the probe.
What do Trump voters think of Clinton voters in Colorado?
Under intense pressure from all sides, Mr Comey said in his letter published on Sunday that his team had been working flat out to try and resolve the issue.
"The FBI investigative team has been working around the clock to process and review a large volume of emails from a device obtained in connection with an unrelated criminal investigation," he said.
"During that process, we reviewed all of the communications that were to or from Hillary Clinton while she was secretary of state."
He added: "Based on our review, we have not changed our conclusions that we express in July."
In July, Mr Comey said that although Ms Clinton and her aides were "extremely careless," in their handling of sensitive information there was no evidence of intentional mishandling of classified information. He said he did not think any prosecutor would seek to bring changes
The Clinton campaign quickly jump on the latest development.
"We have seen Director Comey's latest letter to the Hill," said Jennifer Palmieri, a spokeswoman for the campaign.
"We are glad to see he has found - as we were confident he would - that he has confirmed the conclusions he reached in July and we're glad this matter is resolved."
Brian Fallon, another spokesperson for Ms Clinton, said on Twitter that the campaign was always confident that she would be cleared of any wrongdoing.
"We were always confident nothing would cause the July decision to be revisited. Now Director Comey has confirmed it," he said.
But Kellyanne Conway, Mr Trump's campaign manager, asked why, if the Clinton campaign was so confident, why it had attacked Mr Comey "and his credibility".
Register for free to continue reading
Registration is a free and easy way to support our truly independent journalism
By registering, you will also enjoy limited access to Premium articles, exclusive newsletters, commenting, and virtual events with our leading journalists
Already have an account? sign in
Join our new commenting forum
Join thought-provoking conversations, follow other Independent readers and see their replies