Trump-Russia investigation: FBI 'has enough evidence' to bring charges in Flynn probe
Former National Security Adviser at centre of enquiries into possible collusion between Russia and President's campaign team
Benjamin Kentish
Sunday 05 November 2017 18:09 Comments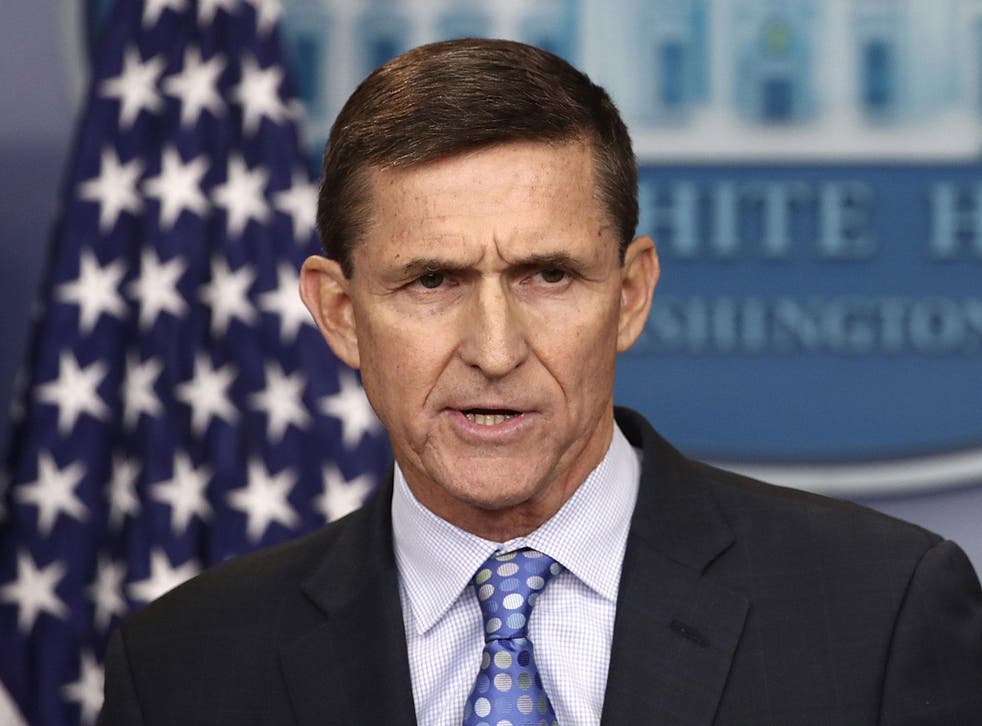 Robert Mueller has enough evidence to bring criminal charges against Donald Trump's former National Security Adviser, Michael Flynn, it has been reported.
The special counsel, who is leading the probe into possible collusion between Mr Trump's team and Russia during last year's presidential election campaign, is said to have uncovered evidence that Mr Flynn acted improperly in relation to his work lobbying for foreign governments.
Mr Flynn resigned in February, after just 24 days in the role, when it emerged he had lied to administration officials, including Mike Pence, the Vice President, about his communications with representatives of the Russian government.
Sources familiar with the investigation told NBC News that Mr Mueller was putting pressure on Mr Flynn following the indictment and arrest of Paul Manafort, Mr Trump's former campaign chairman, last month.
Mr Manafort and his business partner, Rick Gates, were charged with 12 offences, including money laundering and conspiracy against the US.
The alleged evidence against Mr Flynn, a retired army general, suggests Mr Mueller's probe is getting closer to the inner circle around Mr Trump. If he is charged, the former National Security Adviser would be the first person who held an administration post to face prosecution.
White House officials have previously stressed that those charged to date were campaign officials who were not brought into government by Mr Trump. Mr Flynn's possibly indictment would change that.
FBI investigators are reported to have arranged interviews with multiple witnesses in the coming days with the aim of gathering further evidence against Mr Flynn. The inquiries are said to relate to his lobbying work and will investigate whether he laundered money or lied to the FBI about his work.
The biggest names involved in the Trump-Russia investigation

Show all 17
Mr Mueller's team are also said to be looking at whether the former National Security Adviser attempted to have Fethullah Gullen, an elderly Muslim cleric, extradited from the US to Turkey in exchange for millions of dollars.
Mr Gullen is a rival of Recep Erdogan, the Turkish President. He is the subject of an extradition request from the Turkish government, which accuses him of being behind a 2016 coup attempt against Mr Erdogan.
Mr Flynn has undertaken paid work as a lobbyist on behalf of the Turkish government.
The former army general's son, Michael G Flynn, who is a business partner of his father and worked for Mr Trump during the transition period, is also facing possible charges.
Sources told NBC that the older Mr Flynn could be asked to cooperate with the FBI's investigations into other members of Mr Trump's team, in return for greater leniency for him and his son.
If he is charged, Mr Flynn would be the fourth person to face prosecution as part of Mr Mueller's investigation. In addition to Mr Manafort and Mr Gates, George Papadopoulos, a former foreign policy adviser to the campaign, has pleaded guilty to lying to law enforcement officials and is reported to have been cooperating with the investigation.
Register for free to continue reading
Registration is a free and easy way to support our truly independent journalism
By registering, you will also enjoy limited access to Premium articles, exclusive newsletters, commenting, and virtual events with our leading journalists
Already have an account? sign in
Join our new commenting forum
Join thought-provoking conversations, follow other Independent readers and see their replies