FBI Russia investigation is 'now at the door of the Oval office', says former Obama administration staffer
Donald Trump's son-in-law has offered to testify to investigators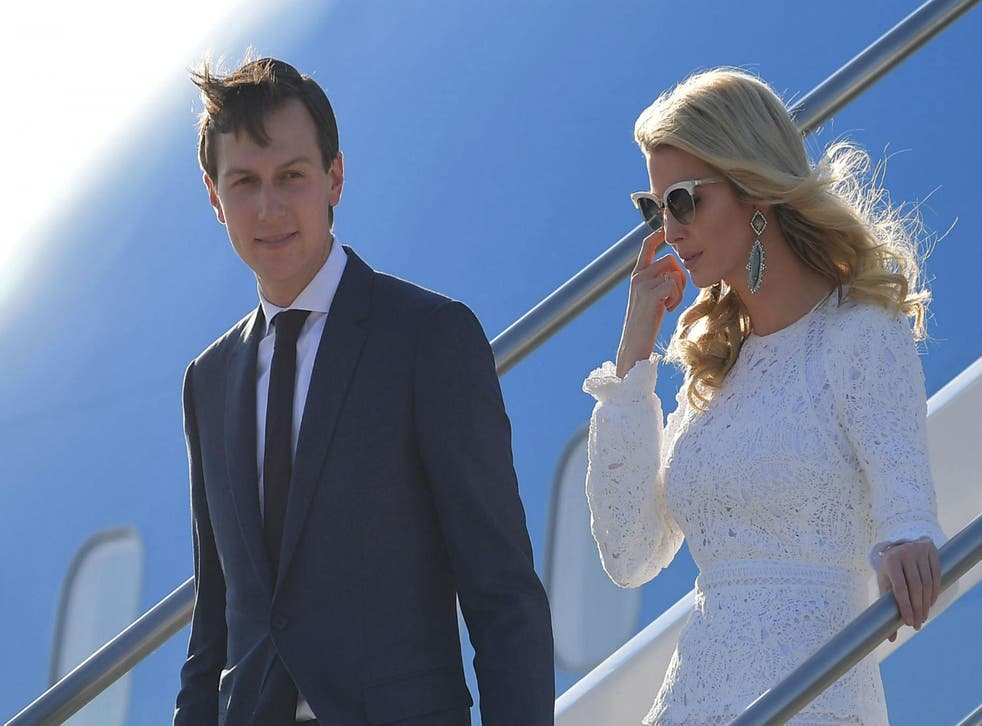 He's the man Donald Trump considers "a very smart guy", "a very good guy", and "a quality person". So smart, so good and with such qualities, indeed, that he blessed his marriage to his eldest daughter, gave him a White House job and tasked him with bringing peace to the Middle East.
Now, it has been confirmed Jared Kushner is a "focus" of the FBI's investigation into possible collusion between the Trump campaign and Russia's alleged effort to influence the 2016 election.
The Washington Post said investigators were looking at a series of meetings Kushner held last year with Russian officials, including Moscow's Ambassador to the US, Sergey Kislyak.
Arabella Kushner, Donald Trump's granddaughter, serenades Chinese President Xi Jinping
"Right now, we're at the door of the Oval Office," Juliette Kayyem, a political analyst who served in Barack Obama's Department of Homeland Security, told The Independent. "It's getting wider in terms of its theory, and it's getting faster. All of these things explain why the President is lawyering up."
There are few people Trump trusts more than Kushner, who is married to his daughter Ivanka , and who is himself the scion of a real estate empire. Although the 36-year-old had no political experience, Mr Trump trusted him at the helm of his election campaign, and in a perhaps unprecedented step, insisted both Kushner and his daughter take up jobs within the White House.
Just this week, it was Kushner who sat in on Trump's meeting with Israeli Prime Minster Benjamin Netanyahu, while national security advisor HR McMaster was excluded.
But Trump's trust in Kushner, and his obvious closeness to him, may now come back to haunt the New York tycoon. If things start to get hot for his son-in-law, does he stick by him, or drop him?
"I don't think it comes as a surprise that they want to speak to him. He was the man at the centre of things. They would want to speak to him even more than people like his former campaign manager Paul Manafort," says Jeanne Zaino, a professor of Political Science at Iona College in New York. "It's obvious they are very close. That's not to say Jared Kushner has done anything wrong, but if he does emerge tainted, that would be very difficult for Trump to shake. It's hard to think Jared Kushner was involved in anything that Trump didn't know about."
The Post article stressed it had not been told Kushner was the central focus of the FBI investigation and said he had not been accused of any wrongdoing. Yet he is one of the people in Trump's inner circle known to have had a number of meetings with Russians, including an official from a Russian bank, Sergey Gorkov, the head of Vnesheconombank, which is owned by the Russian government and which has been the subject of US sanctions following Russia's annexation of Crimea in March 2014.
On Friday, asked for comment about the revelation that Kushner was the focus of the FBI probe, the White House forwarded a statement from his lawyer Jamie Gorelick, which suggested he was prepared to cooperate with the investigation, now being led by former FBI Director Robert Mueller.
"Mr Kushner previously volunteered to share with Congress what he knows about these meetings," it said. "He will do the same if he is contacted in connection with any other inquiry."
World news in pictures

Show all 50
Sarah Flores, a spokeswoman for the Department of Justice, said: "I can't confirm or deny the existence or nonexistence of investigations or subjects of investigations."
NBC said the FBI has collected data on computer bots, programs that perform repetitive functions like searches, allegedly linked to Russia that helped target and push negative information on Hillary Clinton and positive information on Donald Trump through Facebook. Kusher oversaw his own data mining operation for the Trump campaign out of Trump Tower in New York.
Trump has yet to comment on the revelation that Kushner is a reported focus of the FBI's investigation. Previously, Trump said one of the reasons for his decision to fire FBI Director James Comey was the ongoing probe.
'You know, this Russia thing with Trump and Russia is a made up story, it's an excuse by the Democrats for having lost an election that they should've won," he told an interviewer. Later, it was reported that a meeting with Russian foreign minister Sergei Lavrov, the President described Mr Comey as a "nut job".
Heidi Li Feldman, Professor of Ethics at Georgetown Law School in Washington DC, says Trump had breached the usual precedents to prevent conflicts of interests and which typically kept family members out of the White House. Now, the decision could come back to bite him.
"For anyone with normal ethical sensibilities, the hardest thing is when someone you have a reason to be loyal to, does something to imperil you," she says. "We don't know the lengths Trump will go to, to protect Kushner. It's a situation ripe to create abuses."
Join our new commenting forum
Join thought-provoking conversations, follow other Independent readers and see their replies