Ferguson protestor pictured in iconic photo found dead from self-inflicted gunshot wound
His father believes it was an accident
Clark Mindock
New York Comments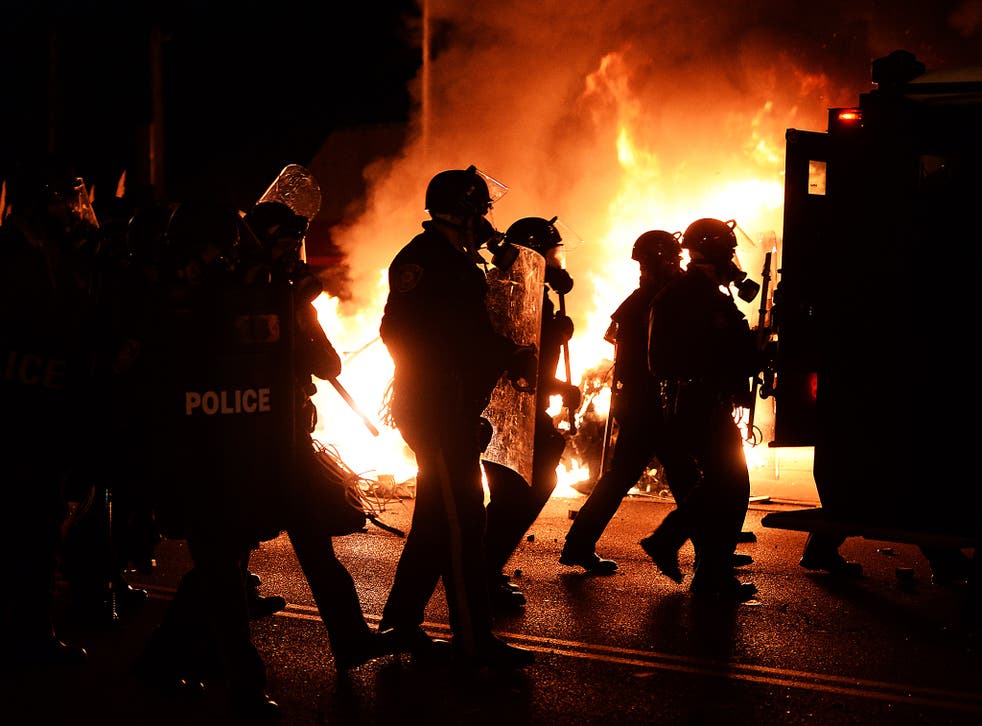 The subject of an iconic photograph from the 2014 protests in Ferguson showing a man throwing a can of smoking tear gas back at police has been found dead from a self-inflicted gunshot wound.
Edward Crawford, whose image was part of a series of photographs that won the St. Louis Post-Dispatch a Pulitzer prize, was found dead overnight, his father Edward Crawford Sr. confirmed to that paper. Mr Crawford was in a car with two women when he shot himself and had been talking about being depressed. His father believes it was an accident.
"I don't believe it was a suicide," the senior Mr Crawford said of his 27-year-old son. He said he had seen his son two days ago and that he was in good spirits at the time.
The iconic image was taken during protests following the shooting of unarmed black man Michael Brown in Ferguson in 2014 that laid bare a painful divide between the city's predominantly black population and its predominantly white police force. Mr Brown's death sparked international outrage and protests, preceding a long list of similarly tragic high-profile killings of unarmed black men at the hands of police across the country.
In the image, Mr Crawford is seen wearing an American flag t-shirt with his right arm cocked backward to throw a smoking canister of tear gas back at the police who had shot it. The image, for many who saw it, represented the pent-up anger toward police and the open defiance that was shown in Ferguson following Mr Brown's death.
But Mr Crawford - who had four children - said that it was less about the defiance than it was an instinct to protect people.
"I didn't throw a burning can back at police," Mr Crawford told the Post-Dispatch in 2015. "I threw it out of the way of children.
Mr Crawford was charged for interfering with police officers and assault. The case was pending at the time of Mr Crawford's death.
Register for free to continue reading
Registration is a free and easy way to support our truly independent journalism
By registering, you will also enjoy limited access to Premium articles, exclusive newsletters, commenting, and virtual events with our leading journalists
Already have an account? sign in
Join our new commenting forum
Join thought-provoking conversations, follow other Independent readers and see their replies