FISA: What is the Foreign Intelligence Surveillance Act, are there any privacy issues and when will Trump sign it?
The Senate recently voted to extend the act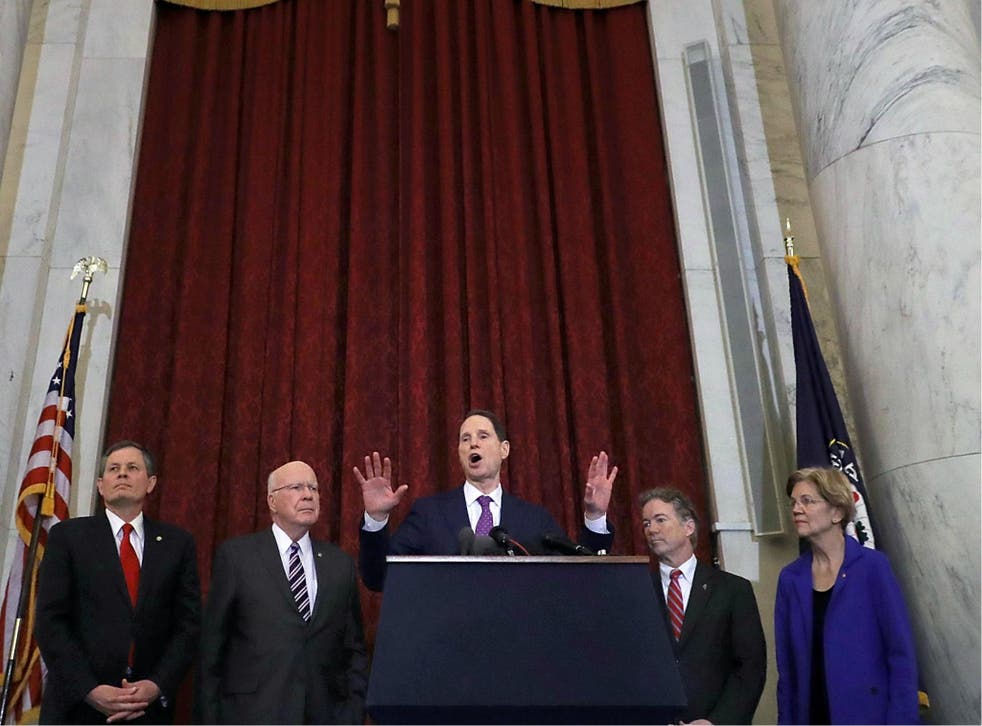 A controversial section of an intelligence-gathering act which was originally passed in the wake of the September 11th attack was recently re-authorised ahead of its expiration deadline.
US President Donald Trump appeared to not understand the Foreign Intelligence Surveillance Act (FISA) Section 702 legislation but ultimately supported it as a crucial element to national security.
Here is what you need to know about the act, the privacy concerns surrounding it, and Mr Trump's support of it.
What is the Foreign Intelligence Surveillance Act?
One section of FISA has been making headlines of late and that is Section 702, which "allows the government to obtain the communications of foreigners outside the US, including foreign terrorist threats."
In other words, the federal government can conduct warrantless searches and collection of materials of "a non-American ISIS member who is outside the US and might be plotting an attack," as CNN reported.
According to the Director of National Intelligence's office Section 702 "cannot be used to intentionally target any US citizen, or any other US person, or to intentionally target any person known to be in the US….[and] cannot be used to target a person outside the US if the purpose is to acquire information" from a person inside the country.
The Act was actually passed in 1978, but first made headlines in 2005 during the administration of former President George W Bush under whose administration this particular section was put into place due to the security concerns after the September 11th attacks.
Theresa May says Russian spy that posed as Ukrainian translator is being dealt with by Ukraine
Proponents of Section 702 argue that since this is spying on foreign nationals plotting threats to the US and others, they lack the protection of warrants that the US Constitution provides.
Ahead of the Congressional vote on 18 January to extend FISA past the expiration deadline, the directors of the CIA, FBI, National Security Agency, US Department of Justice, and other intelligence agencies issued a rare joint statement in support of keeping FISA in place.
"There is no substitute for Section 702. If Congress fails to reauthorize this authority, the intelligence community will lose valuable foreign intelligence information, and the resulting intelligence gaps will make it easier for terrorists, weapons proliferators, malicious cyber actors, and other foreign adversaries to plan attacks against our citizens and allies without detection," the agencies said.
Are there any privacy issues?
Privacy advocates are certainly opposed to Section 702.
In theory the law does not violate the privacy of US citizens or any person of another nationality within the US.
Joshua Geltzer, the former senior director for counter-terrorism at the National Security Council, told CNN: "Not only are [US citizens] not allowed to be targets, but the statute explicitly bars back-door targeting."
However, there may be incidental collection of US citizens' private data or conversations if they are in the company of a suspected foreign person being surveilled under Section 702.
The biggest names involved in the Trump-Russia investigation

Show all 17
Also if a US person is already under investigation, their information could be checked against the Section 702 database to see if they had any contacts with foreign persons of interest.
The American Civil Liberties Union has said these instances of incidental collection amount to unlawful warrantless searches on Americans because Section 702 "permits the government to unconstitutionally collect Americans' international communications without a warrant."
However, Mr Getzler argued that the loophole is "not the initiation of new surveillance. ... It is simply intelligence agencies reviewing the data they have already collected."
When will Trump sign it?
There were some Republicans and several Democrats who were opposed to re-authorising the section of FISA because they felt the act gave powers that were too expansive without additional privacy measures included.
But, ultimately the Senate voted to continue it 65-34 on 18 January.
Mr Trump is expected to sign the bill extension on 19 January, the expiration date. However, there was some confusion about that on his part late last week.
The President had tweeted that FISA was "controversial" and it "may have been used, with the help of the discredited and phony Dossier, to so badly surveil and abuse the Trump Campaign by the previous administration."
He was referring to a dossier on Mr Trump compiled by former MI-6 officer Christopher Steele as commissioned by the private firm Fusion GPS which contained information about alleged collusion between Trump campaign officials during the 2016 US election as well as alleged Russian efforts to help Mr Trump win the election.
The dossier, which is comprised of 17 memos written between June and December 2016, had been made public just 10 days before Mr Trump's inauguration by Buzzfeed News.
The President's tweet suggested he was not in favour of extending FISA, in contradiction with most Republicans in Congress.
However, after speaking with his Chief of Staff John Kelly and US intelligence officials, the President said the act was indeed vital to national security.
Register for free to continue reading
Registration is a free and easy way to support our truly independent journalism
By registering, you will also enjoy limited access to Premium articles, exclusive newsletters, commenting, and virtual events with our leading journalists
Already have an account? sign in
Register for free to continue reading
Registration is a free and easy way to support our truly independent journalism
By registering, you will also enjoy limited access to Premium articles, exclusive newsletters, commenting, and virtual events with our leading journalists
Already have an account? sign in
Join our new commenting forum
Join thought-provoking conversations, follow other Independent readers and see their replies