Floods are God's way of telling you to move, says Republican representative
Representative Jeb Hensarling says taxpayers shouldn't have to pay for reconstruction
Emily Shugerman
New York
Friday 22 September 2017 19:00 Comments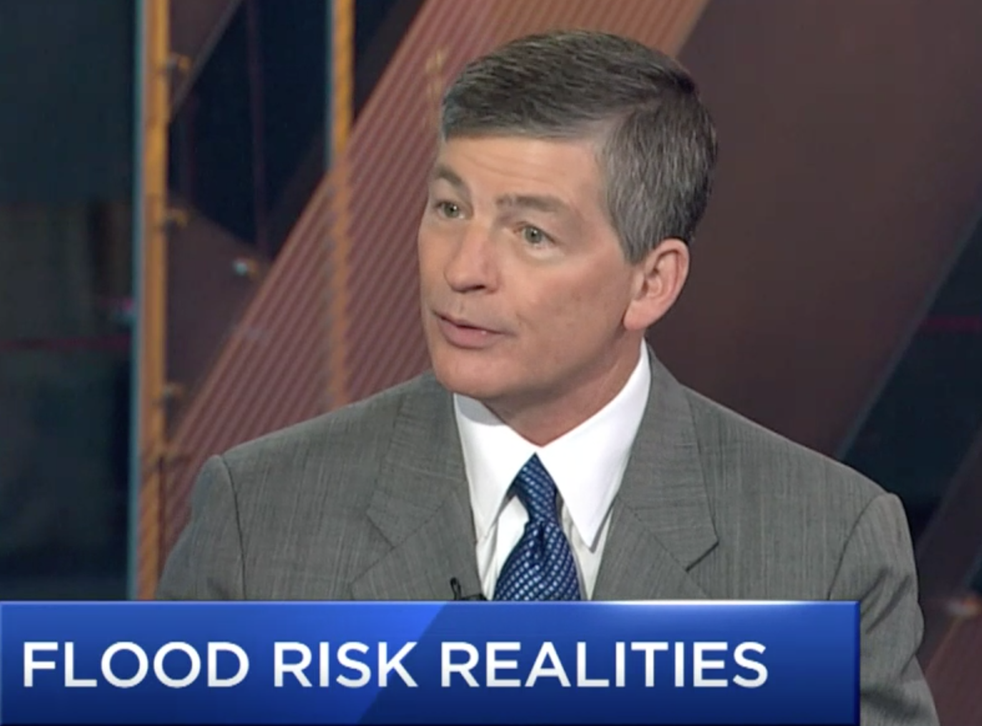 A Republican congressman has suggested that flooding in certain areas – exacerbated by two massive storms that recently hit the US – is God telling homeowners to move.
"We have these repetitive loss properties," Representative Jeb Hensarling said. "For example, we have one property outside of Baton Rouge [Louisiana] that has a modest home worth about $60,000 that's flooded over 40 times. The taxpayers have paid almost half a million dollars for it."
He added: "At some point, God is telling you to move."
Mr Hensarling is a representative for Texas, where Hurricane Harvey damaged or destroyed an estimated 100,000 homes this month. The storm caused some $23bn worth of property damage in two counties alone, according to a Reuters analysis.
On top of that, an estimated 80 per cent of the homes in areas most affected by Harvey did not have proper flood insurance, according to the Washington Post. The federal government has so far approved $15bn for disaster relief.
The aftermath of Hurricane Harvey

Show all 19
A spokesperson for the House Financial Services Committee, of which Mr Hensarling is a member, told The Independent that the Congressman was not talking about hurricane victims – although he mentioned victims of Texas floods several times.
"The interview was about the committee's efforts to reform the National Flood Insurance Program," spokesman Jeff Emerson said. "...He's discussing the need to reform the NFIP. He was not discussing disaster assistance."
In the interview, Mr Hensarling called the flood insurance programme a "fairness issue," claiming taxpayers should not have to foot the bill for repeated reconstruction in flood-prone areas.
"If all we do is force federal taxpayers to build the same home in the same fashion in the same location and expect a different result, we all know that is the classic definition of insanity," he said on CNBC.
He added: "I'm not sure a factory worker in Kansas ought to be subsidising a millionaire's beach condo in Florida" – a reference to Hurricane Irma, which recently struck the Gulf Coast.
The people most affected by tropical storms and hurricanes, however, are usually not millionaires with beach-front properties. In fact, it is lower-income American who are more likely to live in vulnerable areas. These areas are likely to be less expensive, but also less protected by quality infrastructure, the Brookings Institution reports.
Robert Bullard, a professor of urban planning and environmental policy at Texas Southern University in Houston, told Nexus Media that discriminatory housing policies have "restricted or, in some cases, confined poor people and people of color to less desirable areas when it comes to flooding."
"Oftentimes, low-income communities and communities of colour don't get the necessary protection when it comes to flood control," he added.
Mr Hensarling's proposed solution is to privatise flood insurance markets, and even buy out homes in flood-prone areas. Offering federal flood insurance, he said, "is encouraging people to live in harm's way."
Register for free to continue reading
Registration is a free and easy way to support our truly independent journalism
By registering, you will also enjoy limited access to Premium articles, exclusive newsletters, commenting, and virtual events with our leading journalists
Already have an account? sign in
Join our new commenting forum
Join thought-provoking conversations, follow other Independent readers and see their replies