Death threats force Florida's chief NRA lobbyist to miss gun control hearing
The county commission meeting she missed voted to adopt a local ordinance restricting gun access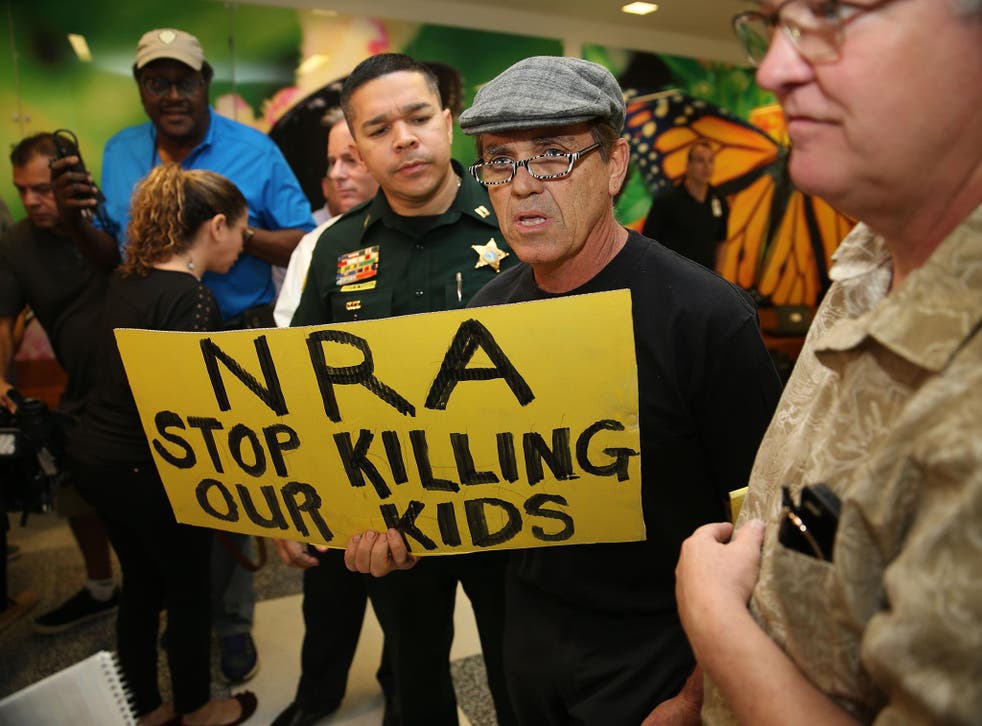 A powerful lobbyist for the National Rifle Association in Florida says she was forced to skip a gun control hearing after receiving a deluge of death threats.
Marion Hammer, who is a well known and successful gun rights advocate in the state, was unable to attend a hearing with the Leon County Commission, saying that several issues — she would have been unable to bring her gun inside the legislative chamber, security at the event was minimal, and hundreds of citizens were expected to pack into the event — weighed on her decision.
When contacted for comment, Ms Hammer emphasised that she only missed a single event as a result of the "disgusting emails" she had received, and noted the apparent hypocrisy of the threats.
"I find it amazing and concerning that those who claim to want to stop violence and gun violence are the ones who are threatening to use violence including gun violence," Ms Hammer told The Independent in the email.
Ms Hammer's absence from the commission hearing on a local gun control ordinance Tuesday was first reported by the Tallahassee Democrat, which obtained an email exchange between County Commissioner Bryan Deslodge, a Republican, and Ms Hammer. Mr Deslodge had contacted Ms Hammer Saturday to express regret that she was being threatened.
"The death threats come with the job," Ms Hammer wrote in an email the next day. "I've dealt with it for many, many years. But it is so ugly this time NRA is insisting that I listen to my security advisers. … I have never been afraid of them but it really makes me angry when they threaten my family."
March for Our Lives – in pictures

Show all 13
The county commission ultimately voted Tuesday night 6-to-1 to adopt an ordinance that requires background checks and a three-day waiting period for all private firearm sales on publicly accessible property.
Florida state law generally restricts counties and municipalities from enacting stricter gun control measures than provided by state law, but makes an exception for those types of restrictions.
The vote comes in the aftermath of the shooting at Marjory Stoneman Douglas High School in February, a shooting that left 17 people dead — including 14 teenagers — and sparked an intense national debate around gun control.
Since that shooting, Florida — known for having lax gun control laws, partly because of Ms Hammer's outsized influence on state politicians and the gun bills they do or do not bring forward — enacted a rare bill that curbed access to guns, including raising the legal age to buy a rifle in the state, and imposing a three-day waiting period.
The bill, which also allows teachers to carry a firearm at school if trained, has been challenged by Ms Hammer's NRA in court.
Register for free to continue reading
Registration is a free and easy way to support our truly independent journalism
By registering, you will also enjoy limited access to Premium articles, exclusive newsletters, commenting, and virtual events with our leading journalists
Already have an account? sign in
Register for free to continue reading
Registration is a free and easy way to support our truly independent journalism
By registering, you will also enjoy limited access to Premium articles, exclusive newsletters, commenting, and virtual events with our leading journalists
Already have an account? sign in
Join our new commenting forum
Join thought-provoking conversations, follow other Independent readers and see their replies