Florida shooting: Trump's 'I hear you' notes revealed in photo of meeting with school survivors
'What can we do to help you feel safe?' President's crib sheet says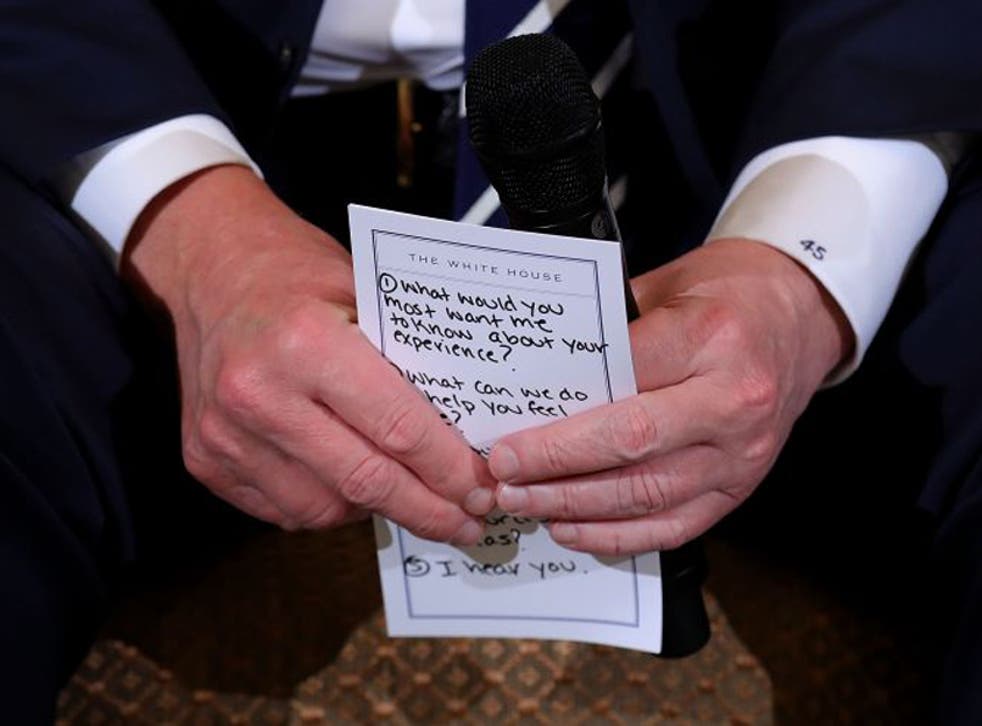 Donald Trump took notes into a meeting with survivors of the Florida school shooting and parents of children killed in the massacre, including one which reminded him to tell them: "I hear you".
Cameras caught the US President holding his crib sheet containing five points, as he joined the grieving students in the White House state dining room.
"I hear you" was the fifth point.
Others included: "What would you most want me to know about your experience?"; "Resources? Ideas?"; and "What can we do to help you feel safe?"
During the session Mr Trump heard from Samuel Zeif, a student who survived the massacre at the Marjory Stoneman Douglas High School in the city of Parkland, which claimed the lives of 17 students and staff.
They were killed when a gunman opened fire with an AR-15 semi-automatic rifle. Nikolas Cruz, 19, has been charged with 17 counts of premeditated murder.
Mr Zeif told the president: "I don't understand why I can still go in a store and buy a weapon of war. An AR. How is it that easy to buy this type of weapon? How do we not stop this after Columbine? After Sandy Hook?"
He was referring to the 1999 massacre in Colorado, when Eric Harris and Dylan Klebold, murdered 12 students and one teacher and the 2012 tragedy in Newtown, Connecticut, when Adam Lanza gunned down 20 young children and six staff members.
Andrew Pollack, whose daughter Meadow was killed last week, also noted previous school massacres.
Clearly angry, he said the moment was not about gun laws but about fixing the schools.
"It should have been one school shooting and we should have fixed it and I'm pissed. Because my daughter, I'm not going to see again," Mr Pollack said. "King David Cemetery, that is where I go to see my kid now."
Julia Cordover, student body president at the Stoneman Douglas school, tearfully told Mr Trump that she "was lucky enough to come home from school".
She added: "I am confident you will do the right thing."
Mr Trump later tweeted that he would "always remember" the meeting. "So much love in the midst of so much pain. We must not let them down. We must keep our children safe!!"
He promised action on background checks and mental health provision, and said he would go "very strongly into age, age of purchasee"
The President also suggested he supported the arming of teachers and other school employees and allowing them to carry concealed weapons.
He said that if football coach Aaron Feis, a victim who was praised for shielding students from flying bullets, had been armed "he would have shot and that would have been the end of it".
Mr Trump spoke about how armed teachers and security guards could frighten off potential shooters and prevent more deaths.
"If you had a teacher ... who was adept at firearms, they could very well end the attack very quickly", he said
Florida shooting – in pictures

Show all 10
It put him at odds with his education secretary, Betsy DeVos, who last week refused to be drawn on whether she personally believed arming teachers was a good idea.
She told a conservative radio host it was an issue for states and local communities to "wrestle" with.
Mr Trump has also said he wants to ban so-called "bump stocks", the devices that can be used to make semi-automatic weapons fire faster.
Additional reporting by agencies
Join our new commenting forum
Join thought-provoking conversations, follow other Independent readers and see their replies