Ex-Bill Clinton staffer says Matt Gaetz 'wants to date your child' in Florida billboard
Ad was paid for by liberal political action committee 'Mad Dog', chaired by a former Clinton White House staffer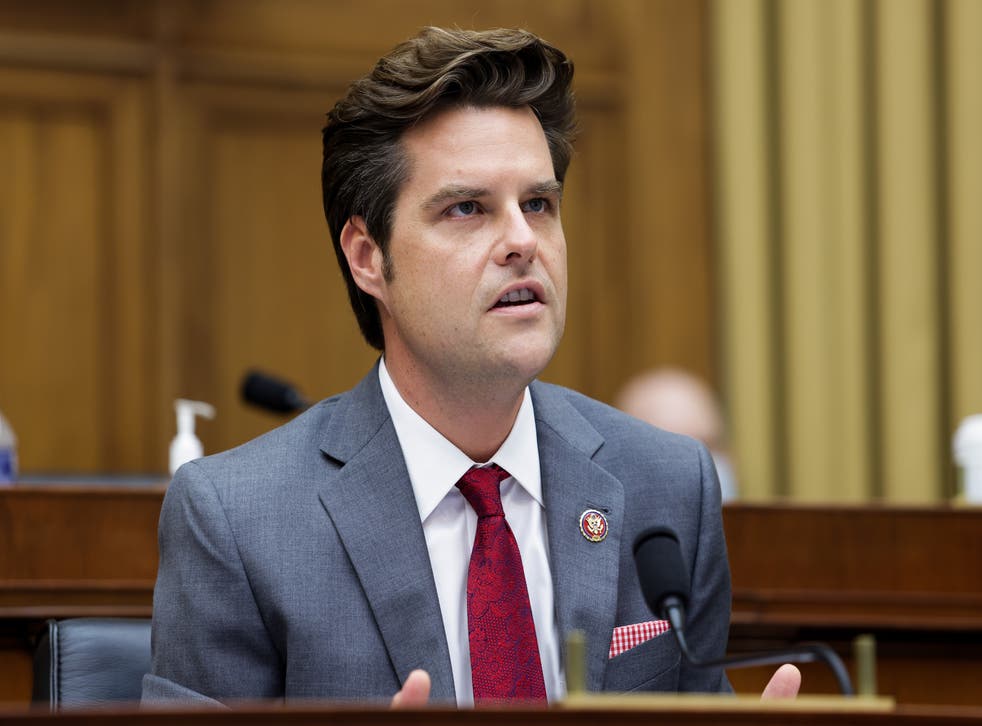 Leer en Español
A billboard saying "Matt Gaetz wants to 'date' your child" has been put up in Florida as the congressman faces an investigation over sex trafficking allegations. 
The advert was paid for by the liberal political action committee Mad Dog PAC. Claude Taylor, a former Bill Clinton White House staffer and who chairs the committee, tweeted a photo of the billboard and asked Mr Gaetz if he had "any thoughts" on it. 
Mad Dog PAC, which was founded in 2017, describes its goal as being to remove "Trump era sycophantic politicians" from the Senate, according to its website. This is also not the first time Mad Dog PAC has put up a billboard about Mr Gaetz — he also featured in their adverts in 2018 and 2019.
Mr Gaetz is under investigation over whether he violated federal sex trafficking laws, including if he had sex with a 17-year-old and paid for her to travel with him, according to the New York Times. He has denied the accusations and no charges have been brought against him.
The Times said that the investigation is part of a broader probe into one of Mr Gaetz's political allies, Joel Greenberg. He has been indicted on charges including sex trafficking of a child and financially supporting people in exchange for sex, at least one of whom was an underage girl, the report said.
Mr Gaetz claimed the allegations were part of an extortion plot. In a statement to CNN, he said: "Over the past several weeks my family and I have been victims of an organised criminal extortion involving a former DOJ official seeking $25 million while threatening to smear my name."
Two senior aides to Mr Gaetz have quit in recent days, the New York Times cited people familiar with the decision as saying. Devin Murphy resigned as his legislative director on Friday and Luke Ball departed from the position of communications director. 
Mr Gaetz's office on Thursday released a statement from female office staffers to defend him. The joint statement was signed "we, the women of Congressman Matt Gaetz's office" and said the women were morally obligated to speak out on the congressman's time in office after the allegations last week. 
The statement said: "Congressman Gaetz has always been a principled and morally grounded leader. At no time has any one of us experienced or witnessed anything less than the utmost professionalism and respect. No hint of impropriety. No ounce of untruthfulness."
Join our new commenting forum
Join thought-provoking conversations, follow other Independent readers and see their replies