Trump economic adviser worth $266m thinks a car costs $1000
'If we allow a family to keep another $1,000 of their income, what does that mean: They can renovate their kitchen, they can buy a new car'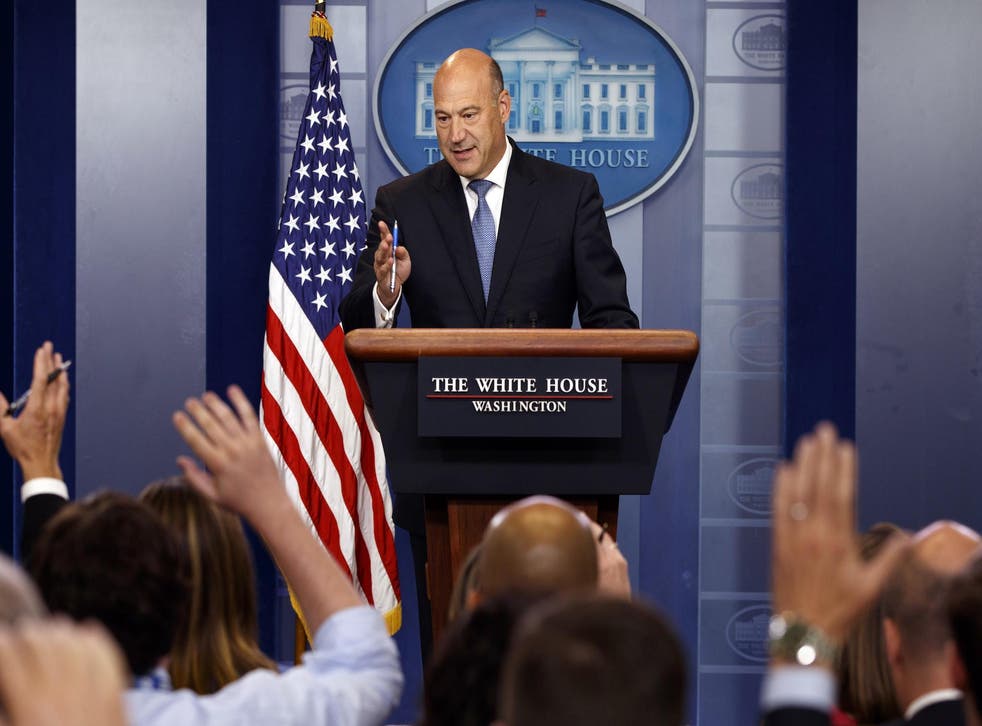 It appears that Donald Trump's chief economic adviser Gary Cohn does not know how much the average family pays for a car or home improvement project.
Mr Cohn appeared at the White House's press briefing to tout how middle-class families would benefit under the Republicans' latest tax proposal – hours after the President falsely claimed that "the wealthy are not getting a tax cut".
Based on the administration's assumptions, Mr Cohn said, a typical family that has two children and earns $100,000 per year can expect annual tax savings of about $1,000.
"If we allow a family to keep another $1,000 of their income, what does that mean?" he asked. "They can renovate their kitchen, they can buy a new car, they can take a family vacation, they can increase their lifestyle."
According to Home Advisor, a kitchen renovation can cost anywhere between $4,000 and $50,000. A family may be able to purchase a fridge with $1,000 in tax savings, but the average American kitchen remodel costs $21,800, the website says.
A middle-class family probably wouldn't be able to buy a new car with $1,000 either.
According to Kelly Blue Book, the average new car goes for nearly $35,000 as of January 2017. Meanwhile, the average cost of a used car is about $19,000, according to Edmunds.
The controversial orders Donald Trump has already issued

Show all 9
Mr Cohn – the former Goldman Sachs president worth an estimated $266m – was also off on the income of a "typical family". The US Census Bureau reports that the median household income was $59,039 in 2016.
During the White House briefing, a reporter asked Mr Cohn how Mr Trump — who may save more than $125m per year under his own plan — could claim the proposal doesn't benefit him personally.
Not responding directly to the question, Mr Cohn said: "I think what the American people are concerned about is their financial position. I think what they're concerned about is when they go to work every week and they get their paycheck at the end of the week, how much do they get to keep? How much goes in their pocket versus how much goes to the government?"
"Our tax plan is aimed to return more income back to hard-working Americans," he added.
In an interview with ABC's Good Morning America, Mr Cohn said he "can't guarantee" that certain middle-class families wouldn't see their taxes increase under the President's tax proposal.
"There's an exception to every rule," Mr Cohn said. "I can't guarantee anything. You can always find a unique family somewhere."
The President has repeatedly declared that the plan will lower taxes paid by middle-class families. However, Republicans have still not provided enough information to evaluate this assertion.
Register for free to continue reading
Registration is a free and easy way to support our truly independent journalism
By registering, you will also enjoy limited access to Premium articles, exclusive newsletters, commenting, and virtual events with our leading journalists
Already have an account? sign in
Register for free to continue reading
Registration is a free and easy way to support our truly independent journalism
By registering, you will also enjoy limited access to Premium articles, exclusive newsletters, commenting, and virtual events with our leading journalists
Already have an account? sign in
Join our new commenting forum
Join thought-provoking conversations, follow other Independent readers and see their replies