Gavin Newsom recall: What happened to the one-time Democrat star?
Newsom's approval rating is plummeting. Where did it all go so wrong for the former star Democrat?
Alice Hutton
Thursday 04 February 2021 12:25 Comments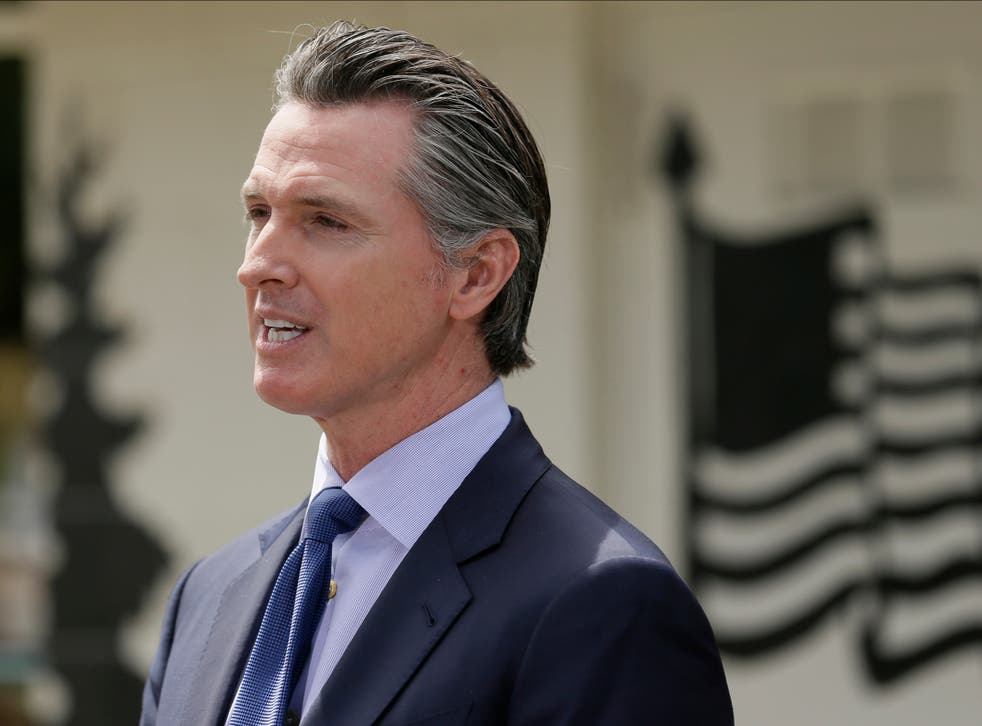 Leer en Español
California governor Gavin Newsom's approval rating has plummeted among voters, potentially tarnishing the presidential prospects of a former rising Democratic star, and stoking Republican support for a recall. 
In August last year, 53-year-old Newsom was among the brightest lights in his party.
He was enjoying a more than 60 per cent approval rating that hadn't been seen in the state for 50 years and was granted the prime-time slot (known as the "Obama spot") at their National Convention following then Senator Barack Obama's 2004 speech which catapulted him onto the national stage.
The first-term governor, who is up for re-election in 2022, was widely expected to be eyeing a White House run in 2024.
But in the last few months there has been a dramatic shift in the career politician's prospects, with some political analysts warning that Mr Newsom is "falling back to earth".
Things started to sour back in November, when Mr Newsom was caught dining out with lobbyists at the expensive French Laundry restaurant in Napa Valley, without masks or social distancing, contradicting the state guidelines he had helped set and the pleas he made to constituents to stay home and avoid gatherings.
Since then, Governor Newsom has suffered a series of missteps: the abrupt lifting of a second lockdown on January 25 to sharp criticism from 'blind-sided' state officials; a slow roll-out of the coronavirus vaccine in-state; his decision to close public schools while his four children attend private in-person classes; and alleged $10billion unemployment fraud, all of which contributed to general dissatisfaction with California's fumbled response to Covid-19.
A survey by UC Berkeley Institute of Governmental Studies of 10,000 registered voters done in English and Spanish last week, found that more than a third said they would vote him out if given the chance, with 43 per cent claiming he and other state leaders were doing a 'poor' job.
And a poll by the Public Policy Institute of California found that his approval rating had dropped 11 per cent in nine months, to an admittedly respectable 54 per cent, but down from a lofty 65 per cent back in May.
Police are also investigating alleged death threats against him and his family.
The rising public frustration has stoked the fires underneath a Republican petition for a recall vote, with former San Diego mayor and Republican Kevin Faulconer launching a bid against him on Tuesday.
Mr Faulconer claimed that Governor Newsom has "failed" California and turned it into "the land of broken promises".
As of early January, state officials have verified 410,000 signatures of the 1.5 million needed for the recall, with organisers claiming to have collected 1.3 million, ahead of the March deadline.
Some Democrats are reportedly nervously eyeing potential candidates who are not Mr Newsom.
Mark DiCamillo, director of the UC Berkeley poll, told The Los Angeles Times : "People are reevaluating how well Newsom is doing handling the pandemic. Once your job performance rating starts to decline, it's more difficult to put it back in the right direction. You kind of accumulate negatives over time."
He added: "Now he's falling back to Earth."
A fourth generation San Franciscan, Mr Newsom began life in the wine business, before moving into politics in the late 1990s and being elected mayor of the city from 2004-2011.
He first came to national attention for ordering city clerks to issue marriage licences to LGBT+ couples in 2004 in defiance of state laws.
The multi-millionaire father of four was later elected Lieutenant Governor of California in 2010-2014, running a campaign that legalised marijuana for recreational use in 2016, before he was elected governor in 2019, when he became known for liberals policies on gun control, healthcare and a state moratorium on executions.
Even when the arrival of Covid-19 caused widespread health, social and economic chaos, Mr Newsom largely retained his approval rating.
Last spring, he received wide praise for his aggressive approach to the coronavirus outbreak, when he issued the nation's first statewide stay-at-home order.
It was widely touted by political experts that a Trump win last year would set Newsom up for a 2024 presidential bid.
But since then there has been growing public unrest over California's subsequent health orders that closed schools and businesses.
And following President Joe Biden and Vice President Kamala Harris's victory in November, Mr Newsom's prospects began to diminish further, with the expectation that Ms Harris may be vice president or president for the next 16-years.
Rose Kapolczynski, a California Democratic strategist, said that Ms Harris, a former attorney general for California, is unlikely to choose "another Californian" as her running mate.
She said: "So in terms of his national aspirations, [Mr Newsom] could be running for president for the first time when he's 68 years old."
Ms Kapolczynski added that 68 is hardly 'old' considering the country's recent presidential run-offs included 78-year-old Mr Biden, 74-year-old Mr Trump, 71-year-old Elizabeth Warren and 79-year-old Bernie Sanders, but with an increasing number of younger Democratic 'stars' coming out the woodwork, Mr Newsom's prospects of staying in the limelight could be fading.
In terms of Democratic support for Mr Newsom, Dan Newman, his political strategist, told AP that he's not worried about the party turning on Mr Newsom if it comes to a recall and that facing the ire of voters is part of the job, which comes with intense pressure during the pandemic.
He added: "People are frustrated and upset, understandably. The pandemic has caused suffering and disruption and it makes it a challenging time to be a public official. It's part of what you sign up for – fires and pandemics and vaccine development are not all under your control, but you're held responsible and that's part of the deal, fair or not."
Register for free to continue reading
Registration is a free and easy way to support our truly independent journalism
By registering, you will also enjoy limited access to Premium articles, exclusive newsletters, commenting, and virtual events with our leading journalists
Already have an account? sign in
Join our new commenting forum
Join thought-provoking conversations, follow other Independent readers and see their replies