Ex-Trump campaign advisor George Papadopoulos ordered to go to jail
Former foreign policy advisor challenging constitutionality of Robert Mueller's probe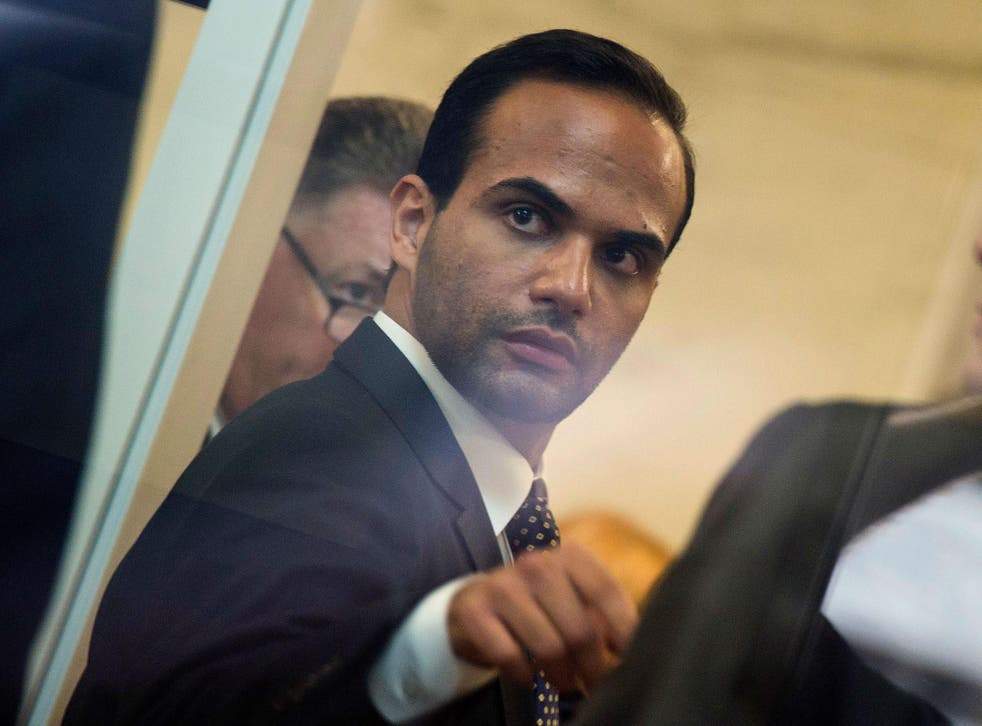 Donald Trump's onetime advisor George Papadopoulos has been ordered to go jail, after he failed to persuade a judge to delay his two-week sentence.
Papadopoulos, who last year admitted lying to FBI agents about conversations with Russia-linked intermediaries during the 2016 presidential campaign, sought to delay the sentence while proceeding with a separate legal action challenging the constitutionality of Robert Mueller's investigation.
But on Sunday, US District Court Judge Randy Moss said Papadopoulos' arguments had failed to justify a delay and that he must present himself at the prison in Wisconsin on Monday.
As part of his plea deal with the team of Mr Mueller, which is investigating Russia's alleged interference in the 2016 race and possible collusion by the Trump campaign, Papadopoulos forfeited most of his rights to contest his conviction.
"The court, accordingly, concludes that Papadopoulos' motion for a stay pending his appeal of this decision lacks merit," Mr Moss wrote in his ruling. "Plaintiff's motion to continue bail and motion to stay his surrender date are hereby denied."
World news in pictures

Show all 50
Papadopoulos was sentenced in September, and along with the two weeks he must spend in jail, he must serve 200 hours of community service within a year and pay a fine of $9,500 (£7,400). At his sentencing hearing, the man who met with individuals claiming to have access to "dirt" on Hillary Clinton gathered by the Russian government, appeared contrite.
"People point and snicker and I am terribly depressed," he told the judge. "This investigation has global implications and the truth matters."
But CNN reported that since his hearing, the 31-year-old has obtained new legal representation and claimed on Twitter he was a victim in a government conspiracy and will "expose" a corrupt investigation.
Specifically, Papadopoulos claimed to the judge that his prison term should be put on hold while an appeals court weighs the constitutionality of Mr Mueller's appointment as special counsel.
Support free-thinking journalism and attend Independent events
In his ruling on Sunday, Mr Moss appeared to dismiss the claim that Mr Mueller's investigation was at odds with the US Constitution and predicted the DC Circuit Court of Appeals would uphold the special counsel's authority.
"Based on the reasoning contained in those opinions [of other judges], court concludes that the prospect that the DC Circuit will reach a contrary conclusion is remote," he said.
Papadopoulos will be the third defendant in Mr Mueller probe's to serve jail time. Previously, the Dutch lawyer Alex Van Der Zwaan stayed a month in a Pennsylvania federal prison for lying to investigators, while the Californian fake ID salesman Richard Pinedo is being held in a southern California prison until mid-May 2019.
Neither Papadopoulos, or his lawyer, immediately commented on the judge's ruling. His wife, Simona, tweeted on Wednesday he would serve his time in a prison facility in Wisconsin.
Join our new commenting forum
Join thought-provoking conversations, follow other Independent readers and see their replies