Georgia special election: When is it, who will win, and why is it so important? All you need to know
The results could signal whether an anti-Trump wave will rush through the 2018 midterms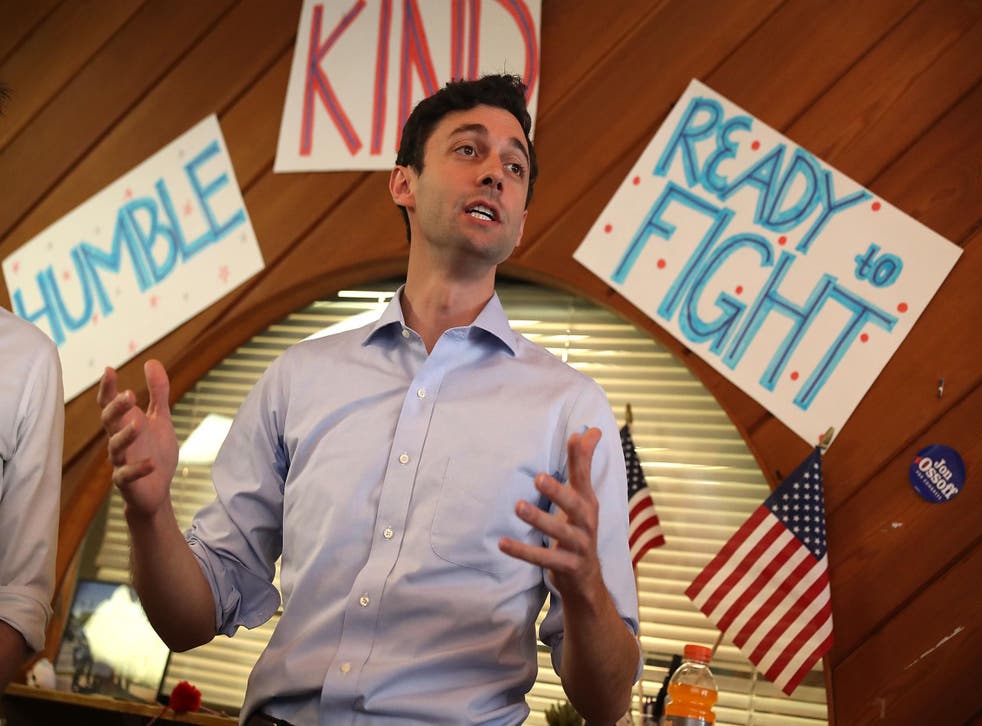 In the quiet suburbs of Atlanta, the traditional Republican stronghold that is Georgia's sixth congressional district has suddenly become ground zero for resistance to President Donald Trump.
Democrat Jon Ossoff and Republican Karen Handel are facing off in the election that has become the most expensive House race in America's history. The race, which has attracted the attention of major power players in the country, is widely seen as a referendum on Mr Trump — and a potential indicator of what lies ahead for the balance of power in Congress once the midterm elections roll around next year.
Here's everything to know about the race in Georgia's sixth.
Why is this race getting so much attention?
The surprising ascendance of Mr Ossoff during the first several months of Mr Trump's presidency is basically why people care. Since the district traditionally votes Republican, and by quite a bit, folks watching the election are intrigued that the anti-Trump movement may be strong enough to swing the district.
Republicans control both wings of Congress right now, but a loss in Georgia's sixth could signal a coming Democratic wave in 2018.
Who are the candidates?
Mr Ossoff is a documentary film maker, and former political aide to Georgia Representative Hank Johnson, where he worked for five years. He was basically unknown, both on the national stage and within Georgia political circles until receiving endorsements from his former boss and fellow-Georgian Representative John Lewis.
Donald Trump's first 100 days: in cartoons

Show all 33
He grew up in the district he is hoping to represent, but lives outside of its boundaries presently. His family still lives there.
Ms Handel is a former secretary of State in Georgia. Her campaign website boasts that she helped turn a $100 million deficit into a balanced budget while serving as the chairman of the Fulton County Board of Commissioners. She also led the state's implementation of photo ID voting laws while serving for the state's State Department.
What happened in the first round of voting?
Mr Ossoff has already proven that at least some of the hype surrounding him is warranted. In the first round of voting, he was able to secure the most votes of any other candidate, with 48.1 percent of the vote. The race was forced into a runoff, though, since nobody in the field received 50 percent of the total vote. Ms Handel acme in second, with 19.8 percent of the vote.
But things are a bit different in a runoff, even if Mr Ossoff's decisive lead in April showed a united Democratic front. Republicans who voted for other candidates in the field could coalesce around Ms Handel, potentially giving her the victory.
What do polls say?
Polls in special elections have a history of being unreliable, but the ones that exist show a tight race. The most recent poll released, by Atlanta local television station WSB and Landmark Communications has him up two points — a result that is well within the margins of error.
Five Thirty Eight notes that Georgia's sixth is somewhat difficult to figure out because its vote preference changed quite a bit between 2012 and 2016. The district voted for Mitt Romney in 2012 over Barack Obama by 23 points. Mr Obama won the nation as a whole by four points, making Georgia's sixth 27 points more Republican than the nation as a whole. In 2016, Mr Trump beat Hillary Clinton by just one and a half percent in the district while Ms Clinton won the popular vote by two points nationally. That made Georgia just three to four percentage points more Republican than the nation as a whole.
Using the 2016 figure, however, added to the generic congressional ballot — which has Democrats up by seven percentage points — Mr Ossoff's chances at overcoming the three and a half Republican lean in the district look pretty good.
How is this related to 2018?
Midterm elections can be very volatile, and often don't bode well for the party in power. Mr Trump's presidency has already been highly polarizing, and scandalous to a certain degree.
If Mr Ossoff ends up winning, it could mean that the nation as a whole will swing the House of Representatives away from Republican grasp in a massive wave caused by anti-Trump sentiment.
When can Georgians vote?
Polls open on Tuesday, June 20, from 7 a.m. until 7 p.m.
Join our new commenting forum
Join thought-provoking conversations, follow other Independent readers and see their replies