The GOP may be punishing 'woke' brands over Georgia voting rights, but it won't be the companies that suffer
Instead of responding to business leaders' concerns that the GOP push to restrict voting rights is bad for business, Republicans are issuing more threats, writes Andrew Feinberg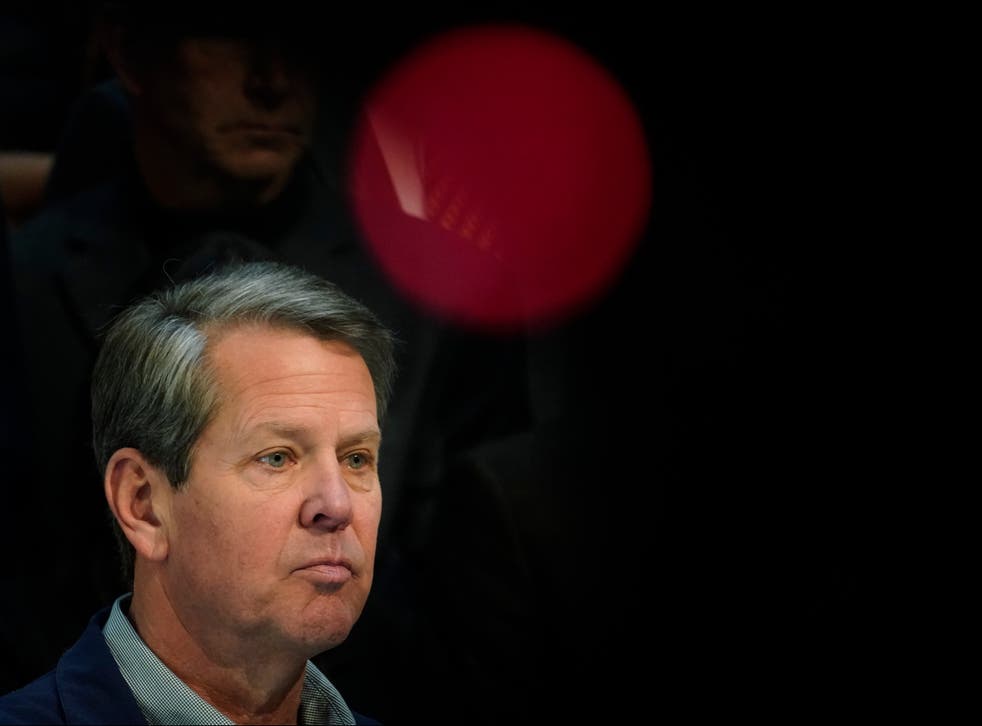 I
n 2011, former Massachusetts governor Mitt Romney – then seeking the Republican nomination for president in the 2012 election – was defending his pledge not to raise taxes if elected when he told a protester at the Iowa state fair: "Corporations are people, my friend".
Mr Romney's declaration of fealty to the concept of corporate personhood – a soundbite that was used by then-President Barack Obama's re-election campaign to cast him as an out-of-touch plutocrat – expressed what was then the mainstream view of the Republican party.
Ten years later, most of the GOP still agrees with the man who is now the junior senator from Utah, but a growing number of them would prefer that those "people" shut up – or else.
Faced with growing corporate opposition to state-level election law changes that have been offered as a response to Democratic victories last November, top Republicans at the state and federal levels are reacting by explicitly threatening to use their current and future power to punish American businesses that are perceived as siding with Democrats when it comes to the GOP push to limit voting in future elections.
Such a dynamic was on full display in the waning hours of the Georgia state legislature's most recent session last week. After Delta Airlines CEO Ed Bastian criticised the election reform bill that legislators passed to limit voting in the wake of victories by a Democratic presidential candidate and two Democratic senatorial candidates in the longtime GOP stronghold, legislators attempted to eliminate a tax break on jet fuel meant to benefit Delta, which maintains its main hub at Atlanta's Hartsfield-Jackson International Airport and is one of the largest employers.
Read more:
"They like our public policy when we're doing things that benefit them," Georgia's Republican House Speaker David Ralston said, according to The Atlanta Journal-Constitution. "You don't feed a dog that bites your hand".
Another CEO of a large Georgia corporation, Coca-Cola's James Quincey, said in an interview with CNBC last week that the legislation is "wrong and needs to be remedied", and perhaps the highest profile business leader to come out against the law – Commissioner of Baseball Rob Manfred – announced that the 2021 baseball all-star game would move from Atlanta because the league "fundamentally supports voting rights for all Americans and opposes restrictions to the ballot box".
But instead of responding to business leaders' concerns that the GOP push to restrict voting rights is bad for business, Republicans are issuing more threats.
On Monday, Senate Republican Leader Mitch McConnell – a longtime friend of corporate money in politics – explicitly threatened businesses that express any opposition to the Trump-inspired push to make it harder for minorities and other Democratic-leaning constituencies to vote.
"From election law to environmentalism to radical social agendas to the Second Amendment, parts of the private sector keep dabbling in behaving like a woke parallel government," Mr McConnell said in a statement. "Corporations will invite serious consequences if they become a vehicle for far-left mobs to hijack our country from outside the constitutional order".
Texas Lieutenant Governor Dan Patrick also hit back against an airline that expressed opposition to new voting restrictions in the state where it is based.
After American Airlines released a statement that said the company is "strongly opposed" to a proposed bill that would further restrict voting in a state with some of the country's most restrictive election laws, Patrick responded with a statement of his own, declaring that Texans "are fed up with corporations that don't share our values trying to dictate public policy".
And the man whose false claims that the 2020 presidential election was stolen from him inspired both the myriad voting restriction bills moving through GOP-controlled state legislatures and a violent insurrection meant to stop congress from certifying the 2020 electoral college results – former President Donald Trump – called on his supporters to boycott any corporation that is perceived to be engaging in what he called "WOKE CANCEL CULTURE".
In a statement distributed by his political action committee, Mr Trump wrote: "It is finally time for Republicans and Conservatives to fight back – we have more people than they do – by far!".
The recent GOP calls to punish perceived enemies with the tax code isn't exactly new.
When Republicans sent through the 2017 Tax Cuts and Jobs Act to Mr Trump's desk on a party-line vote, one of the more controversial provisions was the so-called "SALT cap", which placed a $10,000 (£ 7,249) upper limit on the state and local income tax that could be deducted from a taxpayer's income for federal tax purposes.
The provision was meant to add $600 billion (£ 434,961,000) in revenue to a budget that would have otherwise been even more busted by the massive Trump-backed tax cuts. But it did so on the backs of taxpayers in states that neither voted for then-President Trump nor had a single Republican senator.
At the time, Connecticut's then-commissioner of revenue services, Kevin Sullivan, said he believed that the Trump tax bill "ha[d] been developed in a way that looks at who were the prevailing forces in the presidential election and who were not".
Many Democrats in the House and Senate are now calling for President Joe Biden's forthcoming infrastructure legislation to lift the SALT cap, with a number of influential House members vowing to oppose any bill that does not include a provision to do so.
But the current Republican focus on using the tax code to punish opponents – real or otherwise – goes far beyond what was done in the 2017 tax bill because in this case, GOP officeholders are now explicitly stating their desire to do so. And experts and former GOP officials are now taking issue with both the willingness to punish corporations perceived to be opposed to voting restrictions and claims such as those expressed by Mr Trump. Efforts to punish so-called "woke corporations" that are thought to be opposed to the GOP are doomed to fail and reek of desperation, they say.
"They're sitting there laughing their asses off," said Michael Steele, who served as the Republican National Committee chair from 2009 to 2011.
Mr Steele, a former Maryland lieutenant governor, said the leaders of companies such as Coca-Cola and Delta that are speaking up against Georgia's election law changes are less concerned with GOP threats to cancel tax breaks than with the damage their brands could suffer if they are seen as being against voting rights.
"A large-scale boycott has long term ramifications – you may not recover if a boycott not only happens, but sticks for any period of time," Mr Steele continued. "So there's a cost-benefit analysis being done in terms of … what the next quarter looks like, but there's also the longer term consideration, that you've now been put on a very short list by a very large group of people … because they now will always see you – until there's some scenario or reason otherwise – as a as a villain".
Mr Steele predicted that corporate opposition to the GOP voting restrictions being considered in multiple state legislatures would continue to grow because corporate leaders will ultimately side with democracy because democracy – and the stability that comes with it – is good for business.
"Everyone knows what's happening in Georgia, in Arizona and elsewhere, with these 400 different bills that have been issued, or 270, whatever it is, across the country," he said. "You people [Republicans] can speak of it pejoratively as "woke corporations" or whatever you want to say, but the reality is they [corporations] are going to find more people standing with them than not".
Denver Riggleman, a former Virginia congressman who owns and operates a distillery business, said the GOP's newfound willingness to pick winners and losers based on whether a company supports restrictions on voting rights inspired by Mr Trump's false claims about the 2020 election is a shocking abandonment of what was a core tenet of Republican policy.
"That you have republicans out there saying we should hurt those corporations who made decisions based on their business interests, is one of the most stunning turnarounds, I think, in the history of Republican philosophy," he said.
Mr Riggleman said that Mr McConnell's threat of "serious consequences" against corporations that express opposition to GOP policies shows that he has little understanding of what it takes to run a successful business.
"I don't think McConnell has ever had to actually run a business or a company, or have those kinds of pressures, where you're paying people, there's a profit motive, where you have an investor motive. The fact is, the only way to survive is that you have to appeal to the broadest swath of customers that you can," he explained.
Continuing, Mr Riggleman said Republicans who have called for retaliating against Major League Baseball for Mr Manfred's decision to move the 2021 all-star game by revoking the league's longstanding antitrust exemption – such Texas Senator Ted Cruz and Utah's Mike Lee – are touching things that "should never be touched".
"The fact that they're talking about taking away antitrust exemptions because they moved a game … that is absolutely chilling," he said.
Some Republicans are trying to use the break in relations between the mainstream GOP and large corporations as leverage to reframe the party as an explicitly populist one.
In a recent memo to House Republican Leader Kevin McCarthy, GOP Study Committee Chair Jim Banks wrote that Republicans should embrace "coalitional transformation" by positioning themselves against corporations that adopt "wokeness," citing Florida Senator Marco Rubio's support for unionisation drives by Amazon employees.
Geoffrey Kabaservice, a historian of Republican politics who is currently director of policy studies at the Niskanen Center, said such an approach to the GOP's relationship with corporate America is a significant break from the traditional Republican view that what's good for business is good for America and visa-versa, but cautioned that the GOP's populist turn will probably be limited to punishing specific companies.
"Does that mean that they're going to raise the corporate tax rate? Well, probably not, but on the other hand, they certainly do approve of punitive action against corporations who are criticising them on issues like voting rights," he said.
Addressing Senate Republican Leader McConnell's warning to corporations not to become involved in opposing Republican policies, Mr Kabaservice said that Mr McConnell has made a significant caveat to the GOP's support for corporate personhood.
"McConnell, as much as anybody in the entire Congress has taken the view that corporations are people; As people, they have First Amendment rights of speech, and that it's very, very wrong to impinge upon the free speech of corporations," he said. "But now he's added a codicil to that – unless they're opposed to doing what the Republican Party wants".
Continuing, Mr Kabaservice added that today's Republicans have modified their traditional view that what is good for business is good for America to incorporate the belief that "the Republican Party is the real America, and therefore businesses, by opposing the Republican Party, are opposing the real America and therefore must be punished".
Mr Riggleman, the ex-GOP congressman, said his former colleagues are playing with fire by embracing such beliefs, and are doing so out of desperation.
"It's the kind of thing you do when you don't realise the cascading effects could be devastating," he said. "If the companies are making decisions based on their bottom line, it doesn't fit your political narrative, and then you think that you can retaliate using the power of government, which is virtually unlimited at times? That is scary. That is everything that the Constitution is not, it's everything we're not as Americans," he said.
Join our new commenting forum
Join thought-provoking conversations, follow other Independent readers and see their replies