Coca-Cola condemned Georgia's voting law, but why did companies act after the bill was passed?
More than a dozen companies – including Coca-Cola, Delta and UPS – have spoken out about the new legislation, but critics say they should have done so earlier, writes Richard Hall
Thursday 01 April 2021 22:57 Comments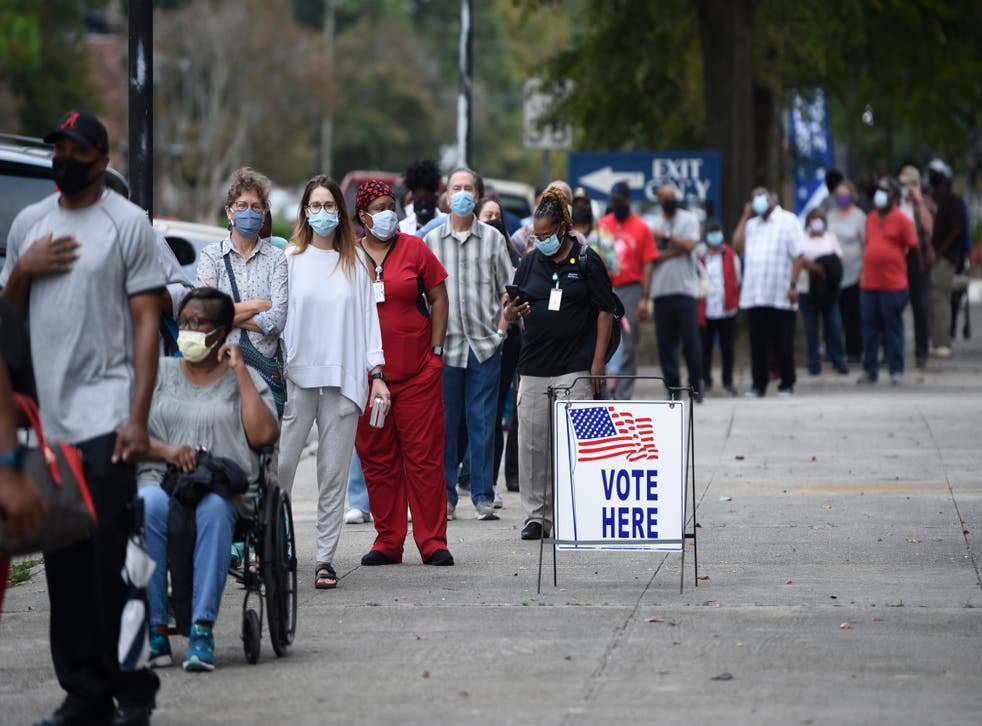 Leer en Español
A growing number of major corporations are speaking out against a new Georgia law that imposes sweeping new restrictions on voting, setting up a political battle between big business and the Republican Party that may have electoral consequences across the country.
The bill, which was passed by the Republican-controlled legislature, makes it a criminal offence to provide food or water to voters waiting in line, reduces the number of ballot drop off boxes, introduces new identification requirements and gives the lawmakers more power over how elections are handled.
The new law was fuelled by a widespread campaign of falsehoods promoted by Donald Trump and his Republican supporters in an attempt to overturn the results of the 2020 presidential election.
It has provoked an unprecedented corporate backlash, with rebukes from the CEOs of Georgia-based companies such as Coca-Cola, Delta and UPS. They are among more than a dozen companies to have spoken out.
Ed Bastian, CEO of Delta, which is headquartered in Atlanta, said in a message to employees that the "final bill is unacceptable and does not match Delta's values."
Read more:
"It's evident that the bill includes provisions that will make it harder for many underrepresented voters, particularly Black voters, to exercise their constitutional right to elect their representatives. That is wrong," he added.
Coca-Cola executive Alfredo Rivera said in a statement the company, which is also headquartered in Georgia, opposed any measures that would "seek to diminish or restrict voter access."  
"Anything that inhibits these principles can lead to voter suppression. We took these steps because they align to our purpose and the conscience we follow," he said.
Other companies issuing criticism included UPS, Microsoft, Apple, Home Depot, Facebook, Bank of America and Mercedes Benz, to name a few.
But while voting rights advocates have welcomed the outpouring of condemnation from the corporate world, some have wondered aloud why it was not forthcoming until after the bill was passed. Activists had pushed for weeks for them to speak out, only for them to reserve their strongest condemnation until after the bill was signed into law.
"I think it's somewhat irresponsible of them to come out after a law has passed," said Aunna Dennis, executive director of Common Cause Georgia, a voting rights group.
"There's still opportunity for some things to change. We are obviously going to court. We filed a case with our coalition partners and other legal teams to really combat this. So we still need that added pressure from corporations in Georgia to take this stand against these suppressive tactics."
The new legislation is likely to disproportionately impact people of colour, who have historically been the target of voter suppression efforts in Georgia. Following a year in which many companies took a forceful stand on issues of racial injustice, many activists called on corporations to back their words with action.
"The new and appalling Jim Crow laws in Georgia are overtly racist, un-American and unconstitutional," Jonah Bryson, NAACP spokesperson, told The Independent.
"Corporations have a responsibility to stand up in moments like these when the sacred right to vote is under attack. We expect all corporations to stand up against racism and defend our democracy," he added.
The willingness of large companies to speak out against anti-democratic laws has increased significantly since the attack on the US Capitol by pro-Trump protesters in January this year. More than 60 corporations announced their intention to stop donations to lawmakers who objected to certifying the results of the 2020 election —  a move that was seen as a precursor to the violence that followed.
The new law in Georgia is part of a nationwide effort by Republican state legislators to restrict voting in the wake of Mr Trump's campaign to falsely claim the 2020 election was stolen.
The intervention by corporations in Georgia is significant, but it did not come easily. Both Coca-Cola and Delta initially issued more neutral statements about the bill, before succumbing to public pressure.
Delta issued a statement following its passage into law saying the bill had "improved considerably during the legislative process." That statement was met with ire from activists and customers, and the hashtag #BoycottDelta was trending soon after. Less than a week later the company issued the follow up statement calling the law "unacceptable."
Coca-Cola issued a similarly middle of the road statement initially, saying that it would "continue to identify opportunities for engagement and strive for improvements aimed at promoting and protecting the right to vote in our home state and elsewhere." That too prompted a backlash and calls for a boycott of the company, which prompted the newer, tougher statement.
Stacey Abrams, the Georgia Democrat who founded an organisation to fight voter suppression following her gubernatorial loss in 2018, called the initial response to the law "mealy-mouthed."
"The companies that stood silently by or gave mealy-mouthed responses during the debate were wrong," she told The Atlanta Journal-Constitution. "What people want to know now is where they stand on this fundamental issue of voting rights."
"Hopefully, we'll build such a hue and cry that the Legislature will have to correct what they've done. But these companies sell their products across the country, and across the country there are Black and brown voters who need to know they're not being left behind," she added.
Nonetheless, the quick turnaround by both companies shows the extent to which companies are increasingly willing to listen to customers and staff on political issues.
Most large corporations donate large sums to both political parties in order to influence legislation that may affect their business. But an increased focus on democracy rights has created something of a lopsided penalty for Republicans, who are pushing laws similar to Georgia's nationwide.
Republican legislators have introduced a total of 361 bills with restrictive provisions in 47 states, according to the Brennan Center, a democracy advocacy group. Five of those bills have already been signed into law, and another 55 are currently underway. 
Republicans have shown no sign of backing down, however. Georgia Republicans voted to strip Delta of a jet fuel tax break worth tens of millions of dollars following the company's statement condemning the law.
Republican Georgia governor Brian Kemp hit out at Delta's CEO in a statement on Wednesday, accusing him of continuing "to spread the same false attacks being repeated by partisan activists."
"Mr Bastian should compare voting laws in Georgia — which include no-excuse absentee balloting, online voter registration, 17 days of early voting with an additional two optional Sundays, and automatic voter registration when obtaining a driver's license — with other states Delta Airlines operates in," he added.
As the fight to repeal the law and in the legislature begins, voting rights advocates are urging the same companies to do more. Ms Dennis, of Common Cause Georgia, called on corporations to implement a two-hour voting leave with pay to make it easier for their employees to vote. 
"That's something that was necessary ... even before these changes happened. It should be a right, and it should be a given that folks should have dedicated time for them to go vote. This law takes away some of the flexibility that voters had to be able to go to early voting," she said.
"If they want to continue to be responsible and accountable to their employees, to their customers, I think they should do voting leave with pay."
Register for free to continue reading
Registration is a free and easy way to support our truly independent journalism
By registering, you will also enjoy limited access to Premium articles, exclusive newsletters, commenting, and virtual events with our leading journalists
Already have an account? sign in
Join our new commenting forum
Join thought-provoking conversations, follow other Independent readers and see their replies