Giant meteor hitting earth preferred by 1 in 4 millennials over Donald Trump or Hillary Clinton presidency
Still, Clinton has the edge over the End of Days when it comes to young voters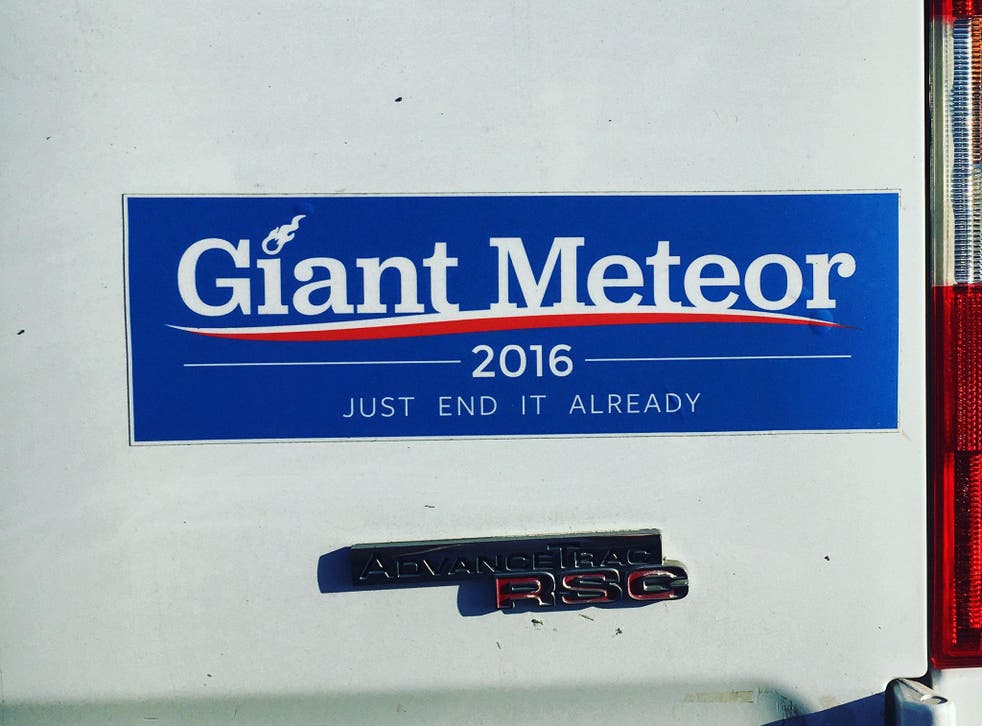 As the 2016 presidential campaign enters the final weeks of its scorched earth chapter, it appears that voters would prefer just that: a scorched earth.
Millennials have become so dispirited throughout what has been the most brutal and contentious election season in modern memory – and when given the choice between either Donald Trump or Hillary Clinton, more young Americans want a giant meteor to strike Earth on 8 November.
A poll conducted by UMass Lowell's Centre for Public Opinion and Odyssey Millennials found that one in four of people aged 18 to 35 would like a meteor to bring about the End of Days rather than either candidate in office.
Still, the poll reflects favour for Ms Clinton as only 34 per cent preferred Giant Meteor to her presidency; some 53 per cent would rather face a fate similar to the dinosaurs than live to witness Mr Trump take his seat in the Oval Office.
Donald Trump 'word for word' repeating claims of conspiracy theorist who thinks Hillary Clinton is a demon
Thirty-nine per cent surveyed said they would much prefer Barack Obama declare himself President-for-Life.
"Obviously we don't think that they're serious," Joshua Dyck, who ran the study, told Reuters. "The fact that one in four young people pick 'Giant Meteor' tells you something about the political disaffection that is being shown by American youth."
Disaffection aside, the young Americans polled still preferred Ms Clinton significantly.
In a two-way race, those polled preferred Ms Clinton over Mr Trump 54 to 21. In a four-way race, Ms Clinton still led the pack with 48 per cent to Mr Trump's 20 per cent. Libertarian candidate Gary Johnson earned 10 per cent, while the Green Party's Jill Stein only received four.
Why was Trump creeping behind Clinton at the debate?

Show all 13
Ms Clinton's lead in national polls is not quite as dominating, but still forecasts bad news for Mr Trump with only three weeks to go before Election Day.
According to RealClear Politics, the former Secretary of State leads with an average of seven per cent – with a significant of portion of national polls putting her in a double digit lead.
But if one quarter of millennials get their way and the giant meter edges out in front, none of this will matter anyhow.