Gina Haspel: Who is the woman Donald Trump wants to take over the CIA?
Current deputy director commands deep respect within the agency, but has a controversial history 
Emily Shugerman Comments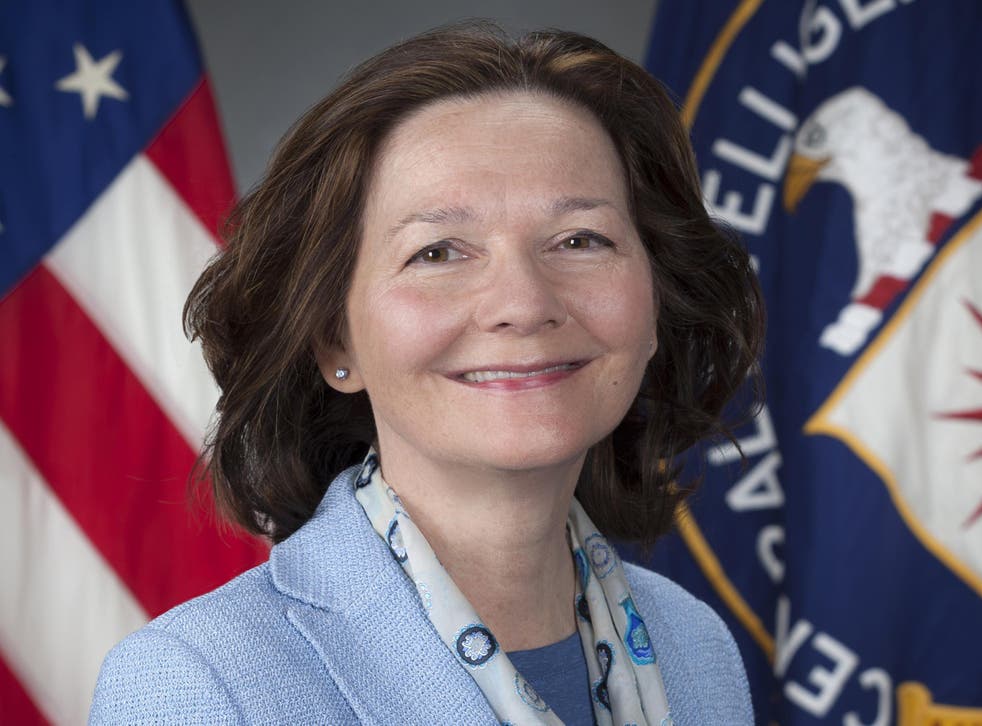 When Donald Trump made his surprise announcement naming CIA director Mike Pompeo as secretary of state, he left a void at the intelligence agency that may – for the first time – be filled by a woman: former CIA deputy director Gina Haspel.
Ms Haspel's nomination earned praised from a number of former CIA leaders, but it also stirred controversy: Human rights groups and members of Congress wanted to know more about Ms Haspel's history at the agency – a secretive one, which involved several encounters with the CIA's controversial, post-9/11 interrogation programme.
Below is everything we've learned about the nominee and her contentious background.
Gina Haspel confirmation hearing: Haspel promises not to restart CIA programme
Who is Gina Haspel?
The 33-year CIA veteran has served as deputy director of the agency since February 2017, when Mr Trump nominated her to the role. She took over as acting director from Mr Pompeo after his confirmation as Secretary of State. Little is known about career before this, as the bulk of it was spent undercover.
Materials released by the White House trumpeted her as a celebrated leader, who previously served as Deputy Director of the National Clandestine Service and Chief of Staff for the CIA's Directorate of Operations. She also won the Intelligence Medal of Merit, the Presidential Rank Award, and other accolades.
In a her Senate confirmation hearing this week, the 61-year-old released more biographical information. She said she was born in Kentucky but raised as an "Army brat," moving frequently throughout her childhood. She joined the CIA in 1985 as an operations officer in the clandestine service and worked her way up the ranks, serving a total of seven tours in the field – including four as chief of station.
"By any standard, my life at the Agency – and it has been my life – has exceeded all of my expectations, from that January day when I took my oath to today," she said at the hearing.
Why is she a controversial choice?
Ms Hapel's more than three decades at the CIA also included a dark period in American history: the post-9/11 CIA interrogation programme, which employed methods that many have deemed torture.
It's not clear the depth of Ms Haspel's involvement in the programme, as much of her record is classified. (Though, as several senators pointed out in her hearing, she has the power as acting CIA director to declassify any information she'd like.)
What we do know is that Ms Haspel oversaw an American "black site" prison in Thailand in 2002, at the same time at least one detainee was waterboarded. She also drafted a 2005 cable ordering the destruction of nearly 100 video tapes showing detainees being waterboarded by the CIA. An internal CIA review later found Ms Haspel was not at fault for the tapes' destruction.
In her committee hearing, Ms Haspel vowed to "never, ever" restart the controversial interrogation programme at the CIA. She also maintained that her former boss, Jose Rodriguez, had been the one to officially order the destruction of the videotapes. But she refused to say whether she had overseen the waterboarding at the black site prison, saying the information was classified.
To the frustration of several senators, Ms Haspel also refused to call the methods the CIA had used "immoral". Instead, she said the CIA had done "extraordinary work" in the aftermath of 9/11, but should be held to a "stricter moral standard" now.
Donald Trump's first year: in pictures

Show all 29
Who is opposed to her confirmation?
Numerous human rights groups, more than 50 members of the US House, and more than 100 former US ambassadors have spoken out against Ms Haspel's nomination. But what really matters to the deputy director now is the senators: She needs 51 of them to approve her nomination.
Republicans currently hold a slim, 49-51 majority in the chamber – good news for Ms Haspel, who has so far secured the support of only one Democratic senator. But several Republicans have also said they will not vote for the controversial nominee.
Senator John McCain – a Navy veteran who was tortured as a prisoner of war in Vietnam – released a statement urging his fellow Republicans to oppose Ms Haspel after her committee hearing.
"Ms. Haspel's role in overseeing the use of torture by Americans is disturbing. Her refusal to acknowledge torture's immorality is disqualifying," he wrote. "I believe the Senate should exercise its duty of advice and consent and reject this nomination."
A group of 109 former US diplomats expressed similar concerns in a letter sent to senators before Ms Haspel's hearing. They said her nomination would undercut the work of those trying to convince foreign counterparts that torture is "not only morally wrong, but strategically shortsighted and legally impermissible".
Republican Senator Rand Paul has also said he will not vote for Ms Haspel.
Gina Haspel hearing interrupted by an anti torture protestor yelling bloody gina
Who is in favour of it?
Despite the pushback from outside groups and legislators, Ms Haspel has strong support from figures inside the agency.
Mr Pompeo, her boss at the CIA for more than a year, called her and "exemplary intelligence officer " and a "devoted patriot" in a statement.
Several Obama-era figures, including former director of national intelligence James Clapper and former CIA director John Brennan, have also voiced their support. Michael Morell, the former CIA Deputy Director during the Obama Administration, called Ms Hapel a "highly capable" individual, with "the best interests of the country, the Agency, and the men and women who serve it at heart".
Senate Intelligence Chairman Richard Burr praised Ms Haspel during her committee hearing, calling her the "most qualified person the president could have chosen to lead the CIA and the most prepared nominee in its 70-year history".
What's next?
Ms Haspel appeared to have passed a Senate Intelligence Committee vote after her hearing on Wednesday. Her confirmation now advances to a full Senate vote, where she needs a simple majority to be approved.
Register for free to continue reading
Registration is a free and easy way to support our truly independent journalism
By registering, you will also enjoy limited access to Premium articles, exclusive newsletters, commenting, and virtual events with our leading journalists
Already have an account? sign in
Join our new commenting forum
Join thought-provoking conversations, follow other Independent readers and see their replies