Government shutdown: TSA agents 'calling out sick' causes lines and chaos in US airports
The shutdown has entered its third week, and Mr Trump is planning a week of events to drum up support for his border wall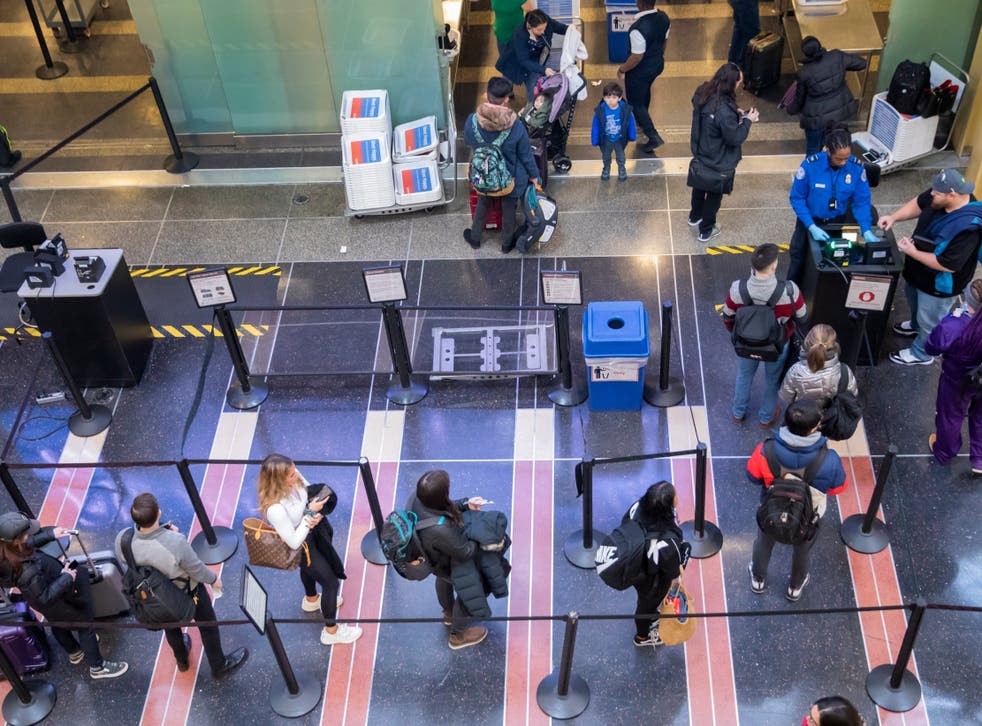 With the partial US government shutdown running into its third full week, the impact that a withheld paycheck can have on services is starting to show in the form of chaos and massive lines at airports where maintaining personnel is becoming something of a challenge.
While President Donald Trump has dug his heels in on his demand for $5.6bn to fund his long-promised border wall — and Democrats have refused to budge on the issue themselves — agents with the Transportation Security Administration (TSA) whose paychecks are threatened have been staying home and calling out sick, leaving behind big lines in a system that is already known for crawling at a snail's pace.
"If you don't have a check to pay your bills, what are you going to do?" Rudy Garcia, president of the American Federation of Government Employees 1040 local, the union for Dallas TSA employees, told NBC News. "You will look for something outside of what you're doing now".
At the Dallas Fort Worth airport, for instance, 5.5 per cent of the TSA agents there "called out" on Friday, compared to the 3.5 per cent who call out on a typical day, TSA assistant administrator for public affairs Michael Bilello wrote on Twitter on Friday.
In New York City's LaGuardia International Airport, meanwhile, TSA call outs led to massive lines that "snaked" around terminals on Sunday. One employee of Delta Airlines could be heard pleading with travellers to be patient with the agents who had come to work.
"I've never seen the line in LaGuardia that bad," John, a traveller who asked that his last name not be used, told ABC News. "And I probably take the shuttle 40 to 50 times each year, 25 round trips".
The partial government shutdown began at midnight on the Friday before Christmas Day, and has forced hundreds of thousands of government workers to work without pay or be told to stay home until funding is re-established.
For some, including government contractors who cannot expect back pay once the government shutdown ends, the shutdown has forced them to grapple with creative ways to pay rent and keep food on the table. one worker, Juli Burr, told CNN that she had set up an online fundraiser to help with her expenses.
"I was given the advice to set up a GoFundMe and I made a goal of approximately two months of salary because I wasn't sure how much this would last," Ms Burr said. "That's going to help get us through. It helped with my January rent and more than likely will have to help with February rent also. So right now I'm relying on that".
As difficulties continue on the ground in airports, pilots and pilot associations have urged politicians in Washington to end the shutdown citing concern for passenger safety should the circumstances persist indefinitely.
"At the Federal Aviation Administration (FAA) there are fewer safety inspectors than are needed in order to ensure the air traffic control infrastructure is performing at its peak levels of performance," Captain Joe DePete, the president of the pilot union the Air Line Pilots Association, said in a statement. "There are also airline and aircraft manufacturing oversight activities that either stop or are significantly reduced. These safety and oversight inspections will potentially allow for the introduction of safety issues that put passengers and airline crews at risk".
Beyond those immediate impacts, the shutdown is expected to have lasting consequences for other aspects of aviary travel, with air traffic controller associations noting that they are already understaffed and disruptions to their training programmes could have a "ripple effect" that lasts for years.
World news in pictures

Show all 50
"We are already in a critically staffed situation, and with the shutdown, the training pipeline has been cut short and there is no relief in sight," Andrew LeBovidge, the leader of the National Air Traffic Controllers Association, told CNN. "Training has stopped ... and we will feel the ripple effects of the lack of personnel for months if not years to come".
Mr Trump and congressional leadership have shown little sign that the standoff over the $5.6bn in border funding will conclude any time soon, with the president saying last week during a meeting at the White House that he would let the shutdown last months or years if necessary.
That threat came just after Democrats regained control of the House of Representatives on Thursday, ushering in the second speakership of Representative Nancy Pelosi — who has vowed to deny Mr Trump his wall funding.
But, while Democrats have officially taken more power in Washington, the president has ramped up his messaging to try and gain support for funding for his cornerstone campaign pledge. Just after Ms Pelosi was sworn in as speaker, Mr Trump appeared in the White House press room alongside representatives from one of the leading Border Patrol unions, who all asserted that a physical barrier is needed to secure the American border.
Mr Trump plans on continuing that campaign to build public support for his wall, and on Tuesday plans on addressing the nation from the Oval Office during a rare prime time speech to explain his position.
He is scheduled to then visit the border himself later in the week.
Support free-thinking journalism and attend Independent events
Democrats, for their part, quickly passed a government funding bill on Thursday evening in the House, but the measure has not been approved by the Senate or sent to Mr Trump's desk for consideration.
At least two Republicans have indicated that the government shutdown has lasted long enough, and that Mr Trump should sign a bill to fund the government and end the disruption.
Join our new commenting forum
Join thought-provoking conversations, follow other Independent readers and see their replies