US Government shutdown: Parties 'yet to reach a path forward' and delay vote until Monday afternoon
Immigration and border security continue to be sticking points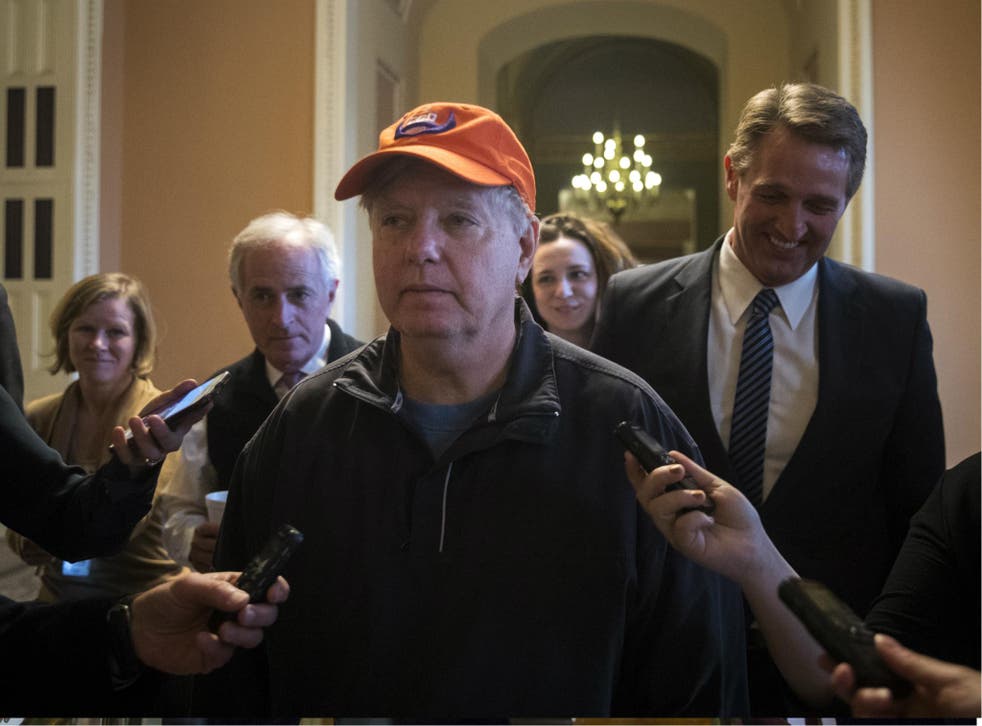 Congress has delayed the vote on re-opening the government until Monday at noon local time as Democratic Senator Chuck Schumer said Senate Democrats, Republicans, and the White House "have yet to reach a path forward" to resolve the government shutdown.
The vote to reopen the government would extend funding until 8 February, allowing immigration bills to be brought to the floor of the Senate to be voted upon before 5 March, when Deferred Action on Childhood Arrivals (DACA) participants lose their legal status.
Immigration and border security funding continue to be sticking points.
Republican Senator Lindsey Graham had said that he expected a "breakthrough" on the US government shutdown vote on Sunday but that "as long as [White House aide] Stephen Miller is in charge of negotiating on immigration, we're going nowhere."
"He's been an outlier for years," said Mr Graham, about Mr Miller who has been known for his anti-immigration and staunch conservative views. He was once a staffer to current Attorney General Jeff Sessions.
"Every time we have a proposal it is only yanked back by staff members," Mr Graham lamented, adding that though he does "enjoy working with them," White House staff like Mr Miller are "making it very difficult."
Congress is attempting to strike a bipartisan deal to reopen the government, now in its second day of being closed affecting pay for agencies' staff and negatively impacting tourism to federally controlled tourist attractions.
This is the moment the US government went into shutdown
US President Donald Trump, who just hit his first full year in office, is said to have spent the first day of the shutdown not at an event celebrating the anniversary, but watching clips of him blaming his predecessor President Barack Obama for a failure of leadership when the government had shut down in 2013.
Mr Trump blamed Democratic Senator Chuck Schumer for being unwilling to compromise, but Mr Schumer had reportedly offered to increase funding for Mr Trump's US-Mexico border wall project should terms be agreed on immigration.
The President's wide-ranging immigration plan, authored by Mr Miller, made the wall funding as well as a US Department of Justice crackdown on US cities unwilling to assist federal authorities in rounding up undocumented immigrants - known as sanctuary cities - as non-negotiable parts of the deal.
Mr Trump repeatedly claimed on the campaign trail and throughout his first year in office that Mexico would bear the costs of the approximately 2,000-mile border wall. Cost estimates are still murky however as the amount of labour, materials to match the various types terrain, and property disputes are still being worked out.
The sticking point has been on the DACA programme, which allows people brought to the US as undocumented immigrants when they were minors to remain in the US legally and avoid deportation.
There are approximately 800,000 people - so-called 'Dreamers' - who have benefited from DACA in the US since its beginning in 2012 under the Obama administration. Potential participants had have been brought into the US before 15 June 2007 before they reached the age of 16.
World news in pictures

Show all 50
The programme allows Dreamers to obtain work permits as well.
Dreamers are in legal limbo and those hoping to enter the DACA programme may not due to mistrust of or lack of clarity on the policies of the Trump administration.
The Migration Policy Institute estimates that the number of people eligible for DACA is nearly 1.9 million, out of approximately 11 million undocumented immigrants in the US.
Many Democrats have said rescinding protection from Dreamers is not only against the principal of a diverse and welcoming country but also does not make economic sense, especially with Mr Trump's 'America First' doctrine towards American jobs and manufacturing.
Approximately 90 per cent of current DACA recipients are employed according to a survey by the Center for American Progress, with an average wage of $17.46 (£13.50) per hour.
These employed DACA recipients also pay federal and state taxes where applicable, as well as regular payments into the country's social security programme.
Approximately 72 per cent of Dreamers are enrolled in higher education institutions as well.
Mr Graham said he had spoken with the President on the matter and "his heart is right on the issue."
"God help us if we can't do something to help them," Mr Graham said.
The Senator was confident however that "there is a deal to be had."
Join our new commenting forum
Join thought-provoking conversations, follow other Independent readers and see their replies