Group of 'grannies' set out from New York on 2,000 mile journey to Texas to help separated immigrant families
Women hope their caravan will gain momentum as it makes stops en route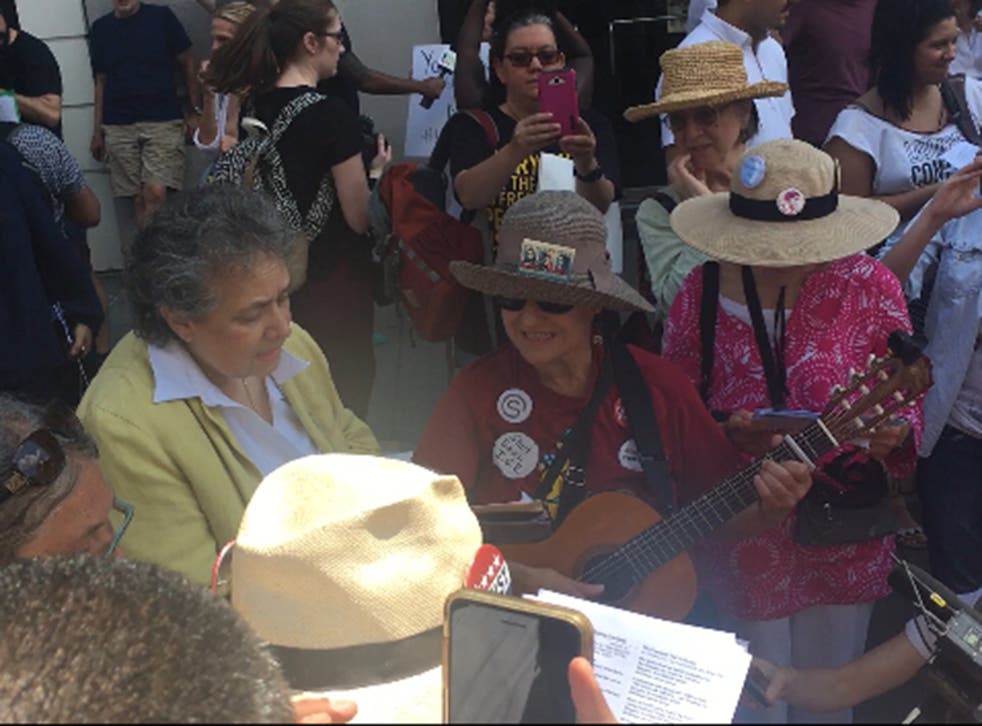 Packed into a large black van, a group of "grannies" have set off on a 2,000 mile journey from New York City to Texas on a mission to help separated immigrant families near the US border with Mexico.
The women — most of whom are actual grandmothers, although it was not a strict requirement for membership in the group — gathered Tuesday in Manhattan, crowding a corner protected from traffic by large potted plants in what was essentially a makeshift protest.
Instead of swearing or shouting curses, they smiled and hugged one another. They sang and played guitar framed by resistance posters, and they described a dark backdrop to what was otherwise a gathering filled with love.
"As human beings how can I eat a full plate and then ask for desert when a mother doesn't have food — has come to my doorstep — and I'm separating her from her child and neither knows what the condition of the other is," Rachna Daryanani, one of the women who later piled into the van, said.
Ms Daryanani, an immigrant from India, who lives in the borough Queens, added: "With what conscience are we doing that?"
The women are a part of a brand new activist group formed after it was reported that over 2,000 children had been forcibly separated from their immigrant parents at the border earlier this year, as a part of a "zero tolerance" policy put in place by Attorney General Jeff Sessions. It called for the criminal prosecution of any and all individuals who cross the Mexican border into the US even if they are seeking asylum.
People strike across America for A Day Without Immigrants

Show all 16
The group of grandmothers — Grannies Respond, or Abuelas Responden — has now embarked on a 2,000-mile road rip to McAllen, Texas, where reports have suggested that immigrant children have been kept in what are essentially cages.
"I think it's a powerful way to express the idea that, even frail old people who are in many ways discounted … in this society can do something," Ann Schaetzel, whose adult daughters had come to send her off, said."Basically, if frail, old people can take a stand, anybody can do it. I hope that people will join us".
The women are hoping their movement gathers momentum as it makes its way through Pennsylvania, Kentucky, Alabama, and Louisiana before finally hitting Texan soil, where similar caravans from as far as Portland, Oregon are expected to be joining the efforts.
Like the launch in New York, the will raise awareness for the cause that shocked the American public and led to a court ruling saying that the Trump administration needs to reunite the separated families — an order, and goal, that was not achieved by its deadline last week.
Standing to the side of news reporters with cameras interviewing her peers, one of the grandmothers, Terry Cooper Feuer of Brooklyn, said that she sees parallels between what is happening to the immigrant families and the deadly and oppressive conditions seen in Warsaw, Poland during World War II.
Ms Cooper Feuer said that her father had escaped from the ghettos in Warsaw, and that history seemed dangerously close to recurring. So, she jumped on the caravan alongside the other grandmothers, ready to fight against family separation in the hot Texas sun for at least a couple of weeks.
"There was a belief that this country is the place that always provided opportunity," she said. "I'm here because I hope my granddaughter can inherit that".
Join our new commenting forum
Join thought-provoking conversations, follow other Independent readers and see their replies