Inside the basement where group allegedly plotted to kidnap Gretchen Whitmer
One of two alleged ringleaders was living in area below vacuum shop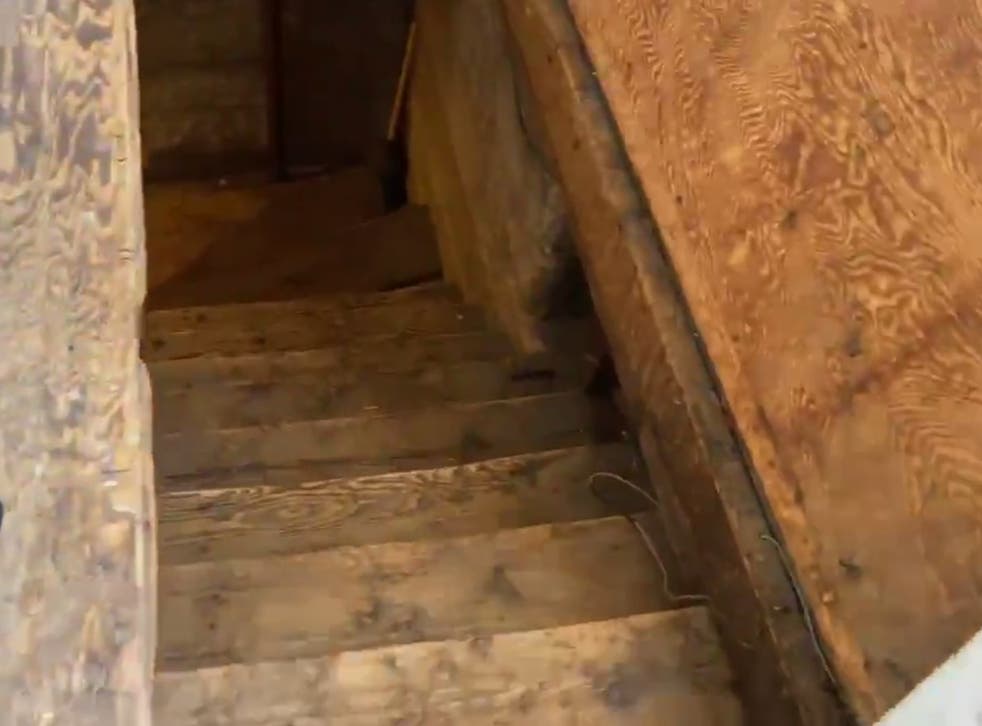 Footage from inside the basement where one of the suspects accused of plotting to kidnap Michigan governor Gretchen Whitmer lived has been released following his arrest.
On Thursday, six people were charged in relation to a plot to kidnap Ms Whitmer, which involved links to a right wing militia group, the Federal Bureau of Investigation (FBI) announced.
The six men arrested, following a raid at a home in Detroit on Thursday morning, have been named as Adam Fox, Barry Croft, Kaleb Franks, Daniel Harris, Brandon Caserta and Ty Garbin.
The group allegedly planned to kidnap the governor at her family holiday home, and had practised combat and shooting drills in preparation.
Mr Fox and Mr Croft have been accused of being the ringleaders of the group, and on Thursday afternoon, footage of the basement the former was living in was released.
Susan Samples, from WOODTV in Grand Rapids, Michigan, posted the footage on Twitter, and wrote: "Adam Fox had been living in basement of vac shack.
"Owner let him stay because Fox was homeless and had dogs. Fox had been employee off and on at vac shack for 17 years."
The footage shows a crowded space, with belongings filling all corners of the room and very little space to walk around. The basement appeared to only be accessible from a wooden staircase that leads to the vacuum shop above.
In the 25-second clip, a small area that appears to be a bathroom is visible down a narrow hallway, which is also cluttered with belongings.
The group met in the basement on 20 June to plan the kidnapping of Ms Whitmer, according to the FBI.
Although Mr Fox made every person at the meeting hand in their phone, an FBI informant, who was wearing a wire, attended that day and was able to record their conversation.
The FBI informant became involved with the group after they reached out to a right-wing militia group known as Wolverine Watchmen, which the informant was embedded in, when they attempted to recruit 200 men in a plan to "take" the Capitol building.
At that meeting, the group discussed using molotov cocktails to attack police, and planned when they were going to practise combat drills.
Later on Thursday, the FBI arrested seven men from the militia group, who were charged by attorney general Dana Nessell with plotting to attack the Michigan State Capitol to incite a "civil war".
Ms Whitmer imposed some of the toughest coronavirus restrictions in the US in Michigan, while Mr Fox was reportedly militantly against wearing a mask as he believed it violated his civil rights.
Mr Fox allegedly said on numerous occasions that he wanted to kidnap Ms Whitmer before the 3 November national election.
His boss, Brian Titus told WOODTV that "he was anti-police, anti-government. He was afraid if he didn't stand up for the Second Amendment and his rights that the country is going to go communism and socialism."
Join our new commenting forum
Join thought-provoking conversations, follow other Independent readers and see their replies