Top Republicans signal they are open to certain gun control laws after Las Vegas shooting
The gunman used a 'bump stock' to modify a semi-automatic rifle to fire like an automatic weapon, according to authorities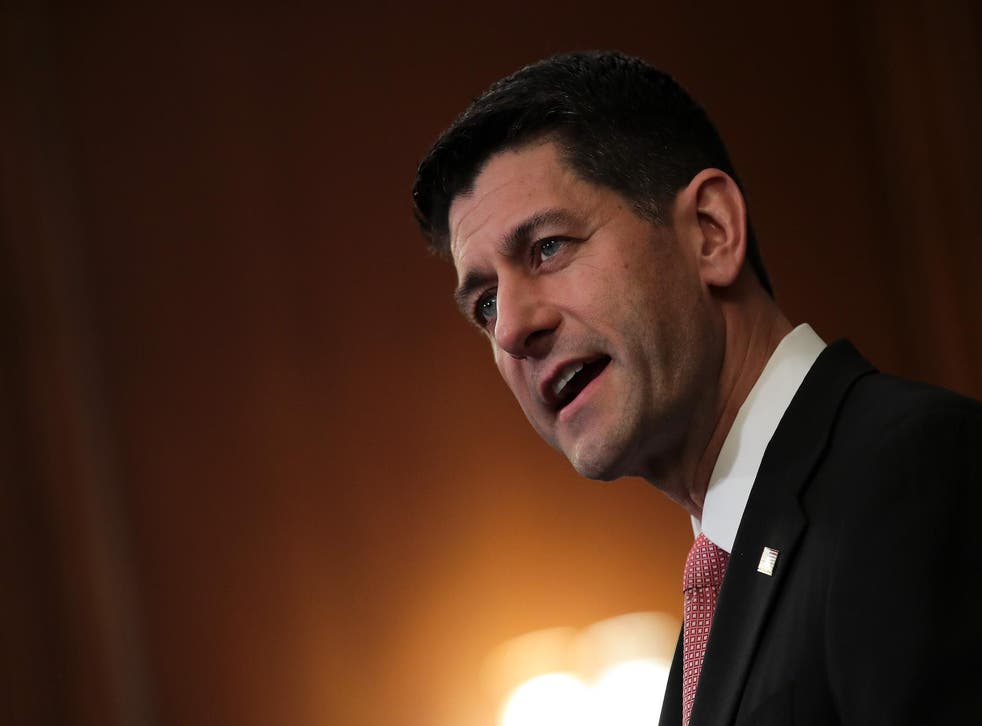 After resisting gun control legislation for decades, top Republicans have signalled they would be open to banning the device used to attack scores of people in the deadliest mass shooting in modern US history.
Directly following the Las Vegas massacre, Republicans mostly brushed off calls by their Democratic colleagues to discuss gun policy. But over the last day, as more details about the shooting have continued to emerge, some members of the majority party have begun to change their tune.
Authorities have revealed that the gunman, 64-year-old Stephen Paddock, rigged 12 semi-automatic rifles with "bump stocks" – which allow semi-automatic rifles to fire rapidly and continuously, as if they were fully automatic weapons. Concerned about how these so-called bump stocks are being used, House Speaker Paul Ryan and Robert Goodlatte, chairman of the House Judiciary Committee, have both suggested they would consider further rules for the devices.
The National Rifle Association (NRA), one of the nation's most influential gun lobbying group, has even endorsed tighter regulations on bump stocks. The organisation for years has forcefully opposed any new gun control laws.
"Clearly that's something we need to look into," Mr Ryan said on MSNBC.
"We're going to look at the issue," Mr Goodlatte told the The Washington Post. When asked if he had a personal concern about their legality, he replied: "I have a personal concern about what happened."
Meanwhile, Republican Representative Carlos Curbelo has said he is drafting bipartisan legislation banning the conversion kits.
Representative Mark Meadows, head of the Freedom Caucus, also said he would be open to considering a bill, while Republican Congressman Bill Flores directly called for a ban.
"I think they should be banned," Mr Flores told the newspaper The Hill. "There's no reason for a typical gun owner to own anything that converts a semi-automatic to something that behaves like an automatic."
On the other side of Capitol Hill, members of the Senate's Republican leadership also expressed interest in learning more about bump stocks.
"I own a lot of guns and as a hunter and sportsman I think that's our right as Americans, but I don't understand the use of this bump stock and that's another reason to have a hearing," Senator John Cornyn, the No 2 Republican in the Senate, told reporters.
"If somebody can essentially convert a semi-automatic weapon by buying one of these and utilising it and cause the kind of mayhem and mass casualties that we saw in Las Vegas, that's something of obvious concern that we ought to explore."
Mr Cornyn later said he had asked Senator Charles Grassley, the Judiciary Committee chairman, to hold a hearing on the issue and any others that may arise out of the Las Vegas investigation.
Senator John Thune, the No 3 Republican in the Senate, told Politico that he and his other Republican colleagues were at least interested in finding out more about how "bump stocks" are used.
Las Vegas shooting – in pictures

Show all 15
"I think it's something we ought to look into," Mr Thune said. "I don't know a lot about them and I'm somebody who, I'd like to think, is fairly familiar with a lot of firearms and you know, the use of those. And that incident out there is something that I think we need to take a look at."
At least one Republican senator, Ron Johnson, has said outright that he would be prepared to support a ban on the devices. "I have no problem in banning those," Mr Johnson said.
On Wednesday, Democratic Senator Dianne Feinstein, along with more than two dozen other Democrats, unveiled legislation to prohibit the sale of bump stock devices.
"Bump stocks – which cost less than $200 (£152) – increase a semi-automatic rifle's rate of fire from between 45 to 60 rounds per minute to between 400 to 800 rounds per minute. That's the same rate of fire as automatic weapons," said Ms Feinstein, a long-time gun-control advocate. "The only reason to modify a gun is to kill as many people as possible in as short as time as possible."
Even though Republicans have expressed interest in banning bump stocks, no one from the party has endorsed a bill targeting the devices.
And while the movement for gun control legislation appears to be gaining momentum, any legislative action on the issue is likely to face an uphill battle.
Recent mass shootings in Colorado, Connecticut and Florida all failed to unite Congress on any legislative response. A bipartisan bill regarding background checks failed four years ago and since then, Republicans have often pointed to mental health legislation when asked about the appropriate congressional response to gun violence.
Over the past few days, conservative members have already suggested they would resist any attempts to a pass a gun control bill, including a ban on bump stocks.
"I'm a Second Amendment man," Senator Richard Shelby told Politico. "I'm not for any gun control, OK? None."
In an interview with CNN, White House counsellor Kellyanne Conway blamed the Obama administration for not regulating bump stocks.
"I did note ... it was President Obama's ATF, the Bureau of Alcohol, Tobacco and Firearms, in 2010 that decided not to regulate this device," she told host Chris Cuomo on New Day. "That should be part of the conversation and part of the facts that you put before your viewers."
Obama-era official Rick Vasquez did sign off on a recommendation that the ATF did not need to regulate the accessory, which he called "a goofy, little doodad", according to The Washington Post.
Mr Vasquez reasoned that the invention did not technically alter a gun's trigger mechanism, as earlier attempts had, with springs, hydraulics or electric current, The Post reported. Therefore, it did not infringe on a law that bans the sale of machine guns manufactured after 1986 and restricts the sale of those made before then.
Join our new commenting forum
Join thought-provoking conversations, follow other Independent readers and see their replies