White House backs Olympic athlete Gwen Berry who turned her back on flag in protest
Biden aide says part of American pride is recognising when country did wrong
John Bowden
Monday 28 June 2021 19:29 Comments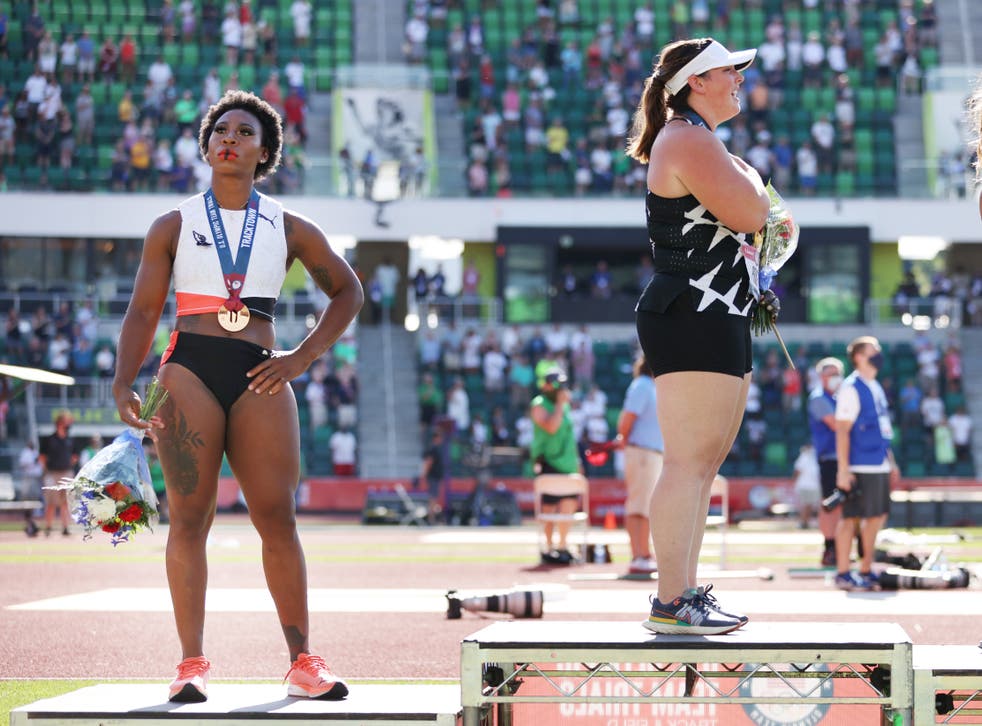 Leer en Español
White House press secretary Jen Psaki defended Olympian Gwen Berry after the hammer-thrower turned her back on the US flag following her performance at the Olympic Trials.
At a press conference Monday, Ms Psaki told reporters that while President Joe Biden respects the flag and national anthem, he believes that part of being a patriotic American means recognising the sins committed in America's past and respecting the right of Americans to protest those wrongs.
"Part of that pride in our country means recognising [that] there are moments where we, as a country, haven't lived up to our highest ideals," Ms Psaki explained on Monday.
"It means respecting the right of people granted to them in the Constitution to peacefully protest," she continued.
Her comments came as part of a back-and-forth with Fox News's Peter Doocy, who also questioned the press secretary on the issue of police funding.
Jen Psaki says that Joe Biden "is incredibly proud to be an American and has great respect for the anthem and all that it represents," but that there "are moments where we as a country haven't lived up to our highest ideals." pic.twitter.com/RN1QfxtxHj

— Townhall.com (@townhallcom) June 28, 2021
Ms Berry, 31, told reporters after her hammer-throwing event on Saturday, at which she placed third, that she felt the playing of the anthem was a "set up", adding that she was told it would be played before the athletes emerged onto the field.
During the anthem's performance Ms Berry could be seen turning away from the US flag and holding up a shirt that bore the phrase, "activist athlete". The other two women on the top-three podium turned towards the flag for the performance.
Ms Berry has protested during the anthem's performance in the past, and says the song does not "speak" for her. Black athletes in numerous athletic fields have protested during the anthem's performance at competitions in recent years as a means of bringing light to systemic racism and police brutality in America.
"They said they were going to play it before we walked out, then they played it when we were out there. But I don't really want to talk about the anthem because that's not important. The anthem doesn't speak for me. It never has," said Ms Berry after the event on Saturday.
"My purpose and my mission is bigger than sports. I'm here to represent those … who died due to systemic racism. That's the important part. That's why I'm going. That's why I'm here today," she added.
Register for free to continue reading
Registration is a free and easy way to support our truly independent journalism
By registering, you will also enjoy limited access to Premium articles, exclusive newsletters, commenting, and virtual events with our leading journalists
Already have an account? sign in
Join our new commenting forum
Join thought-provoking conversations, follow other Independent readers and see their replies