Hafiz Saeed: US warns of 'repercussions' for Pakistan over release of alleged Mumbai attack mastermind
The US has placed a $10m reward on Mr Saeed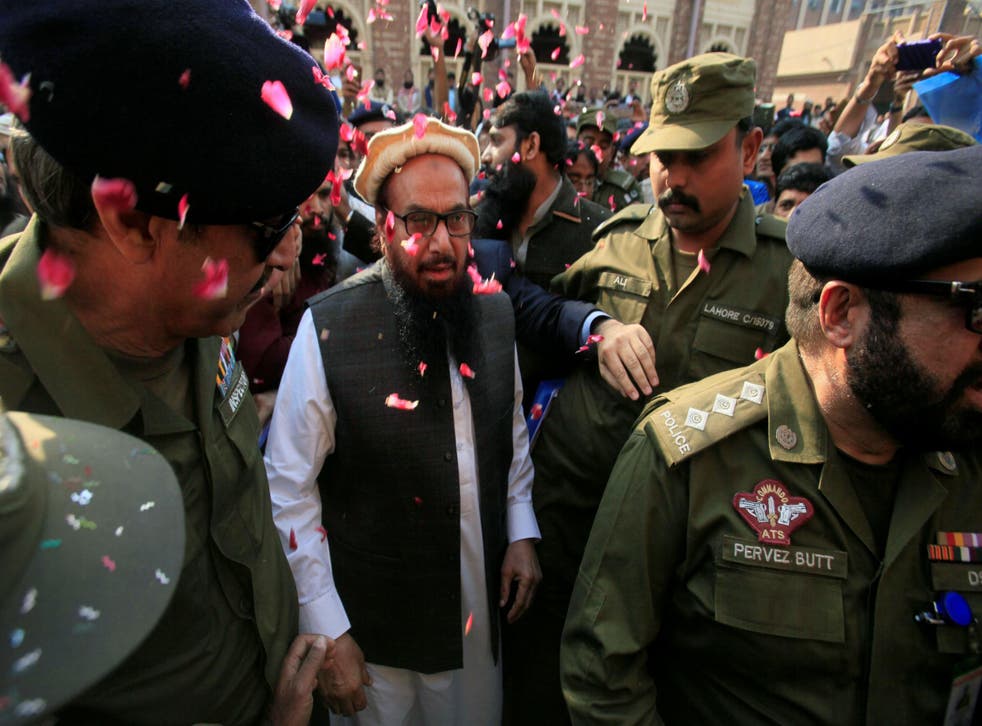 The US has strongly condemned Pakistan's release of the alleged militant accused of masterminding the 2008 attack on Mumbai - saying it sends a deeply troubling message about its commitment to fighting terrorism.
Hafiz Saeed, accused of plotting the commando operation that left more than 160 people dead, was released from house arrest earlier this week by a three-judge panel in the city of Lahore. His spokesman, Yahya Mujahid, called it a "victory of truth".
But the White House denounced the move and said it could damage US-Pakistan relations.
Pakistan protests: army called in after clashes with Islamist protesters
"Saeed's release, after Pakistan's failure to prosecute or charge him, sends a deeply troubling message about Pakistan's commitment to combatting international terrorism and belies Pakistani claims that it will not provide sanctuary for terrorists on its soil," said press secretary Sara Huckabee Sanders.
"If Pakistan does not take action to lawfully detain Saeed and charge him for his crimes, its inaction will have repercussions for bilateral relations and for Pakistan's global reputation."
Mr Saeed, 68, has always denied being behind the multi-target attack on Mumbai that left close to 170 people dead. In 2010, he told The Independent: "They make me out to be the biggest and most evil terrorist. Do I look like one to you?"
He has insisted that his organisation, Jamaat-ud-Dawa, is involved solely in charitable activities.
Yet both India, the US and other countries, accuse Mr Saeed of being being the attack. They say that while Jamaat-ud-Dawa may indeed perform charitable activities, it is also a front for Lashkar-e-Taiba, the Pakistan militant group which became notorious for strikes on Indian targets, including a 2001 attack on its parliament in Delhi.
In December 2008, UN Secretary Council declared Jamaat-ud-Dawa a terrorist front group. In April 2012, the US announced a bounty of $10m on Mr Saeed.
After the attack on the Indian commercial capital, Pakistan was put under intense pressure to detain and prosecute Mr Saeed. India and the US said there was sufficient evidence, though this was something prosecutors in Pakistan denied.
World news in pictures

Show all 50
Instead, Mr Saeed has spent much of the last decade being placed under house arrest and then released. His situation under house arrest is not irksome; Mr Saeed has a large property in Lahore and is protected not only by his own armed guards but by armed police officers.
While some in Pakistan may wish to see Mr Saeed placed on trial, there is widespread suspicion among Indian and US officials that he still retains close links to the country's Inter-Services Intelligence (ISI), which has been long blamed for sponsoring many of the cross-border attacks on Indian targets.
After his latest release from house arrest, Mr Saeed attacked recently ousted prime minster Nawaz Sharif as a "traitor" for his efforts to seek peace with India.
"Nawaz Sharif asks why he was ousted? I tell him he was ousted, because he committed treason against Pakistan by developing friendship with [Narendra] Modi, killers of thousands of Muslims," Mr Saeed said, according to Reuters.
The Trump administration has been intensifying pressure on Pakistan to fight extremists and drive them from hideouts in Pakistani territory.
The campaign appeared to produce some success this year when Pakistani security forces assisted with the release of a Taliban-held US-Canadian family after five years in captivity. However, US officials cautioned that move needed to be followed by additional measures to prove the country's commitment.
The White House's comments came as police in Pakistan launched an operation to clear Islamist protesters from an intersection linking the Pakistani capital with the city of Rawalpindi, sparking other demonstrators across the country to take to the streets in solidarity.
Join our new commenting forum
Join thought-provoking conversations, follow other Independent readers and see their replies