Harris staffer says he 'absolutely love my job' amid reports of bullying
David Gins, who works at deputy director of operations posted a photo of himself in his office, which has a photo of Ms Harris and her husband Doug Emhoff
Eric Garcia
Monday 06 December 2021 15:57 Comments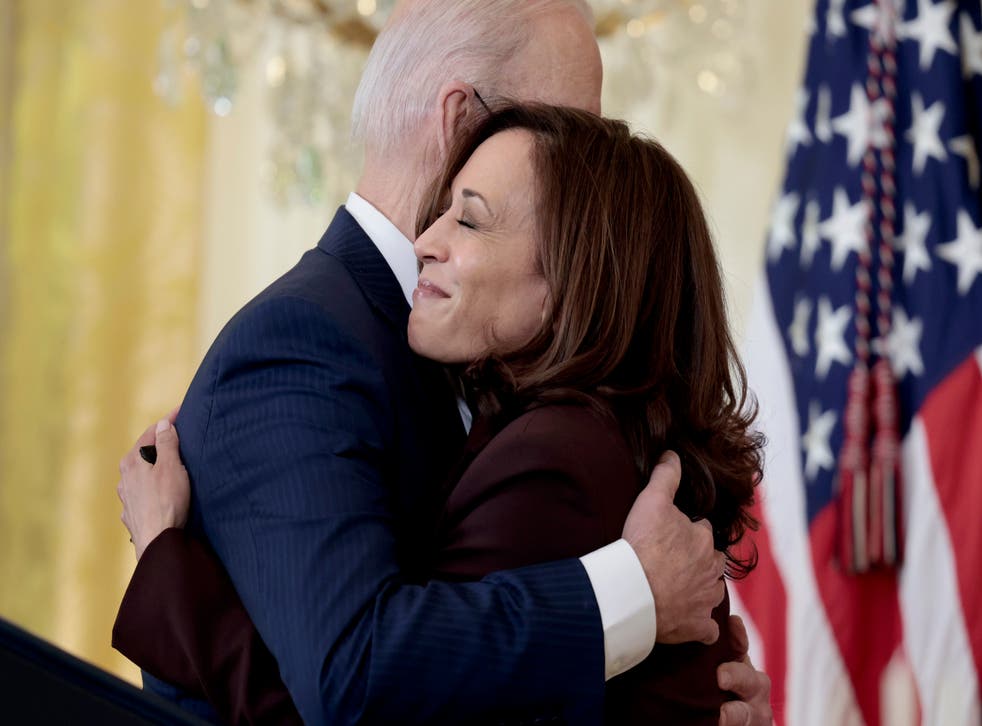 Leer en Español
A staffer for Vice President Kamala Harris tweeted a photo of him saying he loved working for the vice president amid reports of turmoil in her office.
David Gins, who works at deputy director of operations posted a photo of himself in his office, which has a photo of Ms Harris and her husband Doug Emhoff.
"Hi. My name is David Gins. I work for Vice President Harris on behalf of the American people as Deputy Director for Operations and absolutely love my job," he tweeted.
Afterward, he added "Just thought some of you should know," with a smiley face emoji at the end.
The report comes amid a series of negative headlines for the vice president. Last week, Symone Sanders, a senior advisor and chief spokesperson for the vice president, announced she would leave Ms Harris's office. Her communications director Ashley Etienne also headed for the exits.
Over the weekend, The Washington Post chronicled Ms Sanders's and Ms Etienne's departures and reports that Ms Harris is a difficult and often underprepared boss. The piece chronicled how she often refuses to prepare and then berates the staff when she comes off as such. One staffer was quoted as saying Ms Harris throws a "constant amount of soul-destroying criticism" and that working for her is "constantly sort of propping up a bully and it's not really clear why."
Recent polling has shown that much the public has a low opinion of Ms Harris. The Los Angeles Times found that as of 30 November, 41 percent of voters have a favorable opinion of Ms Harris, the first woman vice president.
Ms Harris has been subjected to a deluge of negative headlines largely since President Joe Biden designated her as the point person to handle migrants arriving at the US-Mexico border from Latin America. But Republicans and the press criticised her for not going to the border, which prompted her to visit later.
Mr Biden also tapped her to handle voting rights as Democrats hope to reauthorize the voting rights act after the Supreme Court nullified parts of the legislation. But it is not clear what the vice president could do given the filibuster creating a 60-vote thresh hold.
But Ms Harris numbers also coincide with Mr Biden's approval declining amind a poor economy, the US exit from Afghanistan leading to the deaths of servicemembers and an ongoing pandemic. A Quinnipiac University poll from last month showed Mr Biden's approval rating at 38 percent.
Register for free to continue reading
Registration is a free and easy way to support our truly independent journalism
By registering, you will also enjoy limited access to Premium articles, exclusive newsletters, commenting, and virtual events with our leading journalists
Already have an account? sign in
Join our new commenting forum
Join thought-provoking conversations, follow other Independent readers and see their replies