Republicans roll out new healthcare bill that keeps Obamacare taxes on the wealthy
The measure is meant to undo a pillar of former President Barack Obama's legacy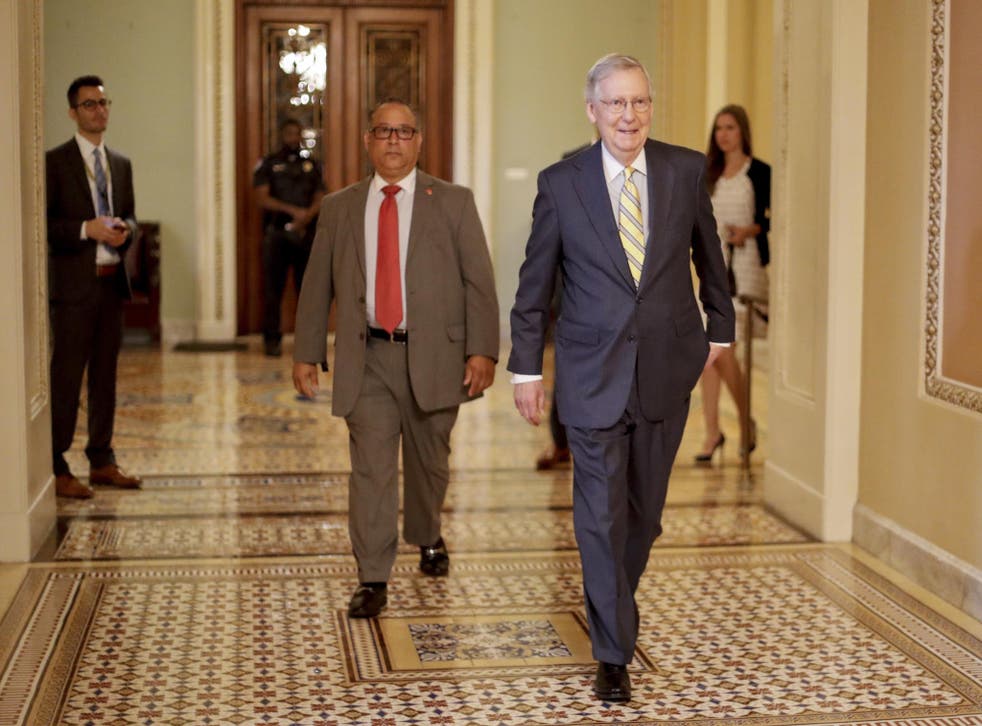 Republican leaders in the US Senate have rolled out a new version of their healthcare bill that will keep a pair of taxes on the rich to help keep health insurance costs down, as they try to save their bid to repeal and replace Obamacare.
But despite new changes, Senate Majority Leader Mitch McConnell still appears to be far from obtaining the 50 votes he needs to pass the legislation.
Libertarian-leaning Senator Rand Paul and moderate Susan Collins have already said that they will vote against beginning debate on the bill next week, and more senators could announce their opposition to the measure in the coming days.
"Still deep cuts to Medicaid in Senate bill. Will vote no," Ms Collins tweeted on Thursday. "Ready to work w/ GOP & Dem colleagues to fix flaws in ACA."
With a majority of 52 Republicans, Mr McConnell can only afford to lose two 'yea' votes. All Democrats are expected to vote against the measure that would dismantle a pillar of former President Barack Obama's legacy.
The latest iteration of the bill would provide roughly $70bn (£54bn) in additional funds for states to use to help lower premiums and keep down out-of-pocket costs for healthcare. The bill had already included more than $100bn (£77bn) for these purposes.
To help provide this additional funding, the revised Senate healthcare plan will keep in place two Obamacare taxes on the wealthy and retain its limit on corporate tax deductions for executive pay in the health insurance industry.
The taxes on the wealthy – a 3.8 per cent net investment tax and a 0.9 per cent payroll tax that helps finance Medicare, a healthcare programme for seniors – apply to individuals with incomes above $200,000 (£155,000) and married couples making more than $250,000 (£193,000).
The new draft also provides $45bn (£35bn) to help combat the opioid abuse crisis – an issue particularly important to a couple of Senators who had opposed the first version of the bill.
A sticking point on the plan has been, and is likely to remain, the proposal to significantly decrease spending on Medicaid – a healthcare programme for the poor. This proposal has worried moderates, as cuts to the programme are likely to leave millions of people without health insurance and will shift the cost of healthcare to the states.
Like the previous bill, Mr McConnell's newest version would end the mandate requiring most Americans to have health coverage. It also deeply scales back Medicaid, capping payments to states and rolling back its expansion under Obamacare.
The nonpartisan Congressional Budget Office (CBO) predicted that the previous Senate healthcare bill would increase the number of people without health insurance by 22 million by 2026.
"It appears that little has changed at the core of the bill," said Senate Democratic leader, Chuck Schumer, on the Senate floor. "The Republican Trumpcare bill still slashes Medicaid. The cuts are every bit as draconian as they were in the previous version – a devastating blow to rural hospitals, to Americans in nursing homes, to those struggling with opioid addiction and so many more."
Iran's 'Trumpism' contest

Show all 10
The revised bill also allow insurers, under certain conditions, to offer health plans that do not comply with standards in Obamacare, which is officially known as the Affordable Care Act (ACA). Under the ACA, insurers sell regulated health plans on a public insurance exchange in each state. The new bill allows states to sell bare-bones plans with minimal coverage, as long as Obamacare-compliant coverage is also sold.
It is still uncertain whether Mr McConnell will be able to gather the votes needed to pass the bill. Despite being known as a skillful tactician, he continues to deal with the competing interests of Senate Republicans. Moderates worry that too many will lose insurance under the proposed bill, while conservatives assert that the legislation does not do enough to erase Obamacare.
Over the past week, conservative senators Ted Cruz and Mike Lee had been pushing hard for the adoption of their amendment, known as the "consumer freedom option", which allows the scant coverage they say would offer cheaper, deregulated plans for healthy people.
In an interview with the radio station KFYI, Mr Cruz called the inclusion of a version of his and Mr Lee's provision in the latest iteration of the bill "very encouraging".
"I think we're making serious progress towards coming together and unifying our conference, and getting a bill that can command the support of at least 50 senators and pass into law," Mr Cruz said.
"I think failing to get this done would be really catastrophic," he added, "and I don't think any of the Republican senators want to see failure come out of this".
Under Mr Cruz's and Mr Lee's amendment, insurers would be able to offer stripped-down, low-cost healthcare plans that do not comply with Obamacare regulations to cover certain health benefits. Those benefits include maternity and newborn care, mental health services and addiction treatment, outpatient care, hospitalisation, emergency room visits and prescription drugs.
Opponents of the plan have said that the amendment would create segregated risk pools that would separate healthy individuals from those with pre-existing conditions, likely causing premiums to spike to unaffordable levels.
Republicans have cited astronomical premiums and a breakdown of the Obamacare markets as reasons why they desperately need to repeal and replace the ACA.
Mr McConnell is hoping to hold a vote on the latest version of his bill next week. But a couple of Republican senators are already trying to come up with a Plan B in case the leader's legislation does not pass.
Senator Lindsey Graham is currently putting together a package of healthcare fixes that he says could possibly gain Democratic support.
"In a nutshell, we're keeping the taxes in place on the wealthy," Mr Graham said of his plan on CNN. "We're repealing the individual mandate, the employer mandate, the medical device tax that 75 senators voted to repeal. There's about $500bn of money.
"Rather than trying to run healthcare from Washington, we're going to block-grant it to the states and here's what will happen: If you like Obamacare, you can reimpose the mandates at the state level. You can repair Obamacare if you think it needs to be repaired. You can replace it if you think it needs to be replaced. It'll be up to the governors. They've got a better handle on this than any bureaucrat in Washington."
Donald Trump said in an interview with the Christian Broadcasting Network on Wednesday that he would be "very angry" if he does not get a bill on his desk to repeal and replace Obamacare.
Vice President Mike Pence on Thursday, while speaking to small-business owners at a roundtable in Kentucky, said he likes Kentucky Senator Rand Paul, who still opposes the Senate Republicans' healthcare plan.
"Let me say from my heart, the President and I really like Senator Rand Paul," Mr Pence said. "Senator Rand Paul is a great conservative and a great legislator and he does Kentucky proud."
Mr Pence instead blamed Democrats for the roadblocks the Senate is facing on the path toward healthcare reform.
"I mean, Democrats in Congress would rather let Obamacare implode than admit their mistake and help Republican majorities rescue the American people," Mr Pence said, later adding that, when the time comes, Mr Paul and other Kentucky senator Mr McConnell "will do the right thing together and we will pass legislation to repeal and replace Obamacare".
Register for free to continue reading
Registration is a free and easy way to support our truly independent journalism
By registering, you will also enjoy limited access to Premium articles, exclusive newsletters, commenting, and virtual events with our leading journalists
Already have an account? sign in
Register for free to continue reading
Registration is a free and easy way to support our truly independent journalism
By registering, you will also enjoy limited access to Premium articles, exclusive newsletters, commenting, and virtual events with our leading journalists
Already have an account? sign in
Join our new commenting forum
Join thought-provoking conversations, follow other Independent readers and see their replies