Written by 13 men, Republican healthcare bill limits women's access to contraception and pregnancy coverage
The Senate's plan would defund Planned Parenthood for a year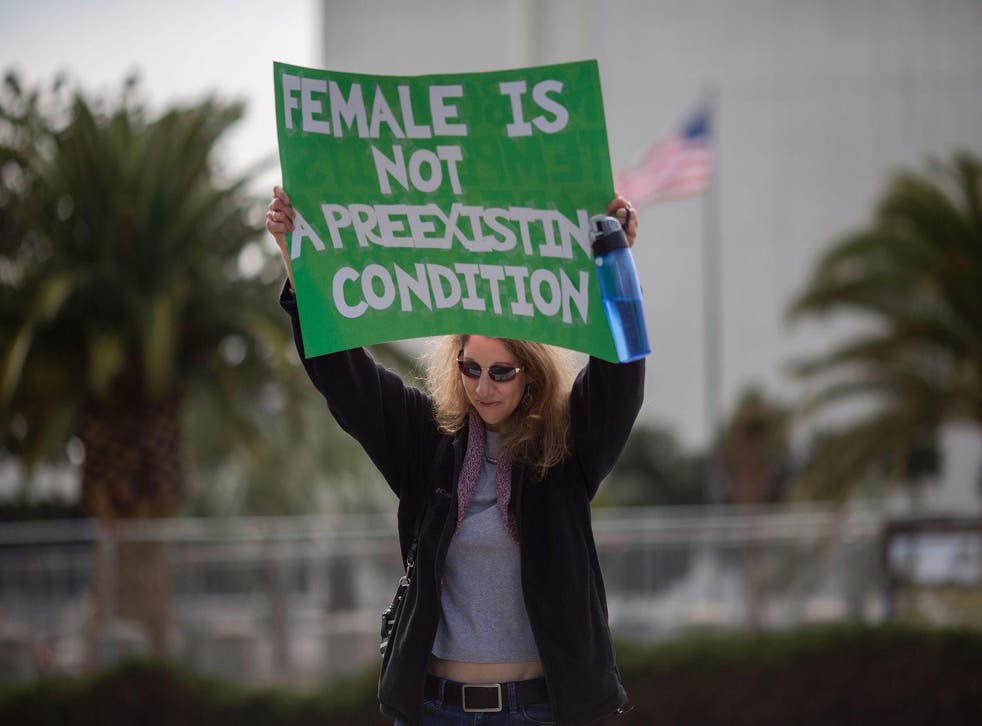 The Senate Republicans' healthcare bill will make it harder for women to access important health benefits such as birth control and maternity coverage, critics say.
As currently written, the measure, which was drafted by 13 male senators, would defund Planned Parenthood for a year as well as dramatically cut Medicaid, a healthcare programme for low-income Americans that pays for nearly half of all births in the US.
Currently, about 75% of the public dollars spent on family planning are Medicaid dollars.
According to the Kaiser Family Foundation, clinic-based providers such as Planned Parenthood are important sources of family planning services. A 2013 health survey found that one in three low-income women obtained birth control from a family planning clinic.
A decrease in Medicaid dollars for family planning services could lead to a rise in unexpected pregnancies among low-income women.
"If this is the Senate's idea of a bill with heart, then the women of America should have fear struck in theirs," Planned Parenthood President Cecile Richards said in a statement.
"Slashing Medicaid and blocking millions of women from getting preventive care at Planned Parenthood is beyond heartless. One in five women in this country rely on Planned Parenthood for care. They will not stay silent as politicians vote to take away their care and their rights."
The safety-net provider delivers a wide range of reproductive health services and cancer screenings to more than 2.5 million women, Kaiser reported.
Thousands march against Donald Trump in LGBT rights parade

Show all 8
Many Republicans have long been vehement opponents of Planned Parenthood, which also provides abortion services, and have repeatedly attempted to prevent federal funds from going to the provider. Donald Trump has also vowed to defund it.
While the Senate bill does not specifically mention Planned Parenthood, it states that groups primarily engaged in family planning services, reproductive health, and providing abortions – other than abortions that are medically necessary or responses to cases of incest or rape – and whose Medicaid receipts exceeded $350 million in fiscal year 2014 — are barred from receiving federal funding through several health programmes, including Medicaid, for one year.
Planned Parenthood would be considered one of these groups. But Republican senators Susan Collins of Maine and Lisa Murkowski of Alaska are likely to take issue with the defunding of the provider.
Along with stopping the flow of federal money to Planned Parenthood, the Senate bill would also enable states to opt out of having to provide essential health benefits, such as pregnancy and maternity care, to people purchasing individual or small-group insurance plans.
With a majority of 52 senators, Senate Majority Leader Mitch McConnell can only afford to lose two 'yea' votes on the healthcare measure. In the event of a 50-50 tie, Vice President Mike Pence would cast the deciding vote.
Four senators have already announced that they are not ready to vote for the bill, and others have expressed concerns.
There is also uncertainty over whether the defunding of Planned Parenthood in the bill would violate Senate rules.
Republicans are using a process known as budget reconciliation to try to pass their healthcare bill – so that they only need 51 votes instead of 60 – meaning that the legislation must be focused on reducing the federal budget deficit.
Any provisions in the bill that are not designed for this purpose may be excluded.
Register for free to continue reading
Registration is a free and easy way to support our truly independent journalism
By registering, you will also enjoy limited access to Premium articles, exclusive newsletters, commenting, and virtual events with our leading journalists
Already have an account? sign in
Register for free to continue reading
Registration is a free and easy way to support our truly independent journalism
By registering, you will also enjoy limited access to Premium articles, exclusive newsletters, commenting, and virtual events with our leading journalists
Already have an account? sign in
Join our new commenting forum
Join thought-provoking conversations, follow other Independent readers and see their replies