Hillary Clinton refuses to rule out becoming vice-president
'Never say never': Hillary Clinton responds to questions about becoming vice-president
Former secretary of state's comments follow attack on Democratic presidential frontrunner Bernie Sanders
Hillary Clinton has said she would consider becoming vice-president in a future Democratic White House.
The former first lady and secretary of state, who lost the 2016 presidential election to Donald Trump, told Ellen DeGeneres she would "never say never", but insisted the invitation would not arrive.
"I never say never, because I believe in serving my country," she said on DeGeneres' chat show on Wednesday. "But it's not going to happen."
Ms Clinton also hailed Mitt Romney for becoming the only Republican senator to vote to convict Mr Trump at the conclusion of the president's impeachment trial.
"I was still disappointed that not more of the Republicans were willing to take the stand that Mitt Romney took," she said. "Absolutely extraordinary speech on the floor of the Senate talking about why he felt the weight of history on his shoulders."
Democratic candidates compete on the campaign trail: In pictures

Show all 18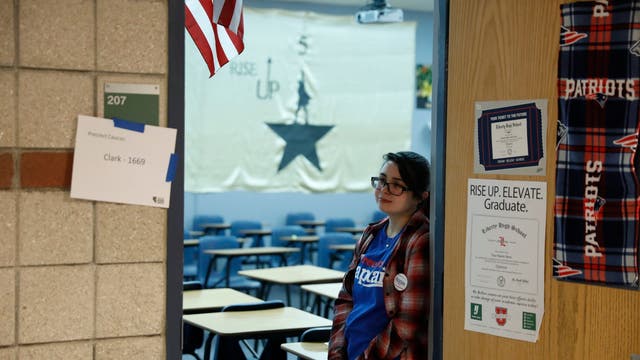 Ms Clinton's comments on the vice-presidency came just weeks after she claimed that in the Democratic Party, "nobody likes" presidential frontrunner Bernie Sanders, who in 2016 launched a competitive but ultimately unsuccessful presidential primary campaign against her.
Mr Sanders is a "career politician", she said, adding: "It's all just baloney and I feel so bad that people got sucked into it."
Ms Clinton also initially refused to say whether she would endorse Mr Sanders if he became the eventual nominee to take on Mr Trump in November, angering many Democratic activists, before later confirming she would back him.
Ms Clinton's comments came amid continued confusion over the final results of the Iowa caucuses, which is the opening state-wide contest in a months-long national voting process to choose which Democrat will become the presidential nominee.
The race remained too early to call on Thursday morning, with 97 per cent of precincts reporting. But Pete Buttigieg and Mr Sanders were nearly tied in Iowa, in a contest marred by technical issues and reporting delays.
Party officials were still scrambling to verify the remaining results three days after Iowans gathered at caucus sites across the state.
Join our new commenting forum
Join thought-provoking conversations, follow other Independent readers and see their replies