Hillary Clinton says she would run again in 2020 if she thought she could win, report says
Ms Clinton won Democratic nomination in 2016, after receiving establishment support early in primary against Bernie Sanders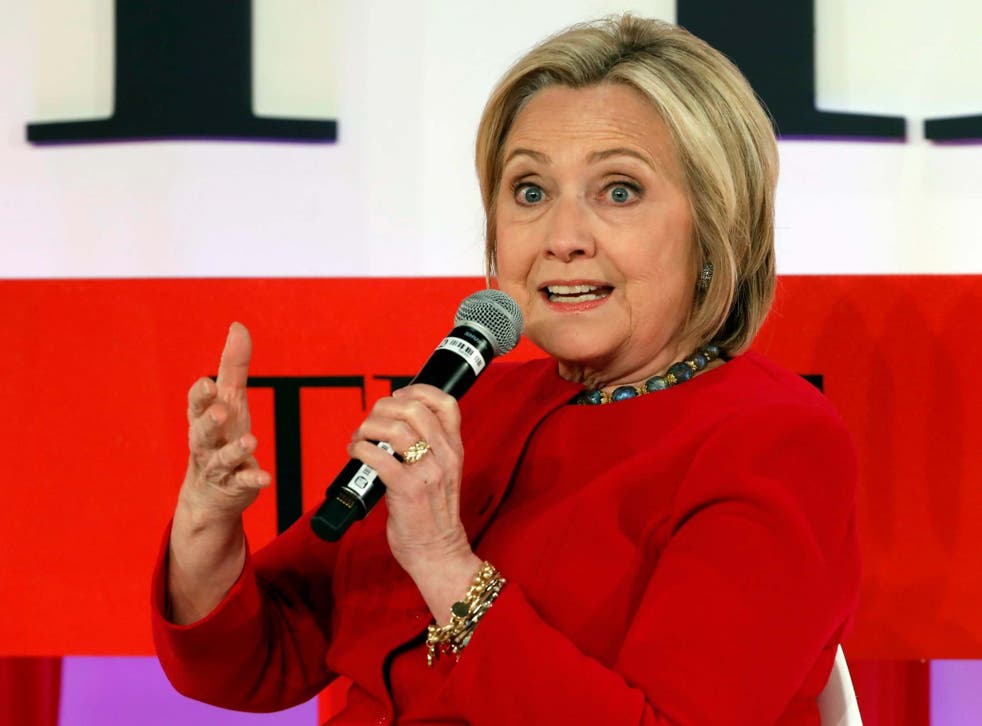 Hillary Clinton has told people privately that she would consider joining the 2020 Democratic primary, but only if she thought she could win.
The private conversations were aired publicly in a new report from The New York Times, which spoke with several people involved with Democratic politics, many of whom are concerned that the current crop of candidates is less than ideal.
Alongside Ms Clinton, who won the 2016 Democratic primary but lost in a stunning defeat to Donald Trump in the general, former New York City Michael Bloomberg is said to be open to a 2020 run if the stars aligned just so.
But, it appears as though Ms Clinton and Mr Bloomberg are unlikely to jump in the race, as both said during those same private conversations that they are not sure there is an opening in a field that includes two strong liberal candidates, as well as former vice president Joe Biden and others.
Taken together, the report illustrates a deep unease within the Democratic donor and establishment class, which backed Ms Clinton strong and early during the 2016 election — leading some to claim the primary was rigged against Bernie Sanders, who is running again this year.
Minneapolis protesters clash with police outside Trump rally

Show all 12
Much of that unease appears to be coming from lacklustre fundraising by Mr Biden, who trails behind the likes of Mr Sanders and senator Elizabeth Warren, both of whom have eschewed big donor fundraisers in favour of a reliance on small dollar donations.
Mr Biden also trails behind South Bend mayor Pete Buttigieg, who has emerged as a leading contender, but one that has failed to cement himself as a front-runner in a race where the major change so far has come from a resilient rise in the polls by Ms Warren.
There is plenty of time for Mr Buttigieg — who is largely considered to be a centrist in the same vein as Mr Biden — to catch up, and he is polling well in early states like Iowa. It remains to be seen whether he might be able to build on his support to include the African American community, however, which is a key demographic for Democrats and a group that is known to solidly support Mr Biden.
Register for free to continue reading
Registration is a free and easy way to support our truly independent journalism
By registering, you will also enjoy limited access to Premium articles, exclusive newsletters, commenting, and virtual events with our leading journalists
Already have an account? sign in
Register for free to continue reading
Registration is a free and easy way to support our truly independent journalism
By registering, you will also enjoy limited access to Premium articles, exclusive newsletters, commenting, and virtual events with our leading journalists
Already have an account? sign in
Join our new commenting forum
Join thought-provoking conversations, follow other Independent readers and see their replies