Hillary Clinton accuses Bernie Sanders of 'abandoning' Barack Obama
The fight between the two candidates has become increasingly toxic 
David Usborne
Charleston
Friday 12 February 2016 15:30 Comments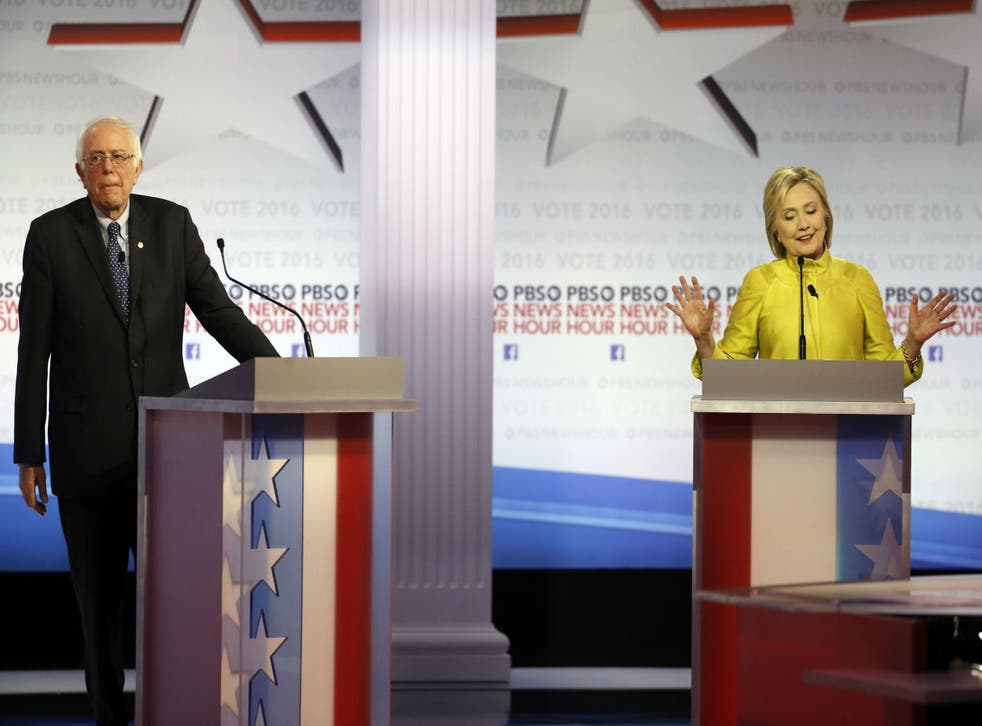 Hillary Clinton has accused her rival for the Democratic Party nomination, Senator Bernie Sanders, of forsaking President Barack Obama and openly criticising his record as she scrambles to shore up support among African-American voters who may prove a rubber ring for her suddenly punctured candidacy.
The two clashed sharply over the issue during an otherwise mostly polite debate in Milwaukee, Wisconsin, on Thursday night, which marked the start of the next phase in the nomination battle which moves now to two far more racially diverse states, South Carolina and Nevada.
Noting an interview Mr Sanders had given in which he chided Mr Obama for his failure to bridge the divide between Washington and ordinary Americans – a failing which he this week openly acknowledged – Ms Clinton accused him of doing the other party's work for them.
"The kind of criticism I hear from Senator Sanders, I expect from Republicans. I do not expect it from someone seeking the Democratic nomination," Ms Clinton said, adopting a more bellicose tone towards the end of the two-hour debate. "Madam Secretary, that is a low blow," Mr Senator replied gruffly.
Ms Clinton was shellacked in the New Hampshire primary this week by Senator Sanders, a self-described democratic socialist, raising concerns among supporters and donors about her path going forward. Her campaign has openly asserted that she must now count on the loyalty of African Americans who will make up more than half the Democrat voters in this state, which will hold its primary on 27 February.
Mr Sanders has built an unexpectedly strong wave of support, especially from young voters, with a message that may be far clearer than hers. He is calling for a "political revolution" to end a "rigged" economy that benefits the wealth over the poor. Also with an eye on black voters, he peppered his remarks on the debate stage with references to the high incarceration levels of poor and black Americans.
However, Ms Clinton also sought to raise doubts about the other planks of his campaign – to introduce free tuition at public colleges and free healthcare under a government-run system – saying they were unrealistic politically and couldn't be paid for. She also asserted that his programmes would entail a 40 per cent expansion of the federal government, a figure that might give many voters pause.
Rather than pushing back, however, Mr Sanders responded with defiance. "In my view, the government of a democratic society has a moral responsibility to play a vital role in making sure all our people have a decent standard of living," he said.
Asked if he worried that he was seeking to block an historic election of a first female, president, he also replied without remorse. "I think a Sanders victory would be of some historical accomplishment as well," he said.
Register for free to continue reading
Registration is a free and easy way to support our truly independent journalism
By registering, you will also enjoy limited access to Premium articles, exclusive newsletters, commenting, and virtual events with our leading journalists
Already have an account? sign in
Join our new commenting forum
Join thought-provoking conversations, follow other Independent readers and see their replies