Hillary Clinton gets helping hand from Al Gore in Florida, the state that denied him the White House in 2000
Gore was in Miami to emphasise global warming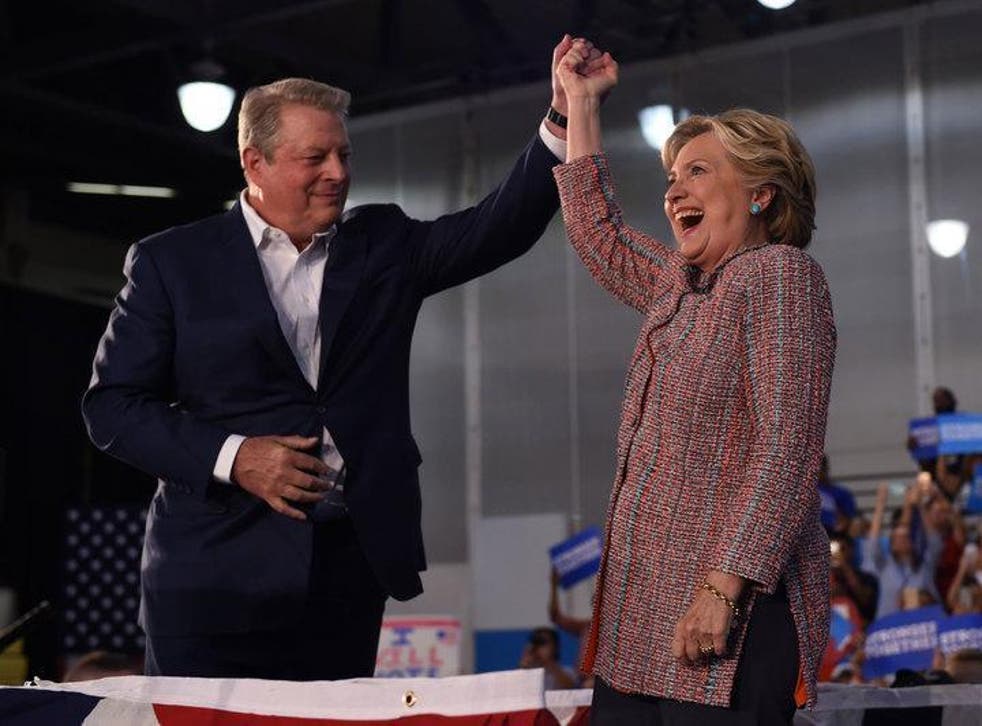 Al Gore made his debut on the campaign trail for Hillary Clinton on Tuesday speaking to supporters in the battleground state of Florida hoping to persuade them that she will be strong against the ongoing challenge of climate change.
The former vice president, whose loss to George W. Bush in the 2000 presidential race came after weeks of litigation over the knife-edge result in Florida, was stumping for Ms Clinton at Miami-Dade Community College in the Democrat-leaning south of the state, two days after the second presidential debate.
Delivering twin messages, Mr Gore argued that the most urgent issue facing America is climate change and Ms Clinton will make the crisis a national and international priority. He also joined in exhorting her supporters to vote, particularly millennials for whom global warming is a top concern. He described himself as 'Exhibit A' for why every vote matters.
"Your vote really really really counts. A lot. You can consider me as an exhibit A," Mr Gore joked on Tuesday. When he referenced his loss in Florida in the 2000 election - after the US Supreme Court refused to call for a recount - the crowd broke out into chants of "You won. You won."
"Elections have consequences and your vote has consequences," he almost chided. "The future of Miami and cities up and down the west coast and east coast are on the ballot as well. "
Ms Clinton outlined her plans to use renewable energy, reduce oil consumption, and invest in a durable and lasting infrastructure. She also praised the Paris Climate Agreement that she negotiated during her time as the secretary of state. It will be formally put into action at summit of world leaders and environment ministers in Marrakech, Morocco, in November.
"It is one of the most important issues at stake in this election," Ms Clinton told supporters, as she cited the extreme weather that has ravaged Haiti and North Carolina in the aftermath of Hurricane Matthew.
A pro-Trump heckler briefly interrupted Ms Clinton's speech by yelling "Bill Clinton is a rapist." The crowd responded with boos, effectively drowning out the heckler and Ms Clinton went on to criticise Mr Trump for denying, his denial of climate change.
Earlier, Ms Clinton called into WMBM 1490 AM a Miami radio station and urged listeners not to take take the election for granted, despite Mr Trump's current troubles.
"Florida is key," Ms Clinton said. "If we win in Florida, there's no way my opponent can win. Despite all the terrible things he's said and done, he's still trying to win this election."
Register for free to continue reading
Registration is a free and easy way to support our truly independent journalism
By registering, you will also enjoy limited access to Premium articles, exclusive newsletters, commenting, and virtual events with our leading journalists
Already have an account? sign in
Register for free to continue reading
Registration is a free and easy way to support our truly independent journalism
By registering, you will also enjoy limited access to Premium articles, exclusive newsletters, commenting, and virtual events with our leading journalists
Already have an account? sign in
Join our new commenting forum
Join thought-provoking conversations, follow other Independent readers and see their replies