Four in 10 Donald Trump supporters think Hillary Clinton 'is an actual demon'
And 84 per cent believe the Democratic candidate should be sent to prison as her Republican rival closes the poll gap 
Lucy Pasha-Robinson
Monday 31 October 2016 10:38 Comments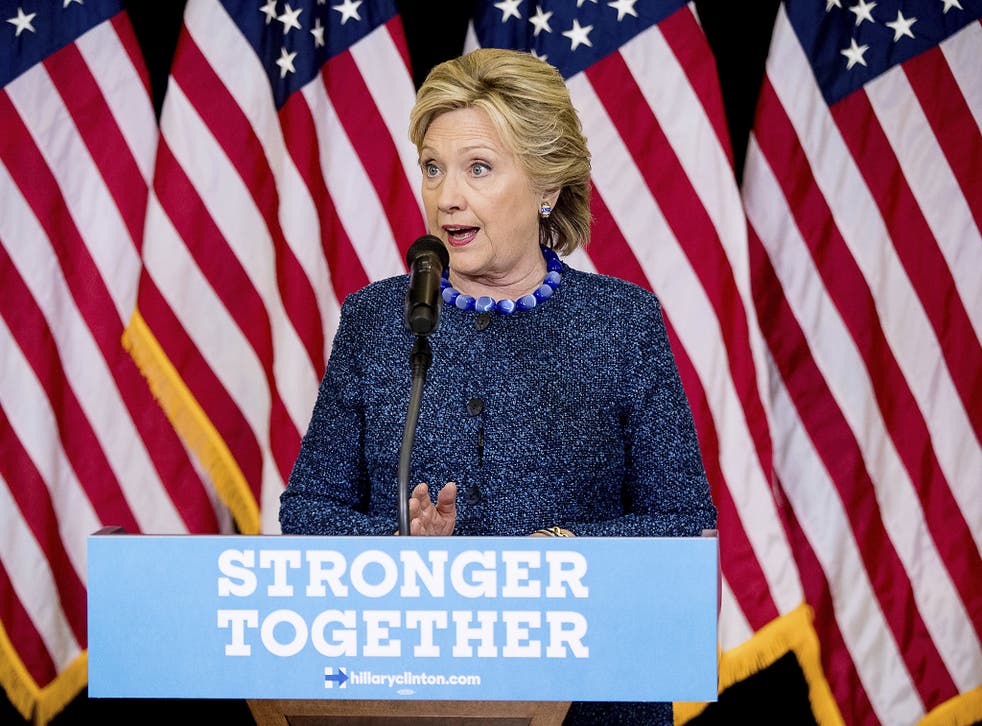 A new poll has revealed 40 per cent of Donald Trump's supporters believe his White House rival Hillary Clinton is an "actual demon".
Some 84 per cent also believe Ms Clinton should be sent to prison, according to the survey of Florida voters released by Public Policy Polling.
Of the 985 polled, 75 per cent of the Republican's backers said they believed he respected women, with only nine per cent disagreeing with the idea.
The poll also found 35 per cent of voters think it's fair to hold Ms Clinton responsible for her husband's alleged sexual indiscretions, to 57 per cent who say that's unfair.
However, US political expert Professor Andrew Samuels, of Essex University, said people's opinions in the 2016 race had not strayed far from the norm.
"Politics is always about clashes of good and bad, moral and immoral – whatever the actual words are. This US election has simply moved the archetypal dynamics right up to the surface. If we are deeply shocked by it, we are guilty of self-deception," he told The Independent.
"Even Clinton supporters are hardly real supporters, so it is not surprising that, to her opponents, she is even more odorous."
The swing-state of Florida is historically a key election battleground, with current US President Barack Obama taking the state by just 0.9 per cent over Mitt Romney in 2012.
Mr Trump is ahead by four points in Florida, according to a New York Times Upshot/Siena poll released on 30 October.
Recent national polls have put Ms Clinton in the lead. However FBI director James Comey's 11th-hour announcement last week that he was investigating emails related to the presidential hopeful's use of a private email server has dented her lead.
News of the FBI's reopened inquiry comes less than two weeks before the US election and has been met with accusations that the bureau was favouring one candidate over another.
This year's presidential race has been one of the most controversial in modern history with allegations of sexual assault and fraud.
Mr Trump has made repeated allegations that the election is "rigged", urging his supporters to "vote twice" to compensate.
The continued insinuations appear to have had an impact on his supporters with 75 per cent believing that if Ms Clinton wins the election it will be because it was rigged in her favour.
However, only 22 per cent of Floridians found Mr Trump to be a good role model for children, with 63 per cent believing he is not.
Even among his own voters just 49 per cent claimed he was a good role model generally with 23 per cent saying that he was not, and 29 per cent preferring to abstain.
Every woman to make sexual assault claims against Donald Trump

Show all 16
Mr Trump has been plagued by rumours of sexual assault since a leaked tape heard him bragging about how his celebrity allows him to grope women.
Since its release, a number of women have come forward to accuse Mr Trump of sexual assault.
Mr Trump has denied the allegations, saying during the second presidential debate that he had never sexually assaulted a woman and that his seemingly sexist comments, made in 2005, were just "locker room talk".
Register for free to continue reading
Registration is a free and easy way to support our truly independent journalism
By registering, you will also enjoy limited access to Premium articles, exclusive newsletters, commenting, and virtual events with our leading journalists
Already have an account? sign in
Join our new commenting forum
Join thought-provoking conversations, follow other Independent readers and see their replies