US Election 2016: Hillary Clinton would beat Donald Trump by a landslide if Europe voted, poll finds
It is in stark contrast with current US polling figures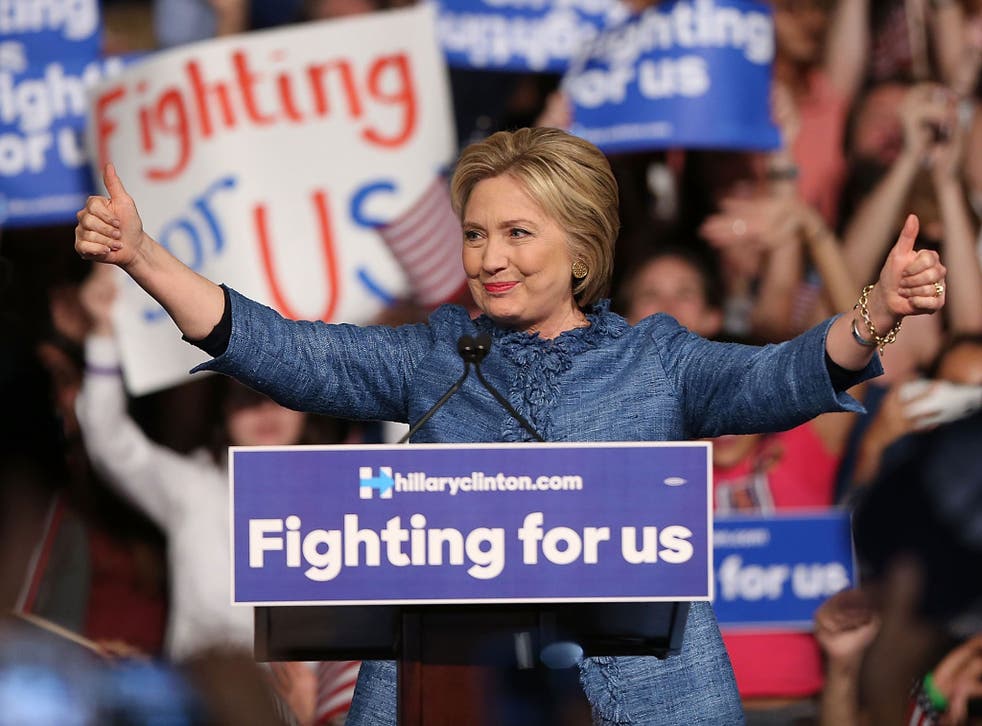 If Europeans were the electorate for the US Presidential Election 2016, Hillary Clinton would beat Donald Trump by a landslide margin.
Ms Clinton would take 46 per cent of the voters' support to just six per cent for Mr Trump – a 40 point lead, according to an average of YouGov's polls in Britain, Germany, France, Denmark, Sweden, Norway and Finland.
Democratic candidate Bernie Sanders would beat Mr Trump into second place, with 14 per cent of Europeans saying they would vote for him if he was on the ballot. The polls suggest Republican candidate Ted Cruz would receive two per cent voters' support.
It is in stark contrast with the latest national polling figures from YouGov in the US. Mr Trump would receive nearly four times as much of the share from US voters, at 23 per cent. But the Republican frontrunner would still be narrowly beaten by Ms Clinton, who 27 per cent of respondents would prefer. Nine per cent favour Mr Cruz, and 19 per cent would opt for Mr Sanders.
Nonetheless, Hillary Clinton has the highest unfavourable rating – 53 per cent – of any Democratic candidate in the past 30 years.
The findings reveal a radically different political landscape between the two regions, with the the centre-right in Europe closer to the centre-left in the USA. While Obamacare struggles, the NHS is a source of national pride.
The YouGov poll also found Europe is fearful of the prospect of Donald Trump becoming president. When asked to say how they would feel if Mr Trump were elected, the most likely response is fear (46 percent), then disappointment (40 percent), while 27 per cent of respondents said they would be both sad and angry.
The most common responses to Ms Clinton becoming president are relief (40 per cent) and optimism (40 per cent).
In pictures: US Elections 2016

Show all 15
When asked about topics such as climate change, the economy and terrorism, Europe sees Ms Clinton as the most competent candidate. Only 12 per cent say Mr Trump's presidency would be best at tackling international terrorism.
But despite the support for Ms Clinton in Europe, the results do not show there to be much excitement about her. Only 43 per cent of the European countries polled say she would make a good president, 30 per cent say she would be average and 9 per cent say she would be bad. However, she fares much better than Mr Trump, who 71 per cent of Europeans say would make a bad president.
Ms Clinton and Mr Trump are on course to go head to head for the US presidential election on 8 November 2016.
Register for free to continue reading
Registration is a free and easy way to support our truly independent journalism
By registering, you will also enjoy limited access to Premium articles, exclusive newsletters, commenting, and virtual events with our leading journalists
Already have an account? sign in
Register for free to continue reading
Registration is a free and easy way to support our truly independent journalism
By registering, you will also enjoy limited access to Premium articles, exclusive newsletters, commenting, and virtual events with our leading journalists
Already have an account? sign in
Join our new commenting forum
Join thought-provoking conversations, follow other Independent readers and see their replies