Clinton emails: FBI director ignored Attorney General's advice not to 'take action that could influence election'
One report suggests the newly discovered cache of emails did not include any messages to or from Hillary Clinton herself, but the revelations have rocked her presidential campaign
Tim Walker
US Correspondent
Monday 07 November 2016 09:51 Comments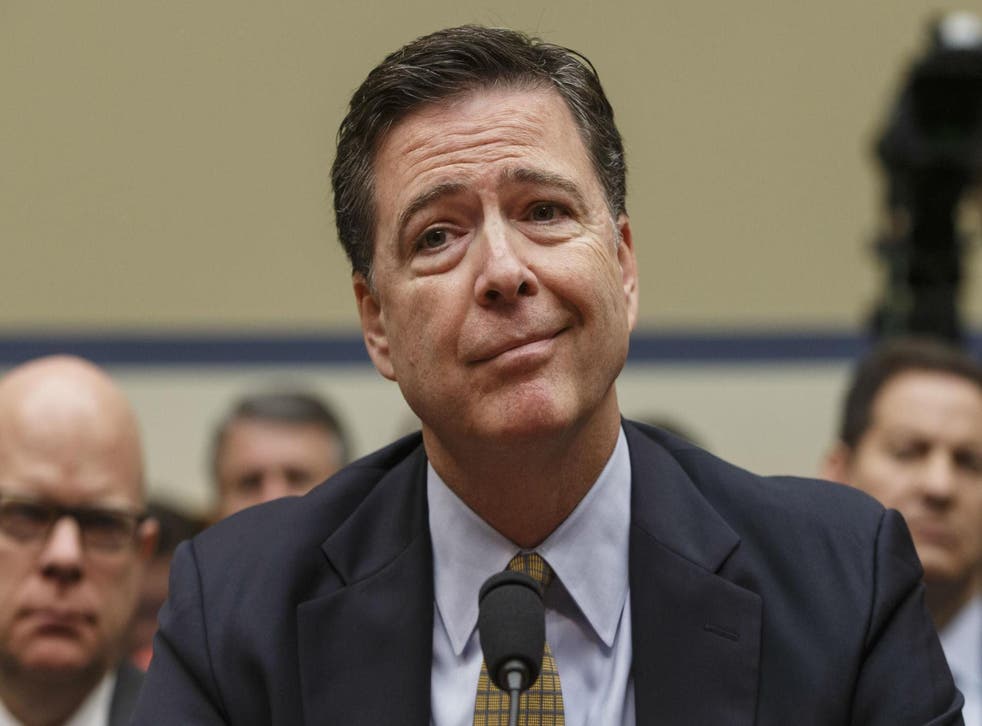 FBI director James Comey reportedly ignored the advice of Attorney General Loretta Lynch, who urged him not to thrust the controversy over Hillary Clinton's emails back into headlines less than a fortnight from election day.
US Department of Justice officials, Democrats and even some Republicans were said to be aghast at the timing of the FBI's announcement, on Friday, that it was reviewing a fresh cache of emails, which Mr Comey said may be "pertinent" to the investigation into Ms Clinton's use of a private email server during her tenure as Secretary of State.
According to a report from the New Yorker, Ms Lynch "expressed her preference" that Mr Comey uphold the Justice Department's "longstanding practice of not commenting on ongoing investigations, and not taking any action that could influence the outcome of an election." The FBI director, however, "said that he felt compelled to do otherwise."
Writing in the Washington Post, former Justice Department spokesman Matthew Miller said Mr Comey's decision was a "troubling violation of long-standing Justice Department rules or precedent, conduct that raises serious questions about his judgment and ability to serve as the nation's chief investigative official."
The emails were discovered "in connection with an unrelated case," the FBI director wrote in a letter to Republican congressional committee chairs on Friday. That separate case, it later emerged, concerns disgraced former Congressman Anthony Weiner, who is under investigation for allegedly sending explicit messages to a 15-year-old girl in North Carolina.
Mr Weiner is the estranged husband of Ms Clinton's closest aide, Huma Abedin, and the emails were found on one or more electronic devices belonging to the couple, which had been seized as part of the Weiner probe. The FBI is now investigating whether those emails contained any classified information.
The revelations came as Ms Clinton, the Democratic presidential nominee, was enjoying a comfortable poll lead over her Republican rival Donald Trump just 11 days before the election. The review is unlikely to be completed by election day, leaving an unwelcome cloud hanging over the remainder of the campaign.
The US stock market fell sharply upon the release of Mr Comey's letter, while Mr Trump and other Republicans seized on the news as a potential game-changer. Yet one law enforcement official told the Los Angeles Times that the emails found "were not to or from Clinton, and contained information that appeared to be more of what agents had already uncovered."
The FBI felt the need to review them only out of "an abundance of caution," the official said.
The decision to make the review public was met with outrage by Democrats including California Senator Dianne Feinstein, who said in a statement that the FBI had "a history of extreme caution near election day so as not to influence the results," and added: "Today's break from that tradition is appalling."
Clinton campaign chair John Podesta said the timing of the letter was "extraordinary", and blamed Mr Trump and Republicans for "baselessly second-guessing the FBI and, in both public and private, browbeating the career officials there … in a desperate attempt to harm Hillary Clinton's presidential campaign."
Some Republicans were also shocked by Mr Comey's decision. Texas Senator John Cornyn, ostensibly a Trump supporter, asked in a tweet: "Why is FBI doing this just 11 days before the election?"
Even Tom Fitton, the president of Judicial Watch, the conservative group that originally filed Freedom of Information Act (FOIA) lawsuits for access to Ms Clinton's emails, told the New York Times that the episode was "as bad for Comey as it is for Hillary".
Mr Comey, a Republican appointed by President Obama, wrote in an email to FBI employees on Friday that he had "felt an obligation" to inform Congress of the new developments, "given that I testified repeatedly in recent months that our investigation was completed."
He acknowledged that the agency would not "ordinarily tell Congress about ongoing investigations," but suggested that in this case "it would be misleading to the American people were we not to supplement the record."
Speaking in July, when the FBI appeared to have completed its investigation into Ms Clinton's emails, Mr Comey told reporters that her handling of sensitive materials on a private server had been "extremely careless", but that "no reasonable prosecutor" would have pursued criminal charges against her or her staff.
The latest revelations came as a shock to Ms Clinton, who was flying to a rally in Iowa when the news broke on Friday, apparently without a working WiFi connection on board the candidate's plane. Speaking in Des Moines later, the Democratic nominee said neither she nor her campaign had been contacted by the FBI beforehand.
Hillary Clinton responds to email probe: We need the facts
American voters "deserve to get the full and complete facts immediately," Ms Clinton said, adding that she was "confident" the new emails would not alter the FBI's original findings. "It's imperative that the bureau explain this issue in question, whatever it is, without any delay," she said.
With the deeply polarised presidential race so near its conclusion, and Ms Clinton polling well ahead of Mr Trump, it seemed unlikely that the controversy, at least in its current form, would do more than close the gap between the two candidates. But Democrats were concerned that it could damage the party's chances of picking up sufficient seats to reclaim the Senate.
Mr Trump, meanwhile, appeared gleeful as he took the stage in Iowa shortly after Mr Comey's letter became public. Never one for understatement, the property developer described Ms Clinton's emails as the "biggest political scandal since Watergate" and insisted: "The FBI would never have reopened this case at this time unless it were a most egregious criminal offence."
Register for free to continue reading
Registration is a free and easy way to support our truly independent journalism
By registering, you will also enjoy limited access to Premium articles, exclusive newsletters, commenting, and virtual events with our leading journalists
Already have an account? sign in
Join our new commenting forum
Join thought-provoking conversations, follow other Independent readers and see their replies