Hillary Clinton says EU leaders need to 'say they can't help refugees' in order to quell populism
Ms Clinton says aiding refugees 'lit flame' behind rise of such right-wing figures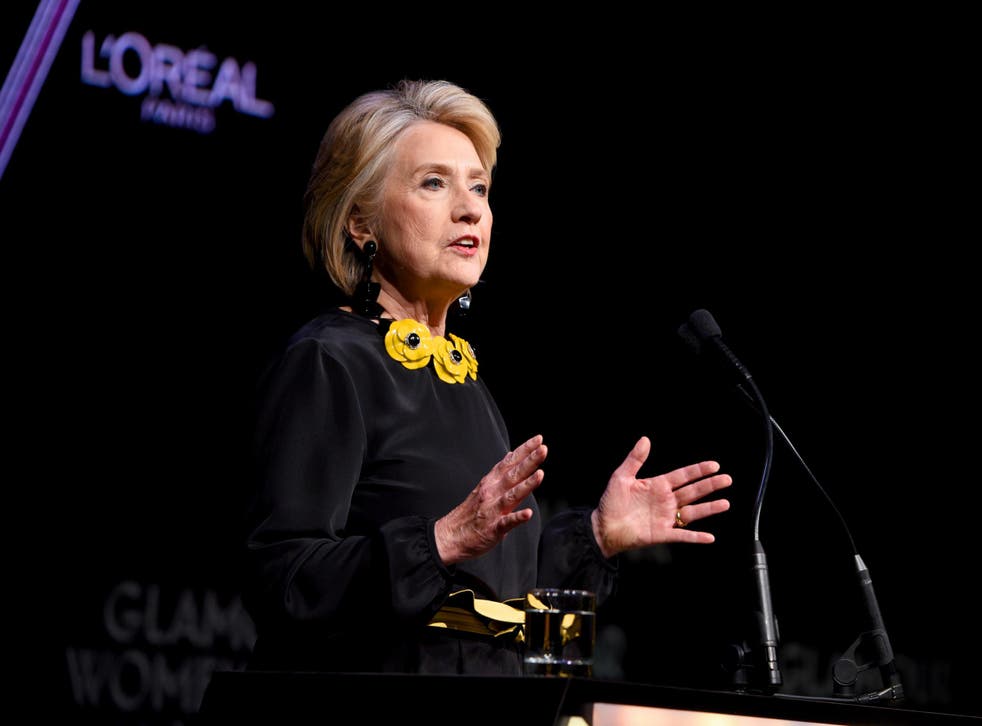 Hillary Clinton has said that Europe must tackle the issue of immigration to help stem the rise of right-wing populists across the continent.
The Democrat former presidential candidate said it was the emotive issue that "lit the flame" behind such figures.
Though she commended German Chancellor Angela Merkel for the country's efforts to take in Syrian refugees in particular, Ms Clinton called on Europe's leaders to show they are "not going to be able to continue [to] provide refuge and support" for refugees.
The continent must "send a very clear message," the former US secretary of state told The Guardian, "because if we don't deal with the migration issue it will continue to roil the body politic."
At least one million people seeking refuge from conflict have made their way to Europe since 2015, with a spate of politicians running on populist, anti-immigrant platforms across Italy, Greece, Austria, and the UK appearing since that time.
Numbers of refugees and migrants have been dropping, however, as the EU has revised its asylum policies and countries bearing the brunt of the wave have used their coast guards and military to police sea channels.
Ms Clinton cautioned Europe's leaders to take into account issues of race and identity and blamed her stunning 2016 presidential bid loss on the fact she did not.
President Trump defends daughter Ivanka's personal email use, says 'she'd didn't delete her emails like Hillary Clinton'
At the same time, she accused Donald Trump of exploiting those issues for his gain in 2016 and now in office.
She said "the use of immigrants as a political device and as a symbol of government gone wrong, of attacks on one's heritage, one's identity, one's national unity has been very much exploited by the current administration here".
"There are solutions to migration that do not require clamping down on the press, on your political opponents and trying to suborn the judiciary, or seeking financial and political help from Russia to support your political parties and movements," she noted.
Mr Trump had an unprecedented run of "Make America Great Again" campaign rallies across the country ahead of the 2018 midterms in which he repeatedly characterised a caravan of migrants moving towards the US-Mexico border as "criminals" and "gangs...with unknown Middle Easterners" in their midst.
Giles Duley – capturing moments of hope in the refugee crisis

Show all 13
He committed several thousand US troops to the border as well, saying the military would use force against those attempting to enter the country illegally, despite US law requiring entry in order to apply for asylum.
Many of the estimated 7,000 migrants still making their way from Guatemala, Honduras, and El Salvador through Mexico are fleeing rampant gang violence in their countries and may apply for the protected status once they reach the US.
Ms Clinton also said Brexit was "largely about immigration".
Support free-thinking journalism and attend Independent events
She noted the rise of right-wing populists has been occurring to meet "a psychological as much as political yearning to be told what to do, and where to go, and how to live and have their press basically stifled and so be given one version of reality".
Ms Clinton said "maybe people are just tired of" the American system of holding "that much responsibility and freedom" as a voter.
"I don't know why at this moment that is so attractive to people, but it's a serious threat to our freedom and our democratic institutions, and it goes very deep and very far and we've got to do a better job of shining a light on it and trying to combat it," she said but did not appear to offer a solution on how exactly to do that.
Ms Clinton has not announced another run for the presidency in 2020, but she has formed an exploratory committee and is strongly considering the possibility.
Join our new commenting forum
Join thought-provoking conversations, follow other Independent readers and see their replies