Hillary Clinton praises media and promises immigration reform in first 'press conference' of 2016
The Democratic nominee has not taken questions from the travelling press corps since before the Iowa primaries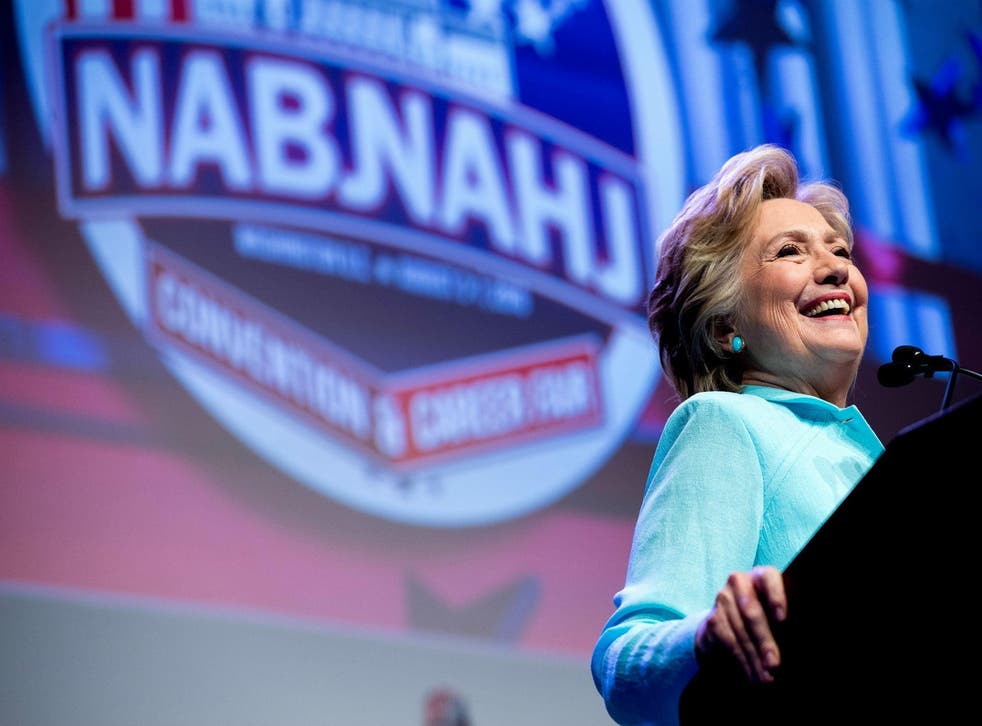 Hillary Clinton took questions from the media at a meeting of black and Hispanic journalists in Washington DC on Friday, in what her campaign touted as the candidate's first press conference in more than 240 days.
The question-and-answer session at the joint convention of the National Association of Black Journalists (NABJ) and the National Association of Hispanic Journalists (NAHJ) was focused on issues pertinent to those groups and their readerships.
Ms Clinton promised to make comprehensive immigration reform a priority if she is elected, saying she would start work on an immigration bill "immediately" after entering the White House. A 2013 bipartisan Senate bill was killed by House Republicans, but Ms Clinton seemed confident that there would be more Democrats in Congress come November, shifting the political landscape in favour of reform. "I think the outcome will be very different this time," she said.
Critics of the Democratic presidential nominee claimed that her appearance on Friday was not, in fact, a real press conference, since it did not allow in members of the embedded press corps that has been following her on the campaign trail. Many of the questions were softballs, and some of her answers drew applause from the audience - a rarity at a regular press conference.
It has become a common complaint among Republicans that, while their presidential nominee's press conferences can be belligerent or counter-productive, Ms Clinton's are non-existent.
While she has given dozens of sit-down interviews – including one with Fox News this past Sunday – Ms Clinton's last open press conference was in Iowa on 4 December, 2015, before a single primary vote was cast.
On Friday, Ms Clinton praised the work of the press, calling it a "badge of honour" for Univision reporter Jorge Ramos to have been thrown out of a Trump press conference last year. "I hope you keep calling it like you see it. Keep holding all of us to account," she said, adding that journalists "have a special responsibility to our democracy at a time like this."
Ms Clinton was also asked about the controversy over her emails, after weeks in which she has continued to assert that she "never sent or received" classified information on her private server while Secretary of State, a claim that FBI Director James Comey contradicted in his recent testimony at a congressional hearing.
Suggesting she "may have short-circuited" her explanation for the scandal, Ms Clinton nonetheless insisted her answers on the matter had been "truthful," saying: "I have acknowledged repeatedly that using two email accounts was a mistake and I take responsibility for that. But my answers to the FBI were truthful, and I should add, consistent to what I said publicly."
Bill Clinton and George W Bush both addressed the NABJ convention during their presidencies, while Barack Obama appeared at the annual event during his 2008 campaign. The group's president Sarah Glover said in a press release that Ms Clinton had saw the convention "as a vital gathering to discuss her platform and the issues impacting black and Latino communities."
Asked about the most meaningful conversation she has had with an African-American friend, the former Secretary of State named several black current and former colleagues, crediting them for having "supported me, they've chastised me, raised issues with me, they've tried to expand my musical tastes."
She also defended Donald Trump's supporters from the suggestion that they were driven simply by the Republican's racist and sexist remarks. "Of course some of the appeal is xenophobic and racist and sexist," Ms Clinton said. "But let's not lose sight of the real pain that many Americans are feeling because the economy has left them behind."
Register for free to continue reading
Registration is a free and easy way to support our truly independent journalism
By registering, you will also enjoy limited access to Premium articles, exclusive newsletters, commenting, and virtual events with our leading journalists
Already have an account? sign in
Register for free to continue reading
Registration is a free and easy way to support our truly independent journalism
By registering, you will also enjoy limited access to Premium articles, exclusive newsletters, commenting, and virtual events with our leading journalists
Already have an account? sign in
Join our new commenting forum
Join thought-provoking conversations, follow other Independent readers and see their replies