Hillary Clinton's most controversial quotes of the campaign
Including the 20-year-old throwaway comment about black people that came back to haunt her
Samuel Osborne
Thursday 03 November 2016 00:45 Comments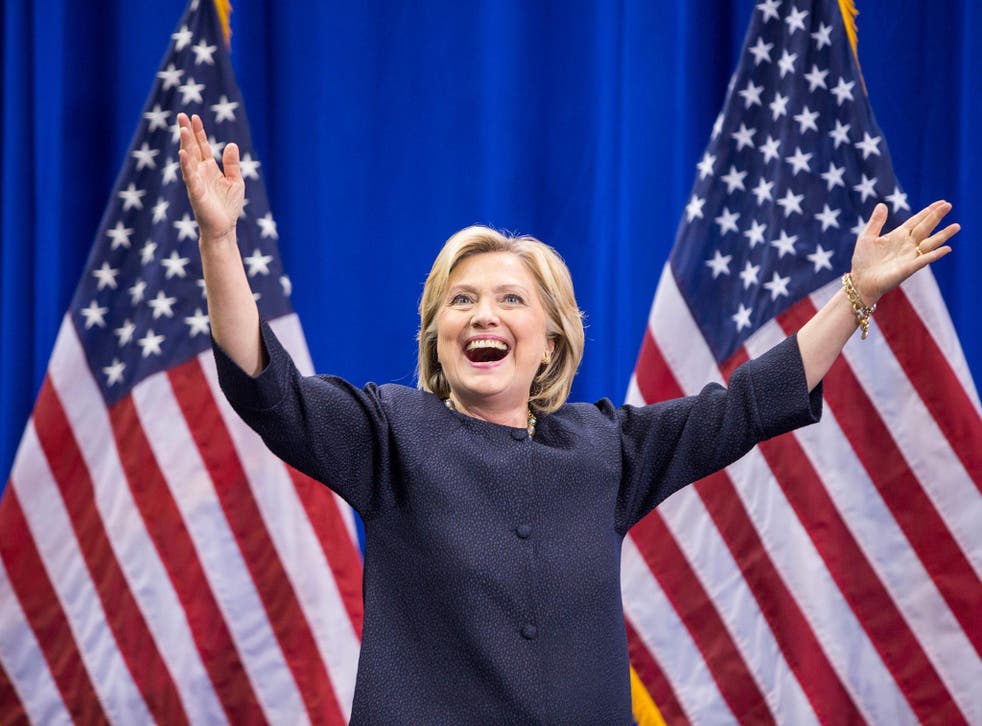 The campaign has been acrimonious, bitter and punctuated by, at times, comments that have stunned many voters. Most of them have emanated from the mouth of Donald Trump, who - from Mexicans and Hispanics to African Americans, women and people with disabilities - has not shied away from offending sizeable chunks of the population.
However, Ms Clinton has not been without her moments either. Here are her most controversial comments - starting with one that dates back two decades:
28 January, 1996: "Super-predators" "Bring them to heel"
Speaking in support of the crime bill, Ms Clinton said way back in 1996: "We're making some progress. Much of it is related to the initiative called 'community policing.' Because we have finally gotten more police officers on the street. That was one of the goals that the president had when he pushed the crime bill that was passed in 1994."
She added: "But we also have to have an organized effort against gangs. Just as in a previous generation we had an organized effort against the mob. We need to take these people on.
"They are often connected to big drug cartels, they are not just gangs of kids anymore. They are often the kinds of kids that are called superpredators — no conscience, no empathy. We can talk about why they ended up that way, but first, we have to bring them to heel."
The comment has long rankled with black people and, in February 2016, Ashley Williams and a friend jumped into a car, drove to Charleston and made headlines around the world by confronting Clinton over the comments.
"You owe black people an apology," the student told Ms Clinton, holding a sign bearing the words "we need to bring them to order".
A highly symbolic moment, it set the tone for the campaign in which the Democratic nominee was unable to mobilise such a key demographic - a demographic that had been so influential in propelling President Obama to victory.
9 September 2016: "Basket of deplorables"
In one fell swoop, Mrs Clinton managed to offend a significant chunk of voters by stating that "half" of Donald Trump's supporters could be grouped in a "basket of deplorables".
"You know, to just be grossly generalistic, you could put half of Trump's supporters into what I call the 'basket of deplorables'. Right?" Clinton said to applause and laughter from the crowd of supporters at an LGBT for Hillary fundraiser where Barbra Streisand performed. "The racist, sexist, homophobic, xenophobic, Islamaphobic — you name it."
"And unfortunately there are people like that. And he has lifted them up," she added.
She later offered an apology, saying she'd been "grossly generalistic…that's never a good idea." She added: "I regret saying 'half.' That was wrong."
For Mr Trump, it was a gift and strengthened his argument that the "liberal elite" in Washington looked down on so many voters.
8 July, 2016: "It was a mistake for me to use personal email"
The most significant controversy surrounding Mrs Clinton was her use of a private email server to conduct official business while she was Secretary of State.
"It was a mistake for me to use personal email," she said in an attempt to finally confront the issue in July. "And I regret that. I am certainly relieved and glad that the investigation has concluded but I also know how important it is to make sure everybody understands that I would certainly not do that again."
Mr Trump used the controversy to feed into the presentation of "crooked Hillary" after she was cleared of any wrongdoing by the FBI. He even said during the second TV debate that he would throw her in jail if he got the chance.
And wihle the Clinton camp managed to ride out the storm, the issue resurfaced in the final days of campaigning, when the FBI reopened their investigation into her. The move, by the FBI's director James Coney, reinvigorated the Trump campaign after weeks of bad headlines over allegations of sexual assault. Hillary, for her part, branded the timing of new FBI disclosures just days before the election, as "strange," "unprecedented" and "deeply troubling".
10 October, 2016: "This is who Donald Trump is"
Speaking during the second presidential debate, Ms Clinton's much anticipated response to the release of a tape in which Mr Trump suggested he could grab women "by the pussy" was regarded my many as missed opportunity.
Presented with an opportunity to hammer home her advantage, she failed to domiate the debate and deliver a knockout blow. Her response was mature and considered, but for many was nowhere near strong enough.
She said: "You know, with prior Republican nominees for president, I disagreed with them on politics, policies, principles, but I never questioned their fitness to serve.
"Donald Trump is different. I said starting back in June that he was not fit to be president and commander-in-chief. And many Republicans and independents have said the same thing. What we all saw and heard on Friday was Donald talking about women, what he thinks about women, what he does to women. And he has said that the video doesn't represent who he is.
"But I think it's clear to anyone who heard it that it represents exactly who he is. Because we've seen this throughout the campaign. We have seen him insult women. We've seen him rate women on their appearance, ranking them from one to ten. We've seen him embarrass women on TV and on Twitter. We saw him after the first debate spend nearly a week denigrating a former Miss Universe in the harshest, most personal terms.
"So, yes, this is who Donald Trump is."
13 March, 2016: "We're going to put a lot of coal companies and coal miners out of business"
When asked why poor white people should vote for her, Ms Clinton somehow managed to say she would be putting coal companies out of business as a result of moving towards renewable energy sources.
"So for example, I'm the only candidate which has a policy about how to bring economic opportunity using clean renewable energy as the key into coal country. Because we're going to put a lot of coal miners and coal companies out of business, right?"
She added: "And we're going to make it clear that we don't want to forget those people. Those people labored in those mines for generations, losing their health, often losing their lives to turn on our lights and power our factories.
"Now we've got to move away from coal and all the other fossil fuels, but I don't want to move away from the people who did the best they could to produce the energy that we relied on."
He stance fed into the Trump camp's mantra that Ms Clinton was bad for business - particularly businesses and workers in traditional industrial heartlands feeling the squeeze from global competition.
Register for free to continue reading
Registration is a free and easy way to support our truly independent journalism
By registering, you will also enjoy limited access to Premium articles, exclusive newsletters, commenting, and virtual events with our leading journalists
Already have an account? sign in
Join our new commenting forum
Join thought-provoking conversations, follow other Independent readers and see their replies