Hillary Clinton says she's feeling better after pneumonia diagnosis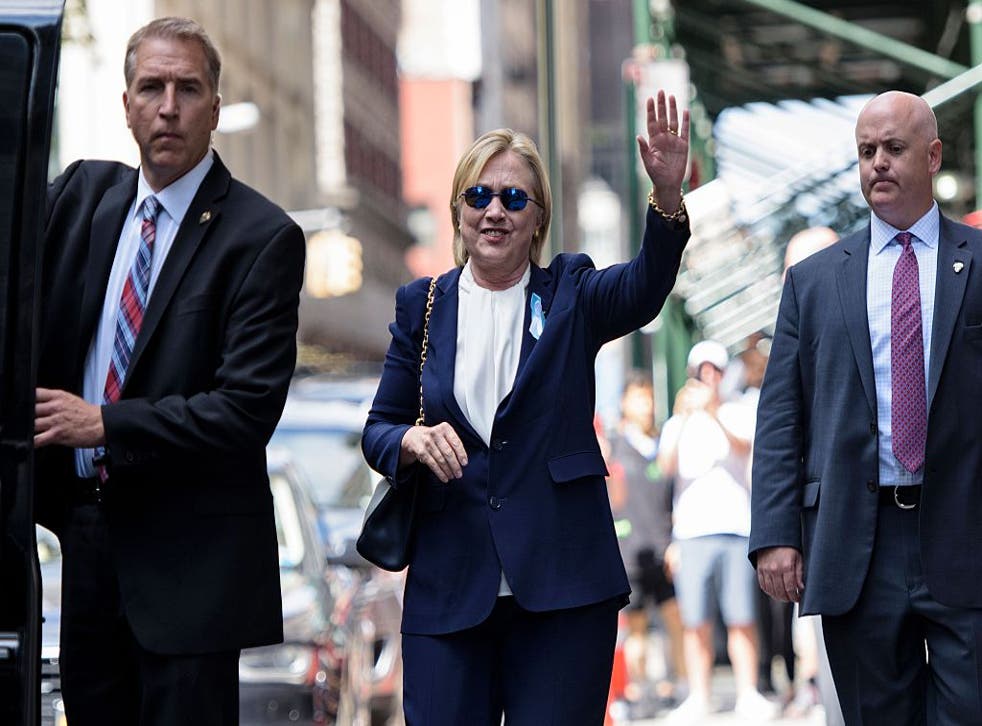 Calling into CNN on Monday night, Hillary Clinton says that she's feeling better after a pneumonia diagnosis that left her momentarily sidelined from the campaign trail.
"I'm feeling so much better," she said on "Anderson Cooper 360." "Obviously, I should have gotten some rest sooner."
Ms Clinton, the Democratic nominee, was forced to cancel a campaign trip to California on Monday after she became ill at a 9/11 memorial service in New York City just one day prior. Her campaign later announced that she was diagnosed with pneumonia on Friday.
She also said that she ignored doctor's orders to attend the memorial service, and admitted that she experienced a similar sickness before.
"I think really only twice that I can recall," she told the network. "You know, it is something that has occurred a few times over the course of my life. I'm aware of it and usually can avoid it."
Over the weekend, a new ABC News-Washington Post poll gave Ms Clinton a five percentage-point lead over her Republican rival Donald Trump. Six in 10 voters said that Mr Trump is unqualified to be president and displays a bias against women and minorities.
Naturally, Mr Trump seized the opportunity to criticize Ms Clinton, although surprisingly, did not mention her apparent illness.
"If Hillary Clinton will not retract her comments in full, I don't see how she can credibly campaign any further," Mr. Trump said during a campaign stop at the National Guard Association of the United States. He claimed that he is doing "amazingly well with African-American and Hispanic workers.
Register for free to continue reading
Registration is a free and easy way to support our truly independent journalism
By registering, you will also enjoy limited access to Premium articles, exclusive newsletters, commenting, and virtual events with our leading journalists
Already have an account? sign in
Register for free to continue reading
Registration is a free and easy way to support our truly independent journalism
By registering, you will also enjoy limited access to Premium articles, exclusive newsletters, commenting, and virtual events with our leading journalists
Already have an account? sign in