Hillary Clinton: Schools more segregated now than in 1968
The Democratic candidate has pledged $2 billion to historically black schools and colleges to help end the 'school to prison cradle'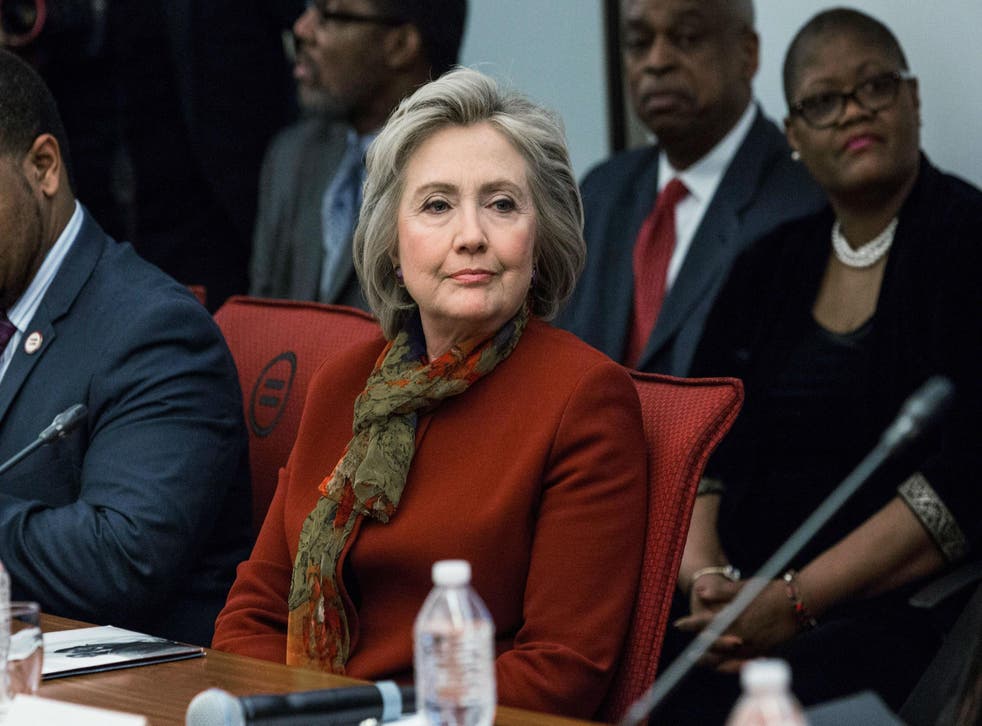 Neither the driving rain nor a prolonged coughing fit was going to stop presidential hopeful Hillary Clinton from delivering her speech targeted at black voters in Harlem.
Less than two weeks before the next Democrat primary in South Carolina, Ms Clinton spoke of the "dangerous slide back to re-segregation" within schools and pledged billions of dollars to fix the issue in an attempt to shore up support with African American voters.
She pointed to the video which horrified the US as it showed a girl being thrown from her desk and dragged across the floor by a police officer in her classroom in South Carolina.
"There is more segregation now than there was in 1968," she told the audience. "It's appalling and we have to fix it."
She pledged to give $2 billion to historically black colleges and universities in order to reduce police discipline and overly punitive systems and to expand support for social workers and guidance councillors within schools.
"Let's not label students as "problem students" and let's help them instead," she said.
Her comments at the symbolic Shomburg Center for Research in Black Culture in Harlem are part of her racial justice plan. She called out "systemic racism" in the US, highlighted by the polluted water supply in Flint, Michigan, which she said would never have happened in a "rich, white suburb of Detroit".
"This is a civil rights issue and we can't ignore it any longer," she said.
Also harking back to the civil rights era of 1968, Ms Clinton said more barriers were springing up across the country to block African Americans' right to vote.
"More than half a century after Rosa Parks sat, Dr King marched, and John Lewis bled, race still plays a significant role in determining who gets ahead in America and who gets left behind," she said.
She also called for the end of the era of mass incarceration - as rival Bernie Sanders has done, who said he will end the US being the country with the highest number of inmates by 2020.
Ms Clinton did not set a timeline, but specifically outlined proposals including to abandon the privatization of prisons, cut mandatory minimum sentences for nonviolent drug offenses in half and also eliminate the sentencing disparity between crack and powder cocaine.
"And when black kids get arrested for petty crimes yet white CEOs get away with fleecing our country, something is wrong," she added - a nod to critics who say she has a cosy relationship with Wall Street.
Ms Clinton asked the audience to hold her to account and to judge her by her actions, not her words. In a reference which could have been directed to Republican rivals, she said: "It's not about building relationships a few weeks before a vote."
Register for free to continue reading
Registration is a free and easy way to support our truly independent journalism
By registering, you will also enjoy limited access to Premium articles, exclusive newsletters, commenting, and virtual events with our leading journalists
Already have an account? sign in
Register for free to continue reading
Registration is a free and easy way to support our truly independent journalism
By registering, you will also enjoy limited access to Premium articles, exclusive newsletters, commenting, and virtual events with our leading journalists
Already have an account? sign in
Join our new commenting forum
Join thought-provoking conversations, follow other Independent readers and see their replies