Hillary Clinton transcripts: WikiLeaks posts apparent excerpts from private Wall Street speeches
The website claims the excerpts come from a batch of more than 2,000 emails belonging to Clinton campaign chair John Podesta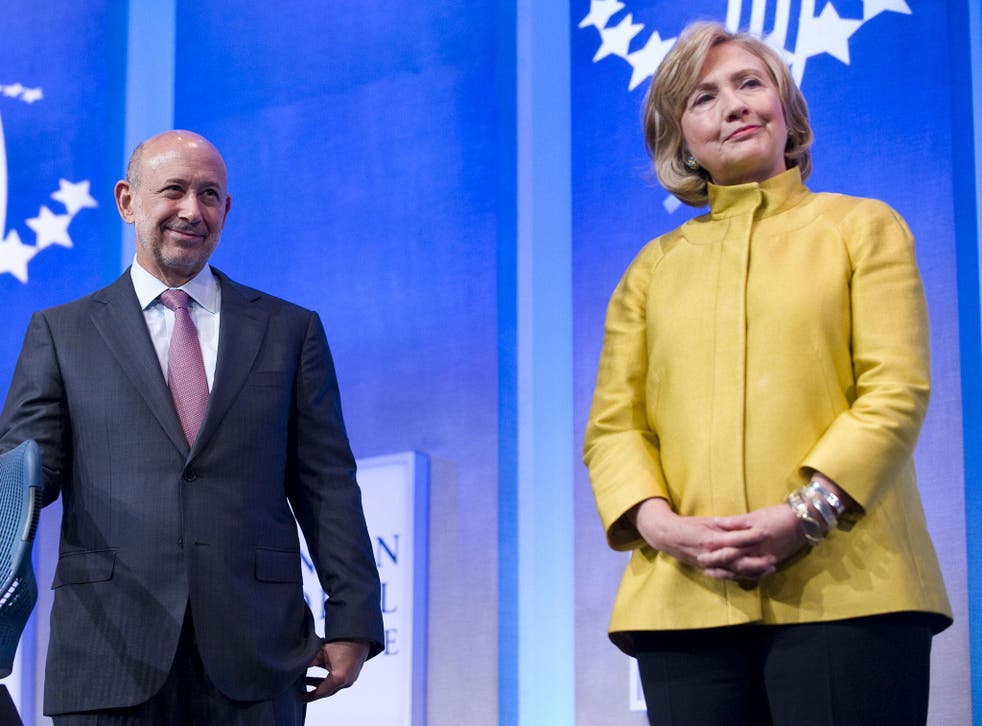 Wikileaks has dumped thousands of emails from Hillary Clinton campaign chair John Podesta, which includes apparent excerpts from Ms Clinton's paid, closed-door speeches to Wall Street executives after leaving her position as Secretary of State.
In the excerpts, flagged in a 25 January email, Ms Clinton apparently suggested that Wall Street insiders were best qualified to regulate the banking industry and also included her apparent admission of the need for money from banking executives for political fundraising.
The group posted more than 2,000 emails on Friday evening, claiming they came from an email account belonging to Mr Podesta. Wikileaks promised to continue publishing emails from a trove of more than 50,000 emails obtained from a hack of the Democratic National Committee (DNC) this year.
The release of the emails follow the US government officially accusing Russian operatives of performing the hack of the DNC and other organisations to influence the 2016 election.
"Earlier today, the US government removed any reasonable doubt that the Kremlin has weaponised WikiLeaks to meddle in our election and benefit Donald Trump's candidacy," said Clinton campaign spokesperson Glen Caplin. "We are not going to confirm the authenticity of stolen documents released by [Wikileaks founder] Julian Assange who has made no secret of his desire to damage Hillary Clinton."
He added: "Guccifer 2.0 has already proven the warnings of top national security officials that documents can be faked as part of a sophisticated Russian misinformation campaign."
The release of the excerpts appeared to fall under the radar on Friday evening, as the Trump campaign found itself buried in controversy after the Washington Post released uncovered audio of the New York businessman making lewd comments about women in 2005.
Still, the transcripts loomed over Ms Clinton's bid for the White House throughout the primaries as Democrat rival Bernie Sanders called for their release – and suggested the secrecy pointed to a sort of collusion between Wall Street and the former New York senator.
In an excerpt flagged as "Clinton suggests Wall Street insiders are what is needed to fix Wall Street", Ms Clinton hints at working with executives to shape government regulation during a speech to Goldman Sachs in 2013.
"How do you get to the golden key, how do we figure out what works?" the transcript reads. "And the people that know the industry better than anybody are the people who work in the industry."
In the same speech, she allegedly suggested a policy regulating the financial sector for political reasons.
"I started traveling in February of '09, so people could, you know, literally yell at me for the United States and our banking system causing this everywhere," the excerpt said. "Now, that's an oversimplification we know, but it was the conventional wisdom. And I think that there's a lot that could have been avoided in terms of both misunderstanding and really politicising what happened with greater transparency, with greater openness on all sides, you know, what happened, how did it happen, how do we prevent it from happening?"
And in another excerpt, Ms Clinton allegedly admitted to needing the help of Wall Street cash for political fundraising.
"It would be very difficult to run for president without raising a huge amount of money and without having other people supporting you because your opponent will have their supporters. So I think as hard as it was when I ran, I think it's even harder now," the excerpt said.
Ms Clinton began making her rounds on the lucrative speech circuit following her departure from the state department – during which she banked $3m (£2.4m) in speeches to banks and financial firms.